New AdGuard DNS milestone: the open beta is now available
From the year 2016 to today, AdGuard DNS has come a long way from one-server standalone service to a full-fledged product with more than 50 servers in 15+ locations. Some time ago we've announced plans for a private AdGuard DNS, and now we are finally ready to move to the next level and start the stage of public testing of the private AdGuard DNS beta version!
To take part in beta testing go to AdGuard DNS website and press Join beta at the top right corner of the screen, then sign up or sign into AdGuard account. There's no need to create a new account if you have already created one before, for example, to use AdGuard Ad Blocker or AdGuard VPN.
After entering credentials, you can start using AdGuard DNS! Connect any computer, smartphone, or router to AdGuard DNS in just a few clicks — and flexibly manage the settings for each of them.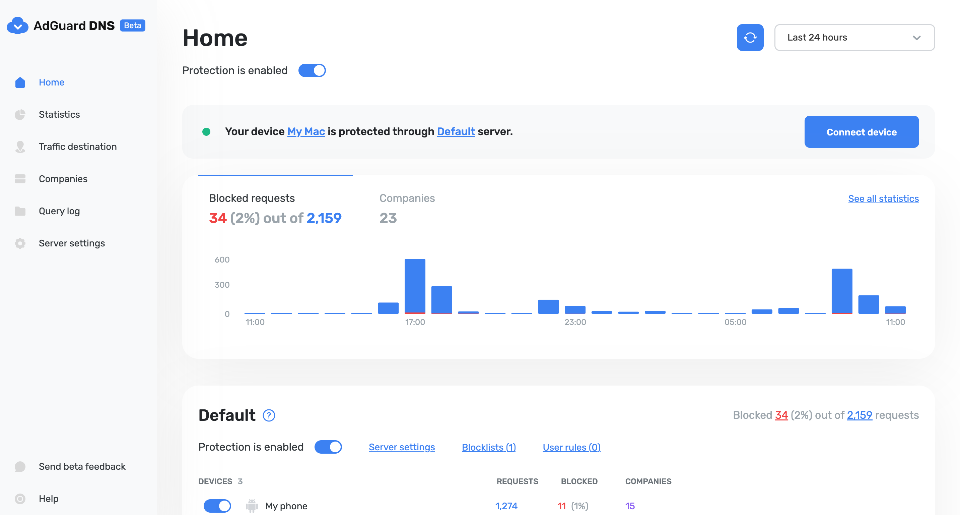 A closer look at AdGuard DNS
Today, you can connect anything to the Internet: TVs, refrigerators, smart bulbs, or speakers. But along with the undeniable conveniences you get trackers and ads. A simple browser-based ad blocker will not protect you in this case, but AdGuard DNS, which you can set up to filter traffic, block content and trackers, can help.
Earlier, we were able to offer either a public AdGuard DNS server or AdGuard Home for "cleaning up the Internet". These solutions worked for some users, but for many of them, the public AdGuard DNS lacked the flexibility of configuration, while the AdGuard Home lacked simplicity. We can say that private AdGuard DNS appeared at the meeting point of these two products and took only the best features from both of them. Let's list it's major benefits!
Easy setup and use
In the past, setting up a private DNS server was probably something only true "geeks" could do. Now, anyone who can read the on-screen prompts will have their own DNS server in less than a minute!
You can set up your private DNS server manually, but using the AdGuard apps for this purpose will make the process much quicker and easier.
Blocklists management
With the private DNS server, you'll be able to set which domains you want to block and which you don't. This will work the same way as the public AdGuard DNS, but with one change: now it's your decision, not AdGuard's.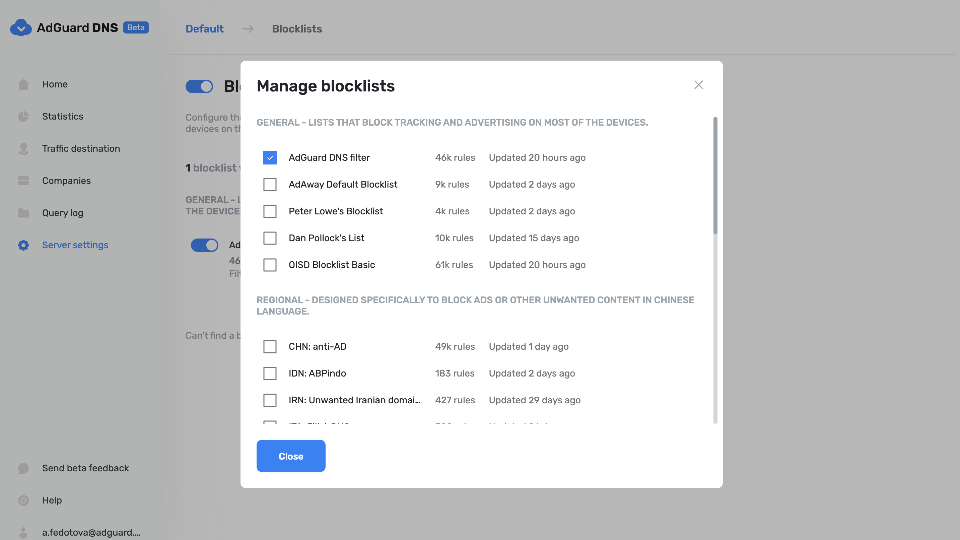 Import/export custom rules
For those who aren't satisfied with dozens of pre-installed Blocklists with thousands of rules, we've provided a handy function to import custom rules. If you have a list of DNS filtering rules, you can upload it to the service and activate it. Here you can also manually enter custom rules and export the list.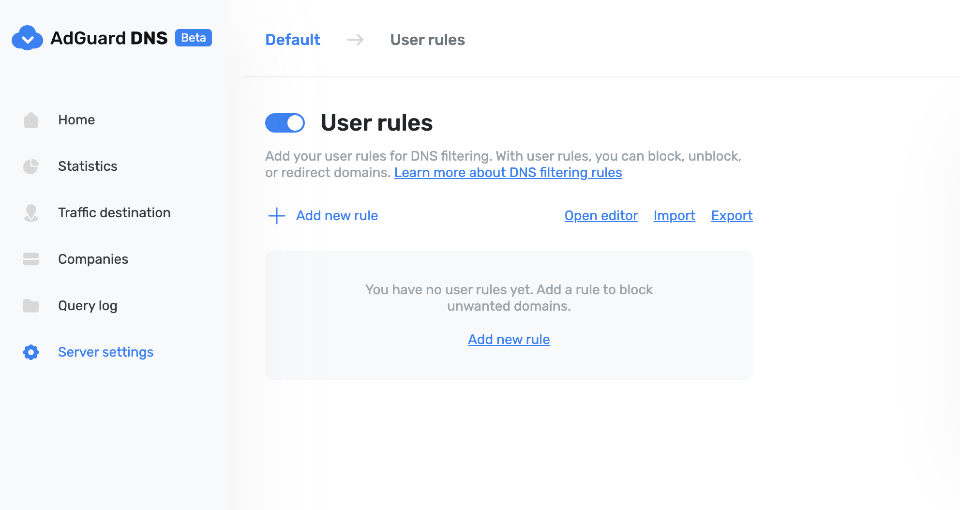 Note, that you can import up to 1000 custom blocking rules.
Advanced statistics
There are a lot of things in life we can't control, but fortunately, this doesn't apply to DNS queries made by devices connected to private AdGuard DNS. You can see the total number and geography of requests, the number of blocked requests and a list of companies the requests were addressed to both in the summary table and in separate tabs with detailed statistical information.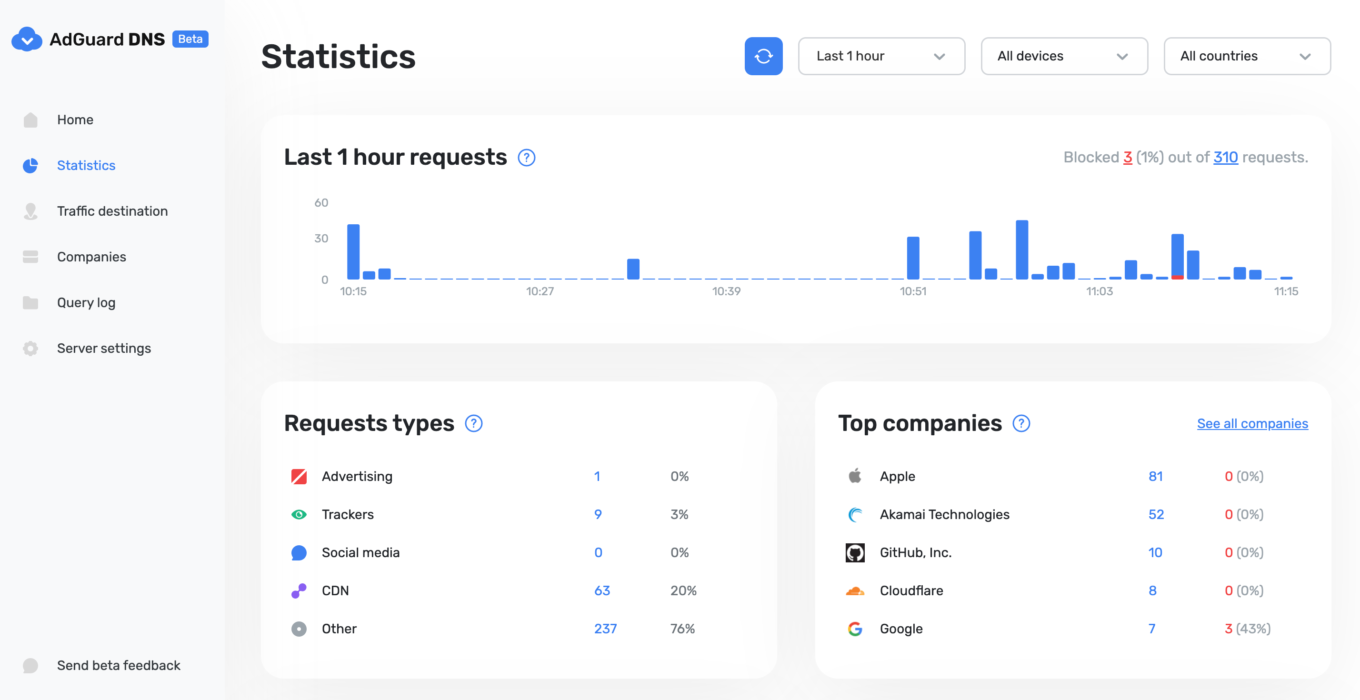 Parental control
To protect your child from online content you deem inappropriate, set up and activate the Parental control option. In addition to options such as "adult content" blocking and safe search, we've added the ability to manually specify domains for blocking and set a schedule for the Parental control to work accordingly.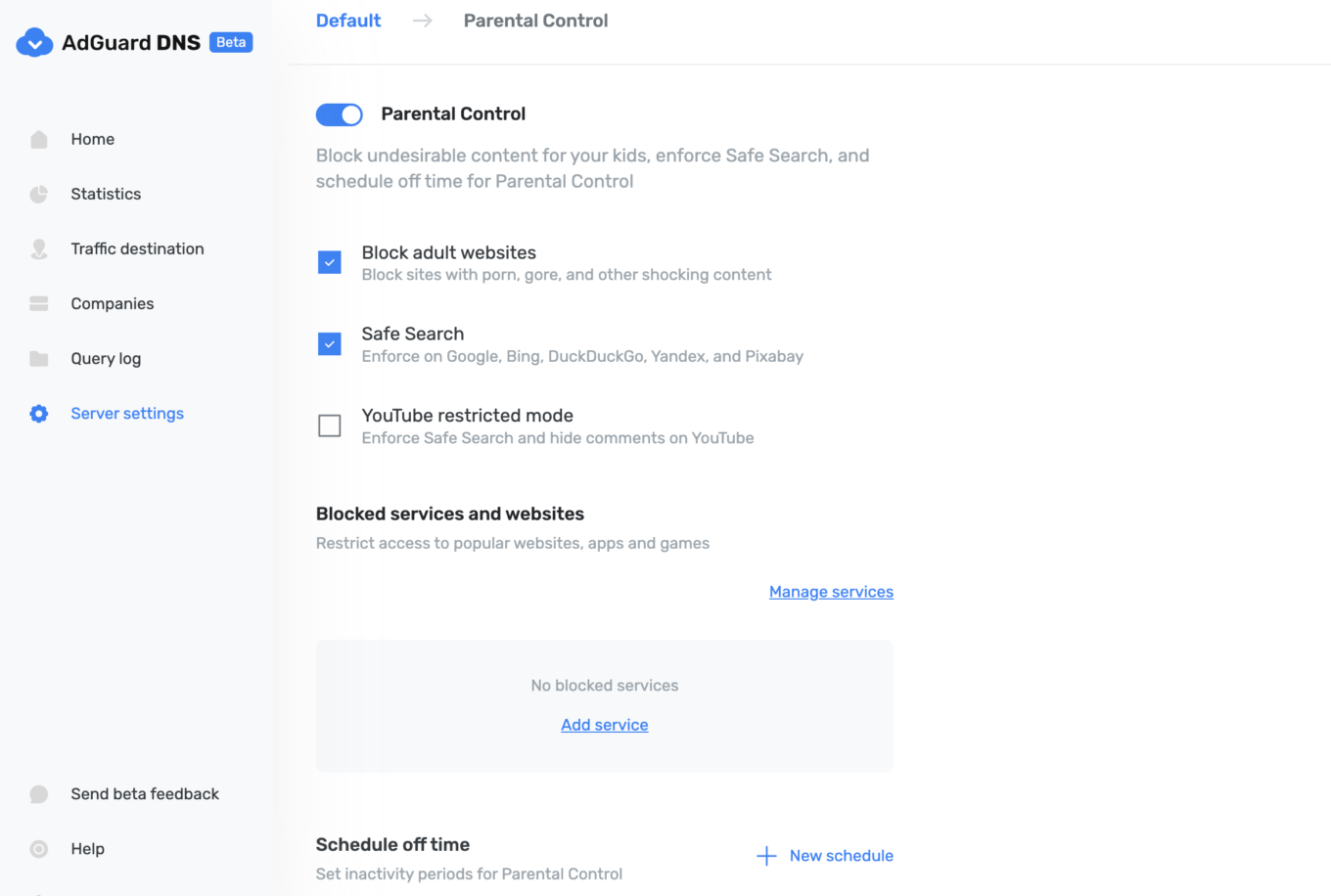 We just took a quick look at the main advantages of private AdGuard DNS. To experience the full potential of the service, start using the beta version for free right now. Afterward, there will be four pricing plans: Free, Monthly, Yearly, and Enterprise. Free plan users will have certain restrictions in terms of total requests available, the number of devices and/or servers.
Try the beta version of private AdGuard DNS
We really hope you will enjoy our (i.e. your) private AdGuard DNS!