Private AdGuard DNS beta 3: new blocklists, open API and more
Not only is spring coming to the finish line, but we too are moving steadily towards our intended goal of officially releasing private AdGuard DNS. Today we are bringing you the third beta version. It contains many improvements, fixes and useful updates, like ECS support implementation or the addition of AdGuard DNS Knowledge Base. Let us show you all the good things that make the third beta version of private AdGuard DNS worthy of your attention.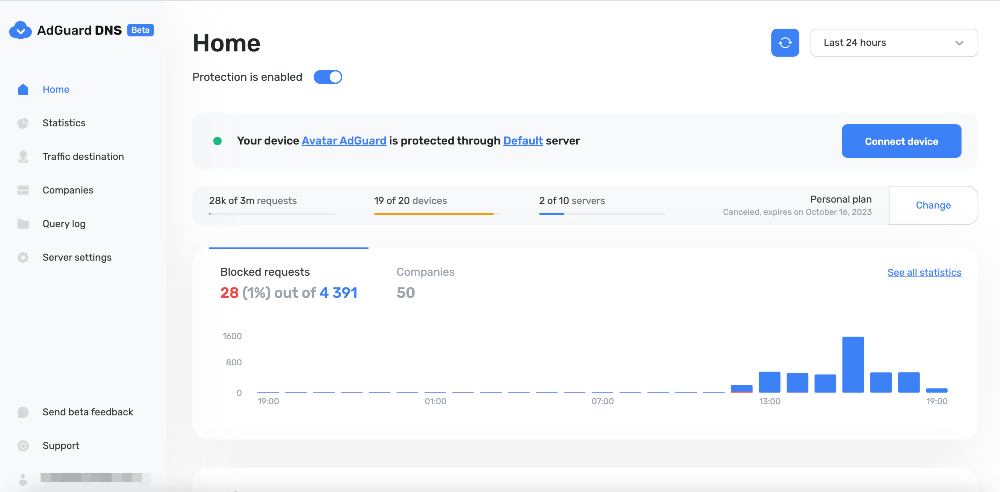 Miscellaneous changes
Normally we wouldn't start off with something that's not directly a change in the product itself, but this is a different story: so many new stuff is happenning around AdGuard DNS we need to tell you about, it's best to kick things off with it.
The version history — in front of your eyes
First and foremost, we've added a version history page for AdGuard DNS. Now you can see the full list of changes, learn about new features, and in general see how the work on private AdGuard DNS service has been progressing over time.
Contribute to AdGuard DNS translation
Until now, private AdGuard DNS could only be used in English: first we had to make sure everything was working as it should. With this version we've extended the geography by adding the possibility to translate the dashboard into different languages.
Historically, the community has been playing a huge role in translating AdGuard products. You too can help us make AdGuard DNS more accessible to everyone by participating in the translations! We use Crowdin for translating AdGuard apps and services, you can find a detailed article on how to use it in our Knowledge Base. And if you already familiar with Crowdin, visit the AdGuard DNS project in Crowdin, select Dashboard, choose a language, and you're ready to translate!
AdGuard DNS Knowledge Base
To make it easier to understand AdGuard DNS, we've added the Knowledge Base dedicated entirely to it. It's relatively small, but it will grow along with AdGuard DNS to reflect every new product, feature, — or even problem (along with its solution, of course)!
For the most curious, you can track all the latest Knowledge Base changes in the AdGuard DNS GitHub repository.
Subscription
We've added a paid subscription on private AdGuard DNS. Subscription is not required during beta testing, but we'd appreciate it if you'd like to support us now.
The meat of the update
Now let's talk more about what's new directly with AdGuard DNS, and there are certainly some changes that catch the eye.
New blocklists
We've added a lot of new blocklists — now it's even easier to customize your AdGuard DNS. And if that's not enough, you can request and add more blocklists in the GitHub repository (before you do that, read requirements for blocklists in the section "What Blocklists Can Be Added Here").
ECS support
The AdGuard DNS servers now support EDNS Client Subnet (ECS).
This feature allows users to get responses corrected for the location of the DNS user. We had long been hesitating to implement it in AdGuard DNS: ECS assumes handing over an anonymized user's IP address to the name server. In this version, we've solved the problem: instead of the user's IP address, we pass another address from approximately the same location as the user's. Stay private!
DNS filters fixed
We've been working even more on DNS filters: eliminated the bug with the /etc/hosts-style rules failing to work, and added support for rules with $dnsrewrite. By the way, you can read about the DNS filtering syntax in the freshly published Knowledge Base.
Open API
AdGuard DNS now has an open API. If you want to integrate with AdGuard DNS, read the documentation.
UI fixes and more
We've also fixed a lot of minor bugs and added some useful features. Best way to see them all is to start using AdGuard DNS! Log into your account or join us at adguard-dns.io.
---
That's all for now. Feel free to test private AdGuard DNS and leave feedback on any convenient platforms — it will help us become better!