Brand new AdGuard Licenses
Dear friends, some important news for you! We have new "licensing policy".
A brief summary for those who don't like to read !;)
Added new type of license – "Mobile", it is cheaper, but only meant for Android version.
Parental Control is now available in "Standard" license (all you need to do is to upgrade to version 5.10.2010).
Premium license now fits for two devices at the same time: 1 Android device and 1 computer (PC or Mac).
To learn more about these changes, see below.
As you have probably noticed – our software range gradually extends with new products. At the end of last year Android version was added to our Adguard for Windows and now we are releasing program for Mac. There are differences between these Adguard versions due to the different platforms they were developed for, which leads to varying of features. At some point we realized that our usual License concept is inconvenient and confusing – so it's time to reconsider it.
We thought the things through and decided to make the most transparent system. From now on, you choose a license depending on the device, where you want to have Adguard installed.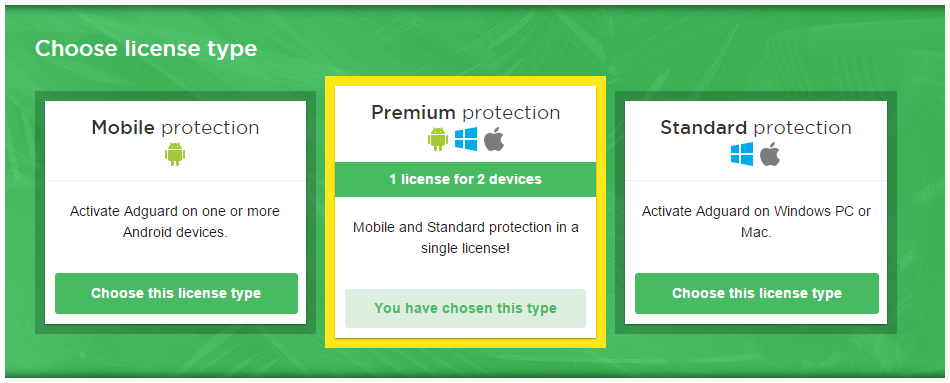 So now we have 3 types of Licenses
1. Mobile
This license activates Adguard on any Android device. This license is the most low-priced, starting with $9.95 per year.
2. Standard
This license activates Adguard for Windows or Mac (yes, we now have a Mac version). Prices are the same, starting with $19.95 per year.
3. Premium
Premium license works for both Android device and PC or Mac.
For example, if you have a Premium license for 1 device and you have activated it on Adguard for Windows, then you can easily use the same license to activate Adguard for Android. So basically Premium contains two licenses – for mobile and standard protection.
Prices for premium license start with $24.95 per year.
What about Parental Control?
Earlier one of the main differences between premium and standard licences was the presence of Parental Control. Starting with the latest version, the module for filtering of obscene materials is included in Windows-version by default. So it will be possible to activate with either a standard or premium license.
By the way, don't forget to update Adguard, the recent version contains many useful changes and improvements, not to mention that it makes the Parental control module available.
These are the changes !:) Hopefully, it is now easier to understand what type of key is needed, and the price for Android version is now twice lower and corresponds the cost of an ordinary mobile app subscription. We always listen to you and hope that you will like our new type of licenses.
Sincerely,
Adguard team