動作環境​
OS version: Android 7.0 or higher
RAM: 2 GB以上
Free disk space: 500 MB
AdGuard for Android のインストール方法​
【AdGuardがGoogle Playにない理由】これは、Googleがネットワークレベルの広告ブロッカー(つまり、他のアプリの広告をブロックするアプリ)のGoogle Playでの配布を禁止しているためです。 You will find more information about Google restrictive policy in our blog.
この理由で、AdGuard for Androidは直接AdGuardウェブサイトから手動でインストールする必要があります。 方法は以下の通りです。
Download the app on your device. Here are a few ways you can do this:

Allow installing apps from unknown sources. Once the file download is complete, tap Open in the notification.

A popup will appear. Tap Settings, navigate to Install unknown apps, and grant permission for the browser you've used to download the file.

Install the app. Once the browser has obtained the necessary permissions, the system will ask you if you want to install the AdGuard app. Tap Install.

You will then be asked to read AdGuard's License Agreement and Privacy Policy. You can also participate in product development. To do this, check the boxes for Send crash reports automatically and Send technical and interaction data. Then tap Continue.

Create a local VPN. In order to filter all traffic directly on your device and not route it through a remote server, AdGuard needs to establish a VPN connection.

Enable HTTPS filtering. It is not a mandatory option, however, we advice to turn it on for the best ad-blocking quality.

If your device is running Android 7–9, you'll be prompted to install a root certificate and configure HTTPS filtering after the local VPN setup.

After you tap Install now, a prompt will appear asking you to authenticate the certificate installation with a password or fingerprint.

If you have Android 10+ on your device, then after creating a local VPN, you will see the main app screen with a snack bar at the bottom with a suggestion to enable HTTPS filtering: tap Enable and follow the instructions on the next screen or check the article about certificate installation for more information.
АdGuardのアンインストールや再インストール​
If you need to uninstall AdGuard on your mobile device, open Settings and choose Apps (Android 7) or Apps & notifications (Android 8+). Find AdGuard in the list of installed apps and press Uninstall.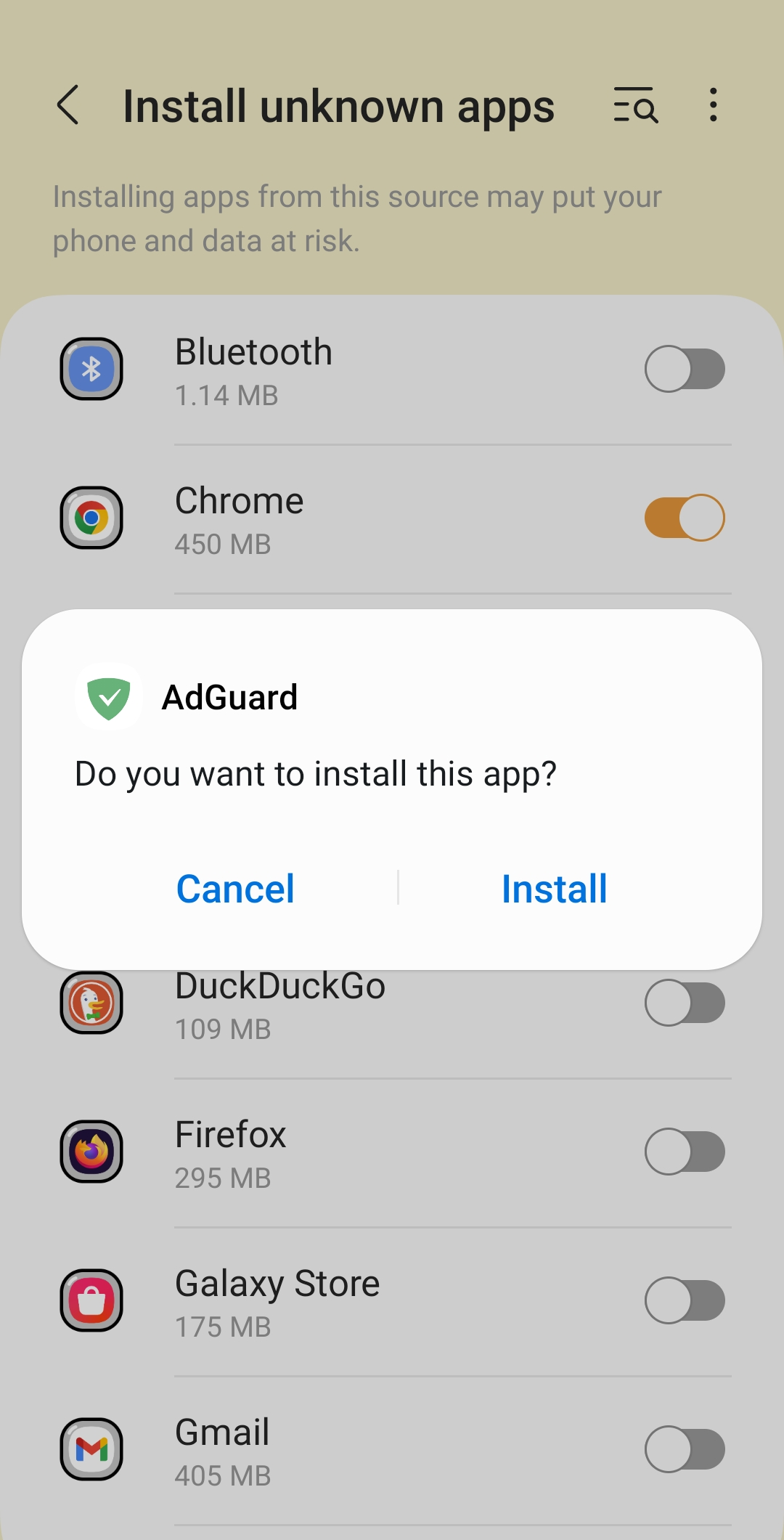 To reinstall AdGuard, just download the apk file again and follow the steps outlined in the Installation section. Uninstallation is not required beforehand.