Directrices y recomendaciones
Hay varias cosas que nos gustaría que supieras antes de empezar a traducir. No solo te ahorrará tiempo y esfuerzo, sino que también garantizará que estemos en sintonía en cuanto al significado de las frases que se están traduciendo.
Una vez que abras nuestra página en Crowdin, elige cualquier proyecto que necesites y selecciona tu idioma.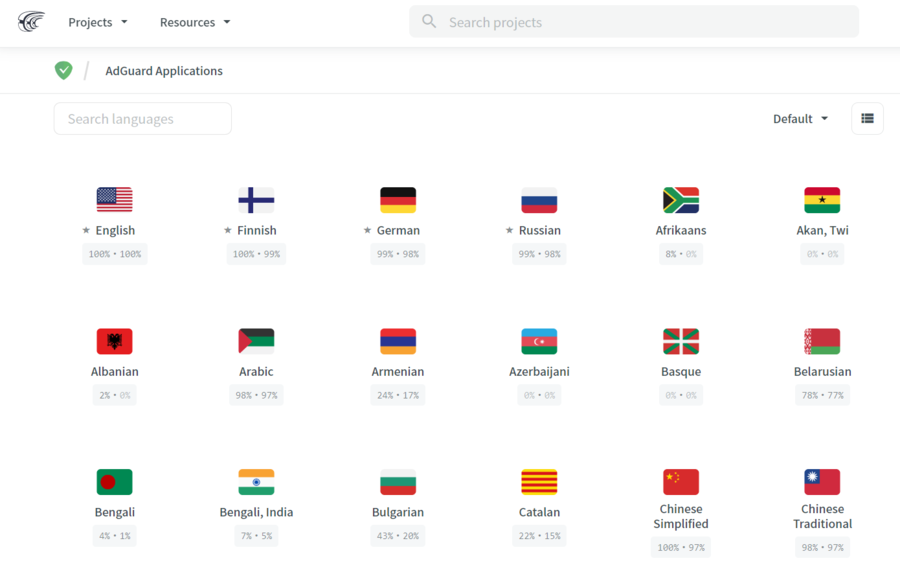 También podrás cambiar de idioma incluso después de abrir determinadas carpetas de productos.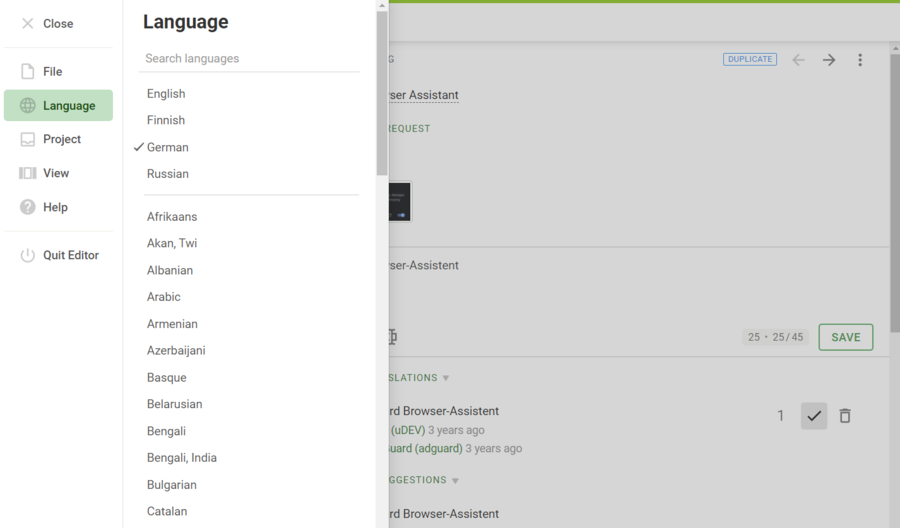 Elige cualquiera de las carpetas de productos disponibles y selecciona un archivo; ahora puedes comenzar a traducir.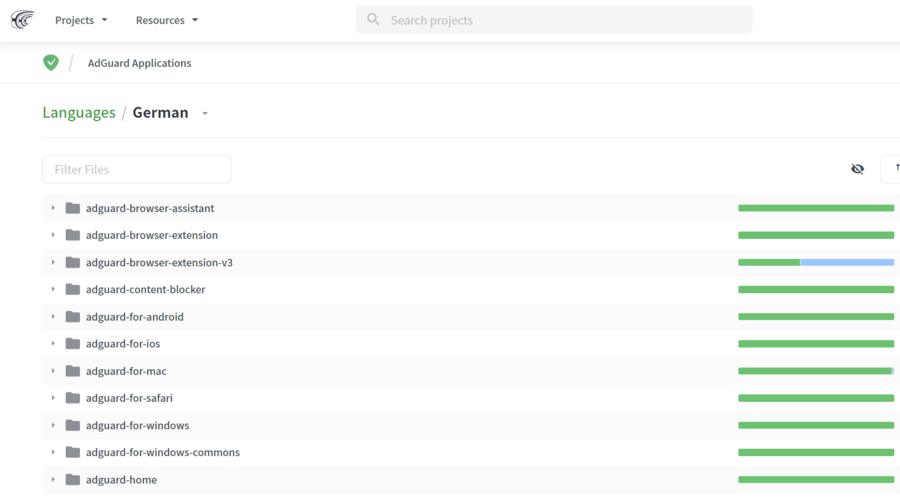 nota
You can also change the Crowdin interface language by clicking the Settings icon in the top right corner of the page. En la ventana abierta, desplázate hacia abajo hasta la pestaña UI language. Ábrela, elige un idioma y haz clic en Cambiar.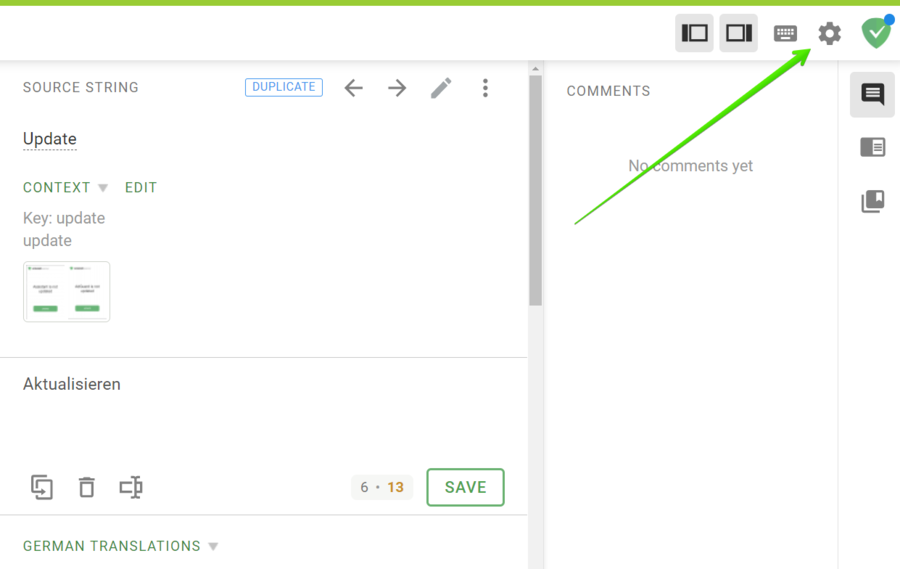 Las siguientes directrices te ayudarán en el proceso.
You can filter translations by clicking this button and selecting any offered option.

Easily move between the files of the project.

Pay attention to the glossary terms highlighted with a dotted line in a source phrase. Usually, they are special words (like brand names) that should not be translated.

You can suggest your translation for translatable terms in the AdGuard Glossary project.

In Crowdin, strings can have notes that make it easier to understand and translate phrases. Look for them in the "Context" field of the source string.

Pay attention to screenshots that often go alongside source phrases in the "Context" field as well. They help to understand the context and convey the exact meaning.

consejo

You can request context by clicking the "REQUEST" button.
:::
![crowdin *border](https://cdn.adtidy.org/public/Adguard/kb/en/ag-translations/request.png)



In addition to suggesting new translations, you can also leave comments on strings. Use comments to let us know about mistakes in the existing translations, make notes, or ask questions. If you see a comment left on your translation — try to respond to it.

There's also a Discussions tab on the main project page that conveniently allows you to see all the comments for the specific language in this project.

Crowdin provides a very useful and convenient tool called Translation Memory. With its help, you can find the previously made translations of the same words and phrases and reuse them in your translations.

Once you join a project by clicking the "Join" button, you will see the Tasks tab on the project page, where the tasks for specific project files get created. Please pay attention to them: they usually have a higher priority.

Sometimes you can find phrases with plural forms. Please be especially attentive when translating such phrases. You can read how to translate plural forms here.

Using proper plural forms is extremely important: please ask us in the comments if anything is unclear.

Please do not write directly to the project managers and proofreaders listed in the Project info.

If you have questions about translations, you can always ask our proofreaders or admins through comments.

Also, you can send an email to translate@adguard.com or ask a question in the Telegram chat. The Admins will answer you as soon as possible.