Your work in the Opera browser will be faster and safer with Adguard. Free extension against advertising removes ads, banners and blocks pop-ups in Opera.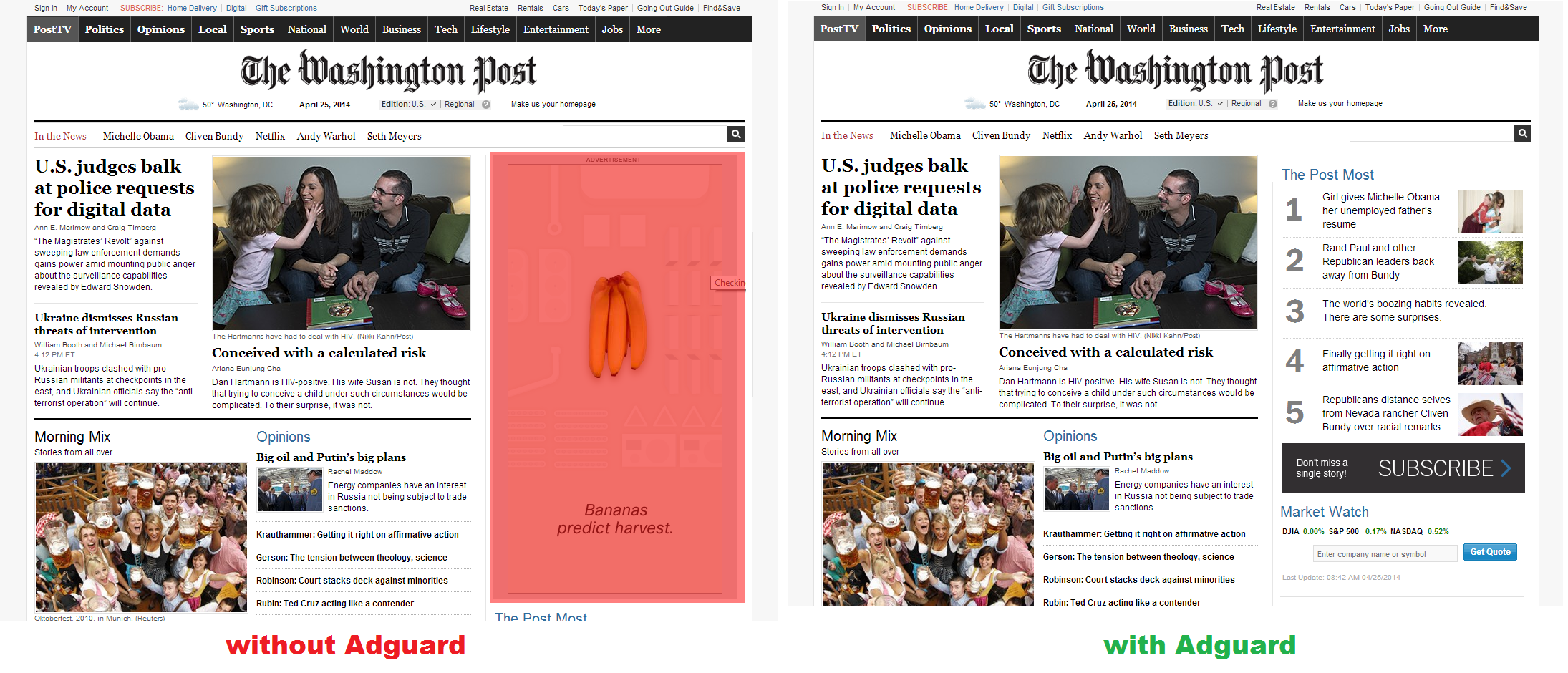 AdBlocker gives you the possibility to remove undesirable ads – annoying banners, pop-ups and video ads in the Opera. Extension works fast and effective – it fully removes ads from the page even before the website is fully downloaded. This reduces the time of awaiting and makes your work in the Internet more comfortable and safe.
Adblocker Adguard increases your safety in the Internet by protecting users from malware and scams with the function of Antiphising. Moreover, you can submit a complaint on any suspicious website through the extension button on the browser toolbar or read the report on its security. Through the extension button, you can also block separate elements manually by highlighting and clicking on it.
Adguard has an extensive database of its own filters and uses less memory and CPU – that is why it checks websites and works faster than many other adblock extensions.
Adguard ad blocking extension for Opera is available in Opera add-ons. You can download it using the link at the bottom of this article.
In the opened window click the green button "Add to Opera".
To enable or disable Adguard – go to the Extensions.
In the Extensions, you can activate Adguard and also allow it in private mode or go to Options to configure the extension for yourself.
In Settings you can allow or prohibit showing the contextual advertising, make up your own white list of the websites, which will not be processed by our extension, and choose suitable filters. Adguard ensures comfortable work in the Opera browser without ads.
If for some reason our adblock for Opera does not suit you - you can continue to search among other ad blocking extensions, for example – Adblock Plus / ABP, Ad Muncher and others.
Subscribe to AdGuard news
Be the first to hear about all ad blocking and privacy-related news, new AdGuard product releases, upcoming sales, giveaways and more.
You've successfully subscribed to AdGuard news!
Baska I bought a lifetime license. Best buy ever in my life and always feeling happiness.
From Mongolia
adrianpetrov79 This app is outstanding! It blocks all ads systemwide. With Pro subscription, that is. But it's worth every penny. Good job!
Jhon Homad This is the best I've wanted this to be on iOS for soo long finally it's here and it's the best I've seen in years sooo good
Abdlrahman keep you safe, protect privcey,good for all
Write a review
Your review has been sent. Thank you!