AdGuard ad blocker knows how to block ads on Yahoo homepage
We all have favorite websites which we check daily for the news, weather, celebrity facts, cute photos (if we haven't already had our share of those on social media) and whatnot. Some of those sites also offer their users a mailbox, so you are guaranteed to come back there regularly, at least to check your emails. Yahoo is one of those all-round web services-slash-search engine-slash-mailbox which has been there since forever, despite giants like Google taking advantage of most of the web. The main problem with those sites in general and with Yahoo in particular is that they all need advertising to survive. So you can regularly encounter sponsored content that gets very intrusive, and office-inappropriate at times. Another irritating feature that Yahoo has adopted is that it mixes sponsored content into the actual headlines in such a way that it is hard to tell at once where we are being prompted to click it.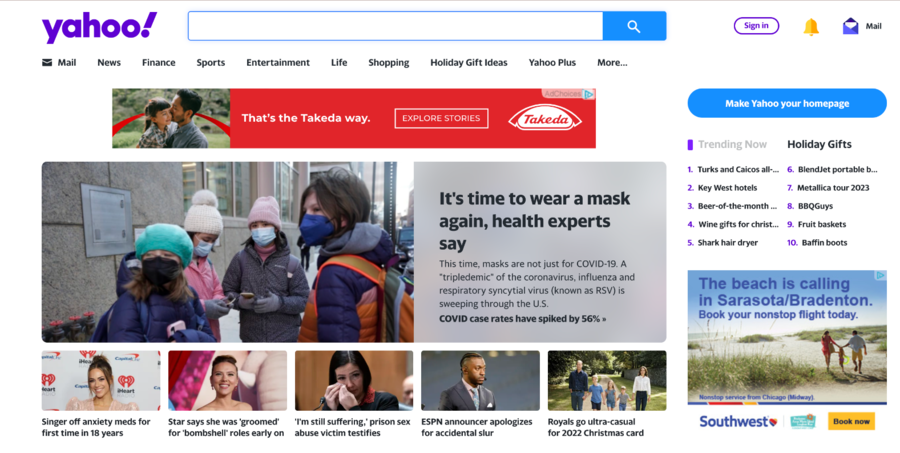 There is, however, a universal way of avoiding all of the above-mentioned woes — there are ad blockers that will make your internet experience much better. AdGuard is one of those. We have developed a whole range of products from which you can choose the perfect way to stop pop-ups and remove commercials on the Yahoo main page.
How to block ads on Yahoo
Yahoo Plus
The only way to block ads on Yahoo using the service itself is to buy one of the Yahoo Plus subscriptions. The service offers 4 different subscription plans: Yahoo Mail Plus, Yahoo Finance Plus, Yahoo Plus Protect and Yahoo Fantasy Plus. Yahoo promises its users an ad-free inbox and a homepage, as well as better performance on users' devices.
But despite this possibility, there are other, more versatile methods. Here we will tell you how to block ads with an ad blocker, incidentally — not only on Yahoo pages.
Ad blockers
Ad blockers, be that browser extensions or full-fledged programs, are a more comprehensive method of fighting ads. Some services offer free extensions that also allow you to successfully fight against most ads on various sites and services. Paid programs have the greatest arsenal of blocking options, though. However, the ad blocker does not limit ad filtering to just one service or site, while the subscription to a service allows you to get rid of ads only on that specific service.
In this article we will tell you about
AdGuard Ad Blocker
and how it removes ads on Yahoo on various operating systems.
Why AdGuard is the better option
As we said, an ad blocker allows you to get rid of ads not only on any particular site, but on all sites and in case of a program — in almost any app.
So what are the main advantages of AdGuard?
AdGuard is available as a browser extension that works for free in all popular browsers — Chrome, Firefox, Edge, Opera and Safari. And also as an application, which is available for all major operating systems — Windows, Mac, Android, iOS.
AdGuard blocks all kinds of ads — pop-ups, video ads, banners and such — on all websites and in almost all apps. Due to unnoticeable background filtering and cosmetic processing, users see only clean pages with the content they came for.
In addition to ad blocking, AdGuard also protects users from tracking and analytics systems, phishing and malicious sites (by showing a warning before visiting such sites).
AdGuard offers flexible adjustment of filters and many other useful features and tools as well, like Parental Control, that protects children from inappropriate content, DNS protection and such.
Besides, AdGuard provides a 24/7 support service for its users. The support team tries to resolve issues as soon as possible.
Now let's see each AdGuard product in detail and learn how you can use it to remove ads on Yahoo.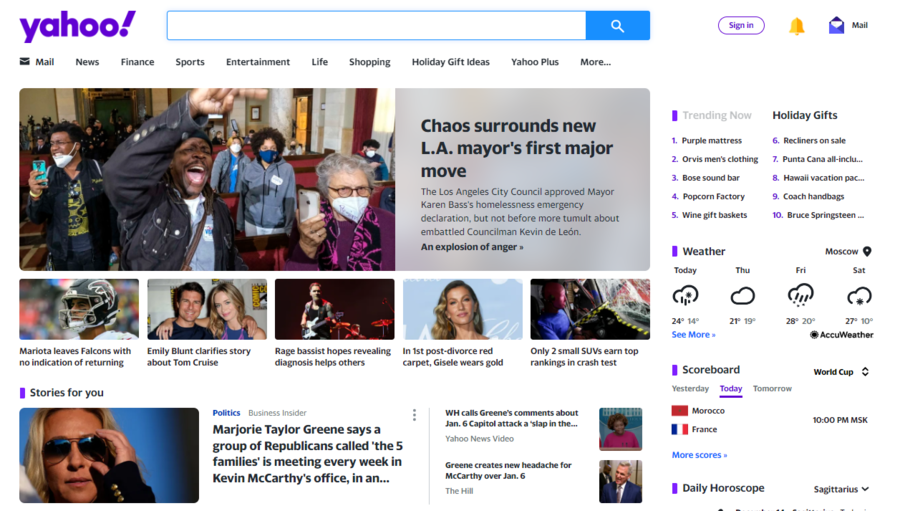 How to block ads on Yahoo if you are using a Windows computer
For those who use the Windows operating system, the
AdGuard for Windows
app is available — you can download it from our website. The program, like all the AdGuard range, will block all types of ads and suspicious sites on all web pages (including Yahoo homepage) in both l browsers and apps on your computer and also protect your privacy from trackers, phishing and malicious sites. AdGuard for Windows has a lot of useful options: you can manually block any unwanted element on any web page of your choice, plus there is the Parental Control feature that filters out all inappropriate content for children, including search results.
How to stop ads on Yahoo homepage if you are using a Mac
If you are a macOS user, go to our website and download
AdGuard for Mac
. Pop-ups, video ads, banners and anything that keeps you from reading Yahoo news will disappear. Thanks to unnoticeable filtering, all you will see are clean pages with the content you initially expected to see. In addition, AdGuard for Mac protects your privacy, shields you from all kinds of malware and adware, and filters the traffic of all applications installed on your Mac. As well as AdGuard for Windows, AdGuard for Mac also has a Parental Control feature and many others.
How to stop ads on Yahoo homepage if you are using an iOS device
If you are using an iOS device and you're assailed by too many ads on the homepage or mail page of Yahoo, an ad blocker working on iOS is your best bet. If you look for AdGuard in the App Store, you'll find two apps — AdGuard and AdGuard Pro. These apps are designed to block ads and tracking in Safari, in apps and other browsers, and to manage DNS protection. Both apps block ads on smartphones and tablets by Apple. They used to differ in functionality due to the changing App Store review guidelines, but now these two apps are basically the same. So if you have purchased AdGuard Pro, there is no need to download AdGuard and buy a license there, and vice versa.
With the help of
AdGuard for iOS
you will get rid of ads on Yahoo home and mail pages.
Download AdGuard for iOS from the App Store
and easily block different types of ads and trackers in all browsers and apps, create user rules, both in Safari and on the network level, manage the whole blocking process as well as DNS filtering.
How to stop ads on Yahoo homepage if you are using an Android device
Its main feature is blocking ads on the system level. This includes all kinds of ads in browsers, apps, and games. There are dozens of ad filters available, they are updated on a regular basis, guaranteeing the best filtering quality. Google Play Store offers a lightweight version of the app —
AdGuard Content Blocker
, which works for the two mobile browsers that support content blocking — namely, Samsung Internet and Yandex.Browser.
If you do not wish to download a program, you can make do with any of our free AdGuard Browser extensions, whether you use Chrome, Firefox, Safari, Edge, Opera or Yandex.Browser
. We emphasize, though, that extensions block ads and pop-ups, but cannot provide protection from malware and phishing like full-fledged AdGuard programs do. They can be used both at the same time though — the extension will become AdGuard Assistant and complement the main program's function.