Pop-ups blocker for all browsers from
Pop-ups exist as long as the Internet does, and it seems that they have long-term plans of making users "happy" with their presence. We want to tell a little about them and give some advice concerning how to remove pop-ups and protect your computer from numerous threats.
This article tells about:
Types of intrusive ads and how everything started (you should know your enemy :))
How to remove pop-ups and not listen to crazy music anymore;
Why Adguard was chosen by more than 8 million users;
How to protect several devices from ads at once;
Something more than a simple blocker…
In case you have any additional questions about how to remove pop-ups, our
Technical Support
is always in touch safeguarding your browsers!
Prehistoric pop-ups
One should be a true optimist to say that pop-ups cause no trouble. At the dawn of the internet (early noughties) when Internet Explorer 5 considered to be the browsing technologies paragon, pop-ups had more freedom than today. At that time, the browsers didn't have preinstalled pop-up blockers and such windows could open at any time in any amount. Moreover, a couple of simple tricks could make it impossible to close these windows. Don't you remember those fantastic demands to send SMS to unblock your computer? That time an available program that would block pop-ups was only a dream.
As time went by, it became possible to block pop-ups. Opera was a pioneer. This browser was first to implement built-in instruments against pop-ups. Other browsers have also followed Opera's steps and now Chrome, Mozilla Firefox and others also provide their users with opportunity to block pop-ups. Even Internet Explorer definitely became safer and started to block pop-ups more or less.
In spite of the fact that eventually advertisers learned how to pass such restrictions over with the help of Adobe Flash player and other tricks, an active pop-ups fight was over and the problem lost its edge.
Tricky click-under
As of today, nearly all internet browsers can remove pop-ups showing service messages when a window is blocked. But there is one important detail – these browsers' possibilities only extend to those windows which open automatically. Without thinking twice advertisers have changed their strategy – pop-ups started to appear right after a user fulfils any action on a web-page (for example, after a click on a web-page). Surely you have often run into such kind of windows. They open as soon as you try to follow a link or open an image.
Very often such approach puzzles algorithm of a browser blocker, so it can't decipher if the opened window is a result of the user's actions or it's really an ad. Actually, this is the end of the browsers' built-in pop-ups blockers evolution that seemed pretty promising at first. There is no way to determine if a pop-up contains ads or some useful information which means that windows appearing at a click can stay with us for long. Of course, it relates only to built-in browser protecting options, but not to additional protecting tools that are described below.
Pop-ups and concealed viruses
A described above scenario is the most popular now, but not the only one. Today pop-ups are actively used for viruses that look like catchy or, vice versa, like plain announcements. Once a virus is in a computer it starts to open pop-ups from time to time (which can even contain pornographic materials) forcing a user to click an ad. "Viral advertising" indeed!
Pop-ups that appear due to viruses can't be removed neither with anti-banner nor with other blocking tools. The only way to remove such pop-ups is a program that can delete viruses. By the way, today a scenario when a virus that shows up as a browser extension becomes more and more common. This means you have to be attentive and check the safety of all programs and components you want to install!
Fake pop-ups
Existing malicious schemes are vulnerable to ad blockers, so fully featured pop-ups became less popular. The industry has found a substitution for them – banners that look like pop-ups and have the same control elements. Such banners only simulate pop-ups.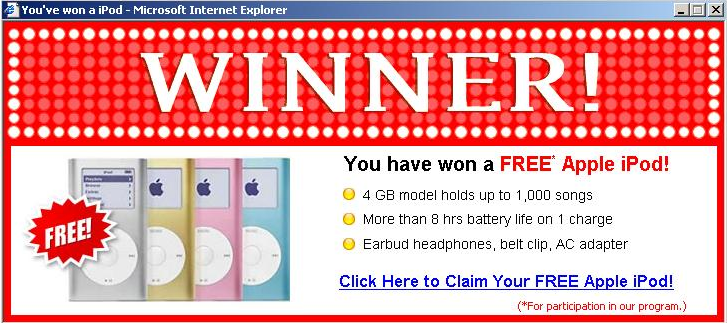 Pop-ups against attentive users
Pop-ups that were trying to disorient even very attentive users gained their popularity by the mid noughties when Windows XP was the most commonly used OS and nearly all users had the same looking windows. Then Vista 7 appeared and the «black magic» could work no more. Now user's interface became very flexible and was based upon individual settings. As a result, it was a problem to find two computers with a similar looking interface. Users started to pick out the lie and stopped clicking such ads. However even now some sites contain this kind of "windows", as significant number of users still can't distinguish a deceit.
«Hi, how are you» Pop-ups
Today users have a wide perception of the term "pop-up" seeing it like something more than just an OS window. For most of the users a "pop-up" is just some kind of a big square banner with the "Close" button. These banners are widely used by advertisers for undesirable ads. You have surely seen such messages like «Your browser needs to be updated» with a following "possibility" to update. This usually appears after some unknown program was installed.

Рop-ups that look like messages from Skype, Facebook and other popular social networks can be divided into separate group. These small windows appear on your screen and are often targeted on getting your confidential information. Anyway, these pop-ups don't look promising. 
Well, let's move beyond theory and start to answer the question how to remove pop-up ads. Our adblock Adguard is the best decision when you want to get rid of pop-ups.
How to remove pop-ups with ads in a couple of clicks
Most of the Internet users still try to fight against ads themselves and close windows with ads manually because they just don't know about other, much more easier ways of fighting these intrusive monsters.
If by trying to get rid of annoying pop-up ads that appear in browser you've run into Adguard site – you're on the right way! Here you can download an extension for your browser or an expanded version of a program that can remove pop-ups and guarantee safe Internet surfing.
Adguard is a universal solution in your fight against pop-ups and it can work in all browsers. The Ad Blocker module easily fights all types of ads, and pop-ups are not an exception. According to your needs, you can install a free version with certain limitations but with useful features, or an extended program that has all functions available, so you can forget about your everyday question «How to remove pop-ups».
Adguard: pop-ups in browser are no problem
Adblocker Adguard will help to forget pop-ups like a bad dream. This Internet filter works with all browsers designed for Windows OS, smartphones and tablets on Android and Apple devices (Mac OS and iOS). More than 8 million people use different versions of the program. It is an inspiring figure, isn't it?
All Adguard products provide effective protection against intrusive ads looking into the future. This means that our specialists constantly monitor new technologies which help to block pop-ups 24/7, today and tomorrow. In case you need any advice regarding the most suitable version of the product for your needs, you can get acquainted with a
short functionality table on the main page of our site >>>
Besides the main functions of an dblocker the program also:
Helps to protect your devices from viruses;
Protects against phishing;
Blocks undesirable ad elements not only on sites, but also in the programs installed on your computer;
Blocks video ads on Youtube.com and in other services;
Can block content undesirable for kids (here go not only sites for grown-ups, but also doubtful pop-ups that contain ads).
Pop-ups blocking in Google Chrome, Yandex and other browsers
As mentioned, Adguard works against pop-ups in all browsers. It also concerns pop-ups in Yandex browser that gains popularity among users. If the program is installed but you still see ads, it will be enough to check the settings. Probably all you need to do is to add the browser you're using in the filtering list. In fact, besides popular browsers Adguard can work with any browser you choose. It's enough just to tick the browser you are using in Adguard settings.
If you want to know how to remove pop-ups in Opera with Adguard, you can read answers from our technical specialists to the most common questions. It won't take long. The same concerns all necessary information about how to remove pop-ups in Chrome or in any other browser.
How to block pop-ups on several devices
If you purchase a license for Adguard ad blocker, you can choose the version for one or several operating systems and determine the number of devices where you need to install the adblocker. Moreover, it's possible to pay for the program in US dollar, Euro and many other currencies. You can purchase a yearly or a lifetime license.
Forget about the annoying pop-ups!
Download Adguard for free and it will save you from intrusive pop-ups, banners and other ads. Besides, Adguard will make your Internet surfing significantly safer and will help prevent children from seeing inappropriate information. Our ad blocker protects from third parties' attempts to collect your personal data and from watching what you do on the Internet. So, you can use the Internet without jumping up because of a crazy pop-ups or background music, and without any fear of fraud actions that can block your computer. Pop-ups in Chrome, as well as in any other browser or program, will bother you no more as soon as Adguard is at work.
AdGuard for Windows provides you with reliable and manageable protection that filters loading web pages immediately without any action on your part. AdGuard removes all annoying ads and pop-ups, blocks dangerous websites, and does not allow anyone to track your activities on the Internet.
| | |
| --- | --- |
| Operating Systems | Windows XP SP3, Vista, 7, 8, 8.1, 10 |
| RAM | from 512mb |
| Web Browsers | Microsoft Edge, Internet Explorer, Google Chrome, Opera, Yandex Browser, Mozilla Firefox and other |
| Free Disk Space | 50mb |
AdGuard for Mac is the first adblocker developed specifically for macOS. Not only does it block ads and annoying pop-ups in all browsers, but it also protects you from online trackers and dangerous websites. AdGuard offers you a simple and intuitive interface with additional features such as AdGuard Assistant and a filtering log.
| | |
| --- | --- |
| Operating Systems | macOS 10.10 (64 bit) + |
| RAM | from 512mb |
| Web Browsers | Safari, Google Chrome, Opera, Yandex browser, Mozilla Firefox and other |
| Free Disk Space | 60mb |
AdGuard for Android provides you with reliable and manageable protection. AdGuard removes all the annoying ads from web pages and applications, blocks loading of dangerous websites, and does not allow anyone to track your activities on the Internet. AdGuard stands out against its analogues, as it can work either in HTTP proxy or VPN mode.
| | |
| --- | --- |
| Operating Systems | Android 4.0.3 + |
| RAM | from 700mb |
| Free Disk Space | 30mb |
AdGuard for iOS is an app that protects you from annoying ads in Safari. Moreover, it prohibits online tracking and secure privacy of your personal data. After downloading the app, you get an ad-free and safe internet experience, where websites open much faster. Try now and enjoy a better web-surfing experience on your iPhones and iPads.
| | |
| --- | --- |
| Compatibility | Requires iOS 10.0 or later. Compatible with iPhone 5s, iPhone 6, iPhone 6 Plus, iPhone 6s, iPhone 6s Plus, iPad Air, iPad Air Wi-Fi + Cellular, iPad mini 2, iPad mini 2 Wi-Fi + Cellular, iPad Air 2, iPad Air 2 Wi-Fi + Cellular, iPad mini 3, iPad mini 3 Wi-Fi + Cellular, iPad mini 4, iPad mini 4 Wi-Fi + Cellular, iPad Pro, iPad Pro Wi-Fi + Cellular, and iPod touch (6th generation). |
| Web Browsers | Safari |
| Free Disk Space | 24.4mb |