Popups exist as long as the internet does, and apparently they will still "please" users with their sudden appearance in the future. We would like to tell you a little about them and give advice on how to remove the pop-up ads and protect your computer from possible threats.
Prehistoric popups
One need to be very optimistic to say that today popups do not cause big problems. However, this is true - at the start of the Internet (at the beginning of the 00's), when Internet Explorer 5 crowned the browser technologies, popups felt much more at ease than today. Browsers have not yet contained built-in pop-up blockers - popups could be opened at any time and in any quantity. A pair of clever tricks – and such windows were impossible to close at all. The only hope for the resolution of the situation was the installation of some software to block pop-ups.
In early 2000s, there was finally an ability to block pop-ups. Pop-up blocker in Opera was the first available tool. This browser was the first to introduce the built-in tools against "pop-ups". Other browsers followed the example of Opera and now we have pop-up blockers in Chrome, Mozilla Firefox and others. And Internet Explorer became safer and learned to block pop-ups. Despite the fact that advertisers have learned to bypass restrictions using Adobe Flash and other technologies, the intensity of fight against popups began to subside, and the problem became less topical.
Click-under
To date, virtually all browsers allow to block pop-ups, and only notify about the successful blockings. But there is a nuance: these options relate only to the browser windows that open automatically, that is quite impudent. In a short time, advertising networks have changed their strategy: now such windows pop up at the first action of the user on a Web page (for example, when you click on the page). Surely you repeatedly faced similar popups that appear as soon as you click anywhere on the page.
This approach puts a deadlock for blocking algorithms - browser cannot determine whether user expects the appearance of the window and whether it contains advertising. Actually, this means the evolution of embedded browser pop-up blockers can be considered ended - the task of determining whether the popup contains advertising or useful information can not be solved, and that means that window, popping up after a click will stay with us for a long time.
Popups and viruses
Unfortunately, the scenario described above is now the most popular, but not the only one. Today popups actively used by viruses to display advertisements to the user. Once installed on a computer, virus embeds in browsers and periodically opens the pop-ups (which may also include pornography), thus forcing the user to visit some websites or click on ads. The real "viral advertising" indeed!
Unlike previous stories, ad blockers against pop-ups displayed by viruses will be useless. The only way to remove these popups is to find and remove the virus with the appropriate software. By the way, today there are more and more cases where "virus" appeared to be a malicious browser extension. Be careful!
The fake popups
Vulnerability to adblockers led to a partial rejection of the full-fledged pop-ups. Industry has found a replacement for them – a lot of banners began to appear, looking like pop-ups, containing the same control elements and imitating them in general.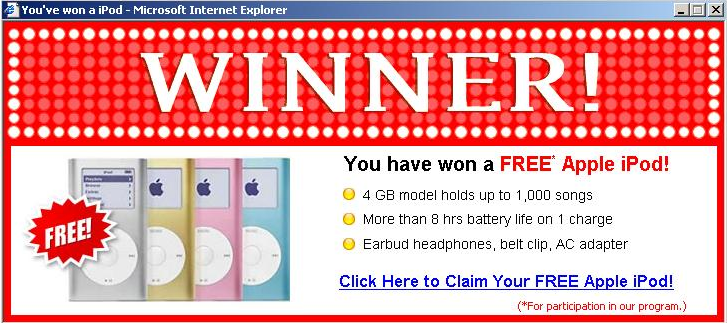 The peak of their popularity was in the middle of the 2000's when OS Windows XP was an absolute leader and all users had windows looked about the same. Then Vista and Windows 7 were developed, and "magic" stopped working - the user interface became so flexible and configurable that it became difficult to find two computers on which window interface has the same form. Users understood how to tell apart the fraudulent windows and just stopped to click on those ads. However, such "windows" can be found on some wesites even now.
Pop-up banners
It is interesting that today people understand "popup" not literally, implying the operating system window, but in a broader sense. In fact, for most users, "popup" is just a fairly large rectangular or square banner containing the "Close" button. These banners are commonly used by advertising networks to rotate undesirable advertising. Surely you have seen the message that "your browser is outdated" and recommendation to "update" it, which appeared after downloading and running an unfamiliar program.
Separate class of pop up banners are popups, mimicking messages from Skype, Facebook or Twitter. These small windows that pop up on your screen may try to extract confidential information from you and generally do not bode anything good.
Our adblock program Adguard can perfectly secure protection against pop-ups.
Adguard is a universal solution for dealing with popups in all browsers. AdBlocker module easily handles all kinds of advertising and "pop-up ads" are not exception.

Download free Adguard, and our ad blocker will save you from intrusive pop-ups, banners and other advertising and greatly increase security of your computer.
AdGuard for Windows provides you with a reliable and manageable protection that immediately and without your participation filters loading web pages. AdGuard removes all the annoying ads and popups, blocks dangerous websites, and does not allow anyone to track your activities on the Internet.
System Requirements
Product Page →
| | |
| --- | --- |
| Operating Systems | Windows XP SP3, Vista, 7, 8, 8.1, 10 |
| RAM | from 512mb |
| Web Browsers | Microsoft Edge, Internet Explorer, Google Chrome, Opera, Yandex Browser, Mozilla Firefox and other |
| Free Disk Space | 50mb |
AdGuard for Mac is the first adblocker developed specifically for OS X. Not only it blocks ads and annoying popups in any browser, but also protects you from online trackers and dangerous websites. AdGuard offers you simple and intuitive interface with such additional features like AdGuard Assistant and filtering log.
System Requirements
Product Page →
| | |
| --- | --- |
| Operating Systems | macOS 10.10 (64 bit) + |
| RAM | from 512mb |
| Web Browsers | Safari, Google Chrome, Opera, Yandex browser, Mozilla Firefox and other |
| Free Disk Space | 60mb |
AdGuard for Android provides you with a reliable and manageable protection. AdGuard removes all the annoying ads from web pages and applications, blocks loading of dangerous websites, and will not allow anyone to track your activities on the Internet. AdGuard stands out against its analogues as it can work both in HTTP proxy and VPN mode.
System Requirements
Product Page →
| | |
| --- | --- |
| Operating Systems | Android 4.0.3 + |
| RAM | from 700mb |
| Free Disk Space | 30mb |
AdGuard for iOS is an app that protects you from annoying ads in Safari. Moreover, it prohibits online tracking and secure privacy of your personal data. After downloading the app, you get the ad-free and safe Internet, where websites open much faster. Try now and enjoy web surfing experience on your iPhones and iPads.
System Requirements
Product Page →
| | |
| --- | --- |
| Compatibility | Requires iOS 9.0 or later. Compatible with iPhone 5s, iPhone 6, iPhone 6 Plus, iPhone 6s, iPhone 6s Plus, iPad Air, iPad Air Wi-Fi + Cellular, iPad mini 2, iPad mini 2 Wi-Fi + Cellular, iPad Air 2, iPad Air 2 Wi-Fi + Cellular, iPad mini 3, iPad mini 3 Wi-Fi + Cellular, iPad mini 4, iPad mini 4 Wi-Fi + Cellular, iPad Pro, iPad Pro Wi-Fi + Cellular, and iPod touch (6th generation). |
| Web Browsers | Safari |
| Free Disk Space | 24.4mb |