Active Internet users, who are really tired of all kinds of advertising and pop-ups in browser, have already found a solution in the form of "
adblocker
". However, a lot of people are not even aware that annoying banner ads are also easy to remove from different programs. We are tired of online advertising, so why shall we put up with it on our computers?
Let's see how do we get rid of banners and pop-ups in programs. Not all adblockers can help you. For example, well-known extensions such as AdBlock and Adblock Plus are not able to remove ads from the program because they only work at the browser level and powerless when it comes to filtering of annoying ads on computer. In contrast, our adblocker Adguard is able to clean advertising not only on websites, but also in any program developed for Windows. Including all the most popular programs such as BitTorrent, uTorrent, Skype, ICQ, MSN messenger and many others.
Indeed, it is really easy to block the ads in well-known Skype. With Adguard adblock filter you need to make just a few simple steps - and ads will disappear from programs you have chosen once and for all:
1. You need to open Adguard and click on the Settings - Browsers.
You will see the button "Add a browser…" And although in fact we will not add a browser, but a program, this is the button we need.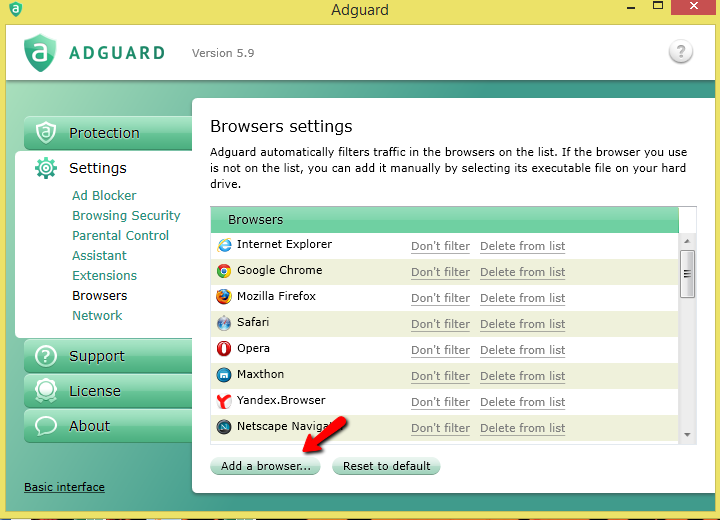 You need to find the program, which you want to filter, on your computer. And add its executable file (.exe), by clicking "Open".
That is all. Now this program is added to the list of filtered objects and you won't see any annoying ads. You can make sure by downloading Adguard free. And to help you with your choice we suggest you have a look at how our adblocker removes ads from absolutely all the programs on your computer.
How to remove ads in uTorrent
uTorrent – the well-known torrent client, which helps you to download necessary files really fast. Adguard won't let advertisements to distract you from downloading the music, movies, games and much more.

How to remove ads in BitTorrent
BitTorrent is a protocol that allows you to download files fast and effectively. With Adguard, you can download new seasons of favorite TV-series, movies, music, videos and many others without undesirable ads.

How to remove ads in Yahoo Messenger
Yahoo Messenger lets you send instant messages, chat with friends for free and enjoy stealth settings, video calls, PC calls. Ads? We suppose they are quite inappropriate here.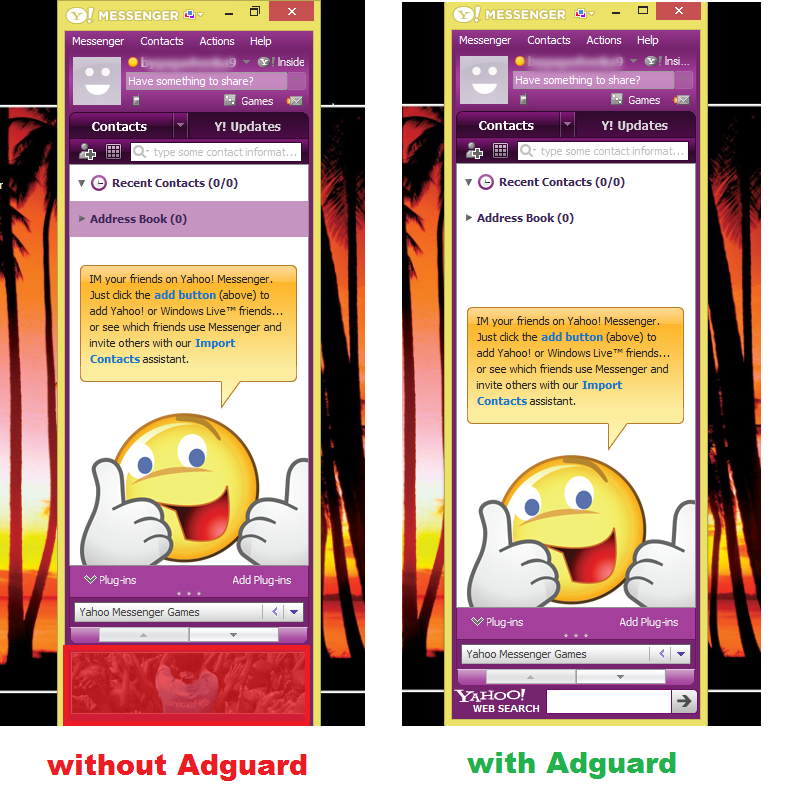 How to remove ads in KMPlayer
KMPlayer – a powerful multimedia player for playing audio and video files. And advertising here is absolutely unwelcomed. With Adguard, you can watch movies and listen to music without being distracted by advertising banners.

ICQ is an instant messaging computer program. It was really popular quite ago. Mostly everyone has it installed on computer. ICQ is designed for communication, not rotating advertising. Do you agree? Then install Adguard.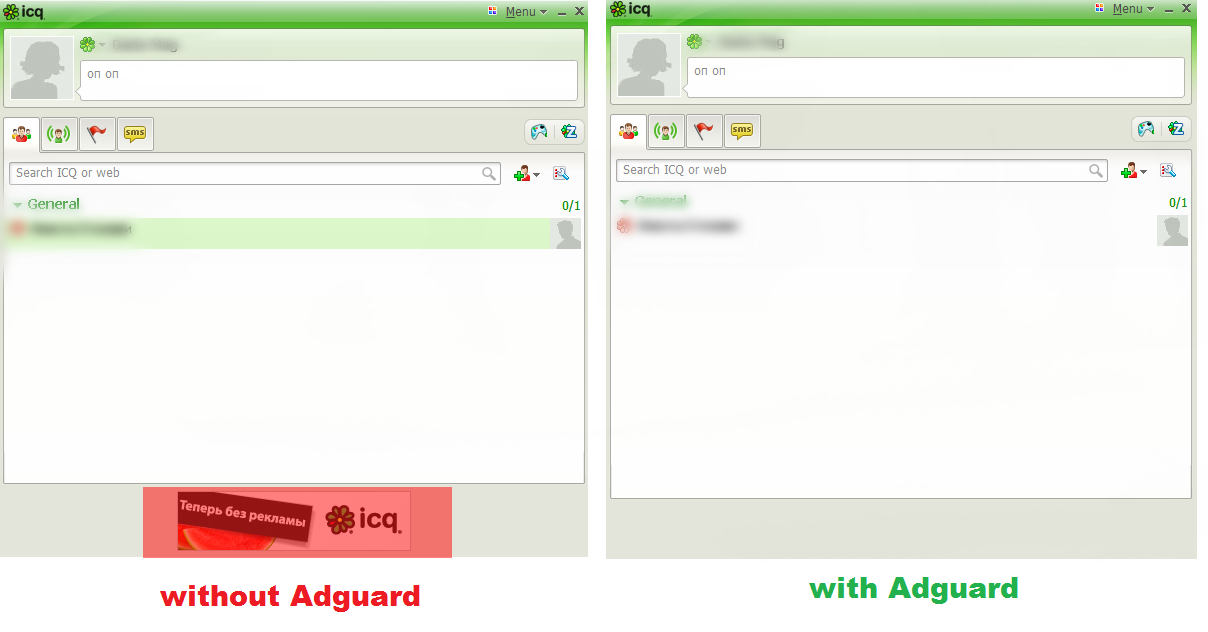 How to remove ads in RealPlayer
With RealPlayer you can not only watch movies and videos on your computer, but also download them from the Internet. We think you agree that doing it without looking at ads is much nicer.

How to remove ads in PalTalk
PalTalk – the largest video chat room community. Using the video chat with Adguard will be much more comfortable – communication and new acquaintances only. And no advertising.

How to remove ads in WeatherBug
Weatherbug is your personal meteorologist. The program, which provides data on temperature, precipitation, pressure, and more. Weather forecast is not a place for advertising. Therefore, Adguard here to block it and leave only the information you need.

Subscribe to AdGuard news
Be the first to get the latest news about online privacy and ad blocking, AdGuard product releases, upcoming sales, giveaways, and more.
You've successfully subscribed to AdGuard news!
Carson Voss Ok this is the best thing ever. I had some trouble but now It's amazing.
S Michael Ads are driving me crazy ,can't stand the ads on u-Tube ,AdGuard saved the day like very much,wish you had an application for TV,s Thank you.
LA Still not going to block the hacker that hacked all my car cause, phones, router, modems Wi-Fi, bank accounts, social
media accounts, emails, and proxy apps to make my online life a living Hell at his laughter and enjoyment going on for a year now.1
Vlad Damian This adblocker works very well. It basically gives you youtube premium for free, its so nice without ads. I havent seen an ad sing 1997 thanks to this dinginty darner of an app. all dem scallywaggers that aint usin this app deserve a whippin. back i1
Write a review
Your review has been sent. Thank you!