AdGuard for Mac v1.5.3
Hello everyone!
Last time we promised to make AdGuard for Mac releases more frequent, remember? We stand by our words! Today we present the next version, v1.5.3. As a trade-off, this release is not as feature-heavy as the last one, but there's still some cool stuff to check out.
What's new?

As you will see with this update, a lot of major changes here relate to UI convenience and better user experience. Ad blocking quality has been increased too, several bugs have been eliminated. Let's dive into the specifics, shall we?
[Added] Filter subscription by URL #1
It's become much more convenient now to add new filter subscriptions since you have a choice between uploading a local file or entering a URL. Any updates to the filter you have added by URL will be automatically tracked and applied.
P.S.: by the way, this is the very first issue that we opened on GitHub!
I'd say, it's about time :D
[Improved] Close active connections when network filtering starts #263
Translating to a more common language, this means that no connections will slip by AdGuard's protection when you turn it on. A real life example: many Safari users used to have problems with unblocked ads on YouTube. This change fixes it.
[Added] "Undo/Redo" buttons to the user filter editor #227
Self-explanatory. Working with filter editor has become so much more convenient — trust us, we do it a lot, and we can tell the difference!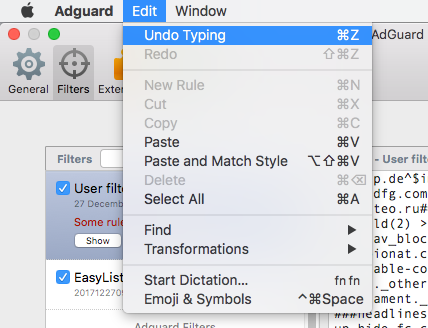 [Improved] Filter editor now indicates that the filter contains disabled rules #258
Another quality of life improvement. You won't now find yourself in situations when something is not working because you've disabled a couple of rules, but can't remember in what filter.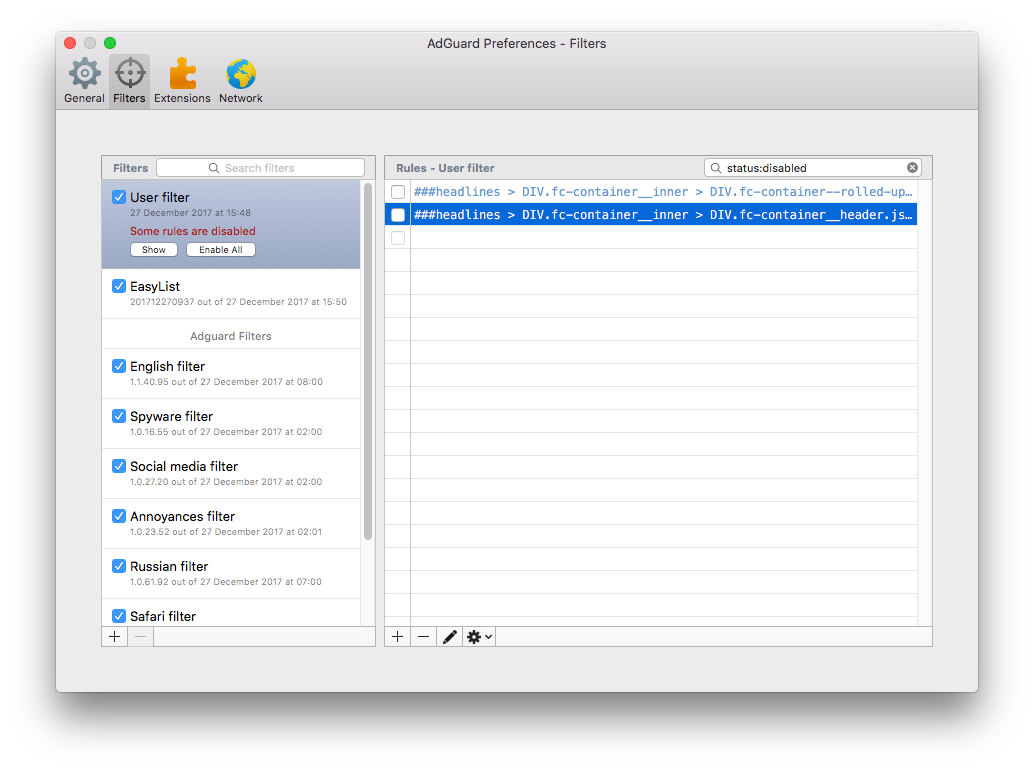 In conclusion

There's more minor changes to this release, of course, the full changelog is available on GitHub. Write in comments what would you like to see in the future versions, and who knows, maybe your wishes will just come true ;)
AdGuard for Mac team wishes you a happy New Year!