New features and higher performance – AdGuard 5.10
Dear friends!
Today we are ready to present you Adguard 5.10. In the new version you will find many changes. We have estimated the work of 5.9 and worked hard to improve the program. In addition, we have prepared several innovations, which we are going to describe here more detailed.
Short list of important changes: greatly reduced memory usage, we introduced convenient addition of new ad filters, integration with WoT is now a separate extension, added support for new browsers, fixed conflicts with popular programs and defects in the processing of requests and more.
What we've prepared for Adguard 5.10 users:
Memory usage reduction
We have significantly optimized memory usage in 5.10. Now, even if you use an old computer or a weak netbook, Adguard will work silently in a background without slowing down your device. We compared memory footprint with the one of the preceding version. And we must say 5.10 showed a result several times lower.

**More ad filters **
In addition, Adguard has became an even more comprehensive program. Now users can install any ad filters. What does it mean? In addition to the filters that are already installed in Adguard by default, you can add third-party ones, such as a list of filters that allow Adguard to block ads in different segments of the Internet – websites in different languages, in particular. All of this can be done directly in the program, simply by selecting a filter you want and clicking on the "Add selected" button.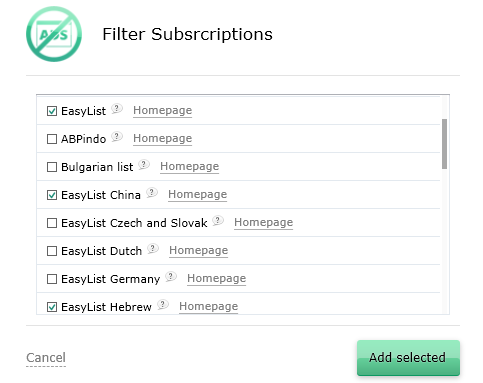 **Displaying the possible danger **
Integration with Web of Trust is now brought out in the separate extension, which can be disabled. Also a warning when visiting a suspicious website has changed. With the help of WoT, our Adguard is able to notify you instantly about the reputation of websites and show the reasons for which the site is considered to be suspicious. "Categories of suspicion" can be, in particular: scam, potentially illegal, misleading claims or unethical, poor customer experience, privacy risks and others.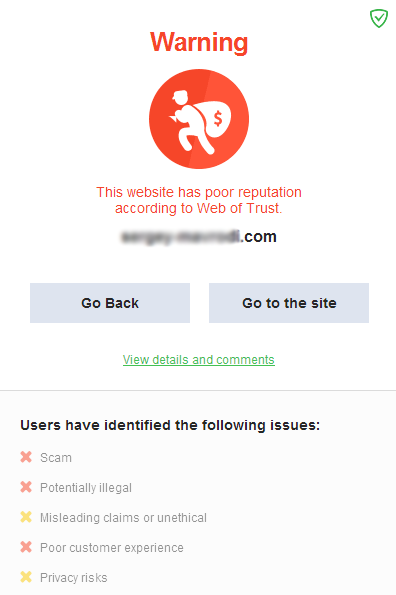 Other changes in version 5.10:
Added support for CSS injection rules. It gives us more flexible options for high-quality elements blocking.
Ability to edit the source code of userscripts. Now you can customize any script you like, you can find more about what it is and how to install it here.
Updates are checked only for the enabled userscripts.Thus we update only those scripts that you actually use. Why spend the extra traffic?
Extensions that do not use external resources are returned to the "default." Now you have the opportunity to reset the extensions and return websites to their original state.
Added a configuration of exceptions for secure (HTTPS) sites filtering. In extended interface click on Settings tab, then choose Network. In the bottom of the window you'll see "Filter https protocol" option and "Exclusions…" link next to it. Clicking on it will open a list where you can add any secured website. Adding https websites to exceptions in order for Adguard to not filter it, used to be impossible.
Increased time of filter updates up to 12 hours. Yeah, longer but of better quality.
Speeded up the work of extensions (including Youtube Center). Userscripts do not slow down websites now.
Fixed in new version:
Fixed conflicts with Visual Studio, Tor Browser, Keepass.
Fixed slow loading of large js files.
Assistant no longer interferes in work of RequireJs websites.
Updated network drivers, fixed some small remarks.
Fixed a defect with the processing of HTTP DELETE requests.
Fixed work of Twitch Chat Filter userscript.
Fixed a bug when using proxy authorization.
Fixed compatibility error of vk.com and Parental Control.
Fixed a defect with disabling Adguard assistant via the context menu.
Fixed some minor defects of Adguard assistant.
Speeded up filtering of some pages (fixed problem with octane-benchmark.googlecode.com).
Fixed API for usercripts (thanks to YoutubeCenter developer, Jeppe Rune Mortensen).
Fixed rules with the "~third-party" modifier.
New versions of TDI and WFP drivers. Fixed some compatibility issues.
Minor changes to the texts in the user interface.
You can update program to version 5.10 right now. To do this, open Adguard, switch to the "About" page and click on "Check for updates". In the lower right corner there will be a message about available updates. Click on "Update".
That is all! Now you have the new Adguard 5.10 !