AdGuard v2.4 for Mac: a spring release
Here it comes, AdGuard v2.4 for Mac! Two betas served as cornerstones for this new version and we are glad to present it to you five months after the previous release.
The biggest thing here is the new glorious Assistant. In other aspects, 2.4 is more of a bugfix release. We cleaned it from the recurrent problems of the previous versions, polished it up, so it works nice and smooth.
The old Assistant has been replaced with a native Assistant browser extension
For starters, let us introduce AdGuard Browser Assistant. This is a new browser extension that simultaneously takes over the roles of the old Assistant and of the integration mode. Why distribute workload between two old tools when one new extension can handle it better? We definitely support the functional approach, so let us tell you what AdGuard Browser Assistant (later referred to as 'BA') is capable of.
What can AdGuard Browser Assistant do?
Remember what you dreamt of while surfing the net. Did you wish to manually block an annoying element on the page or maybe disable filtering on your favorite website? Or did you miss the opportunity to report a missed ad on a website? Now you have all these features without the limitations that appeared in the old Assistant. It seems now you can have a cake and eat it too.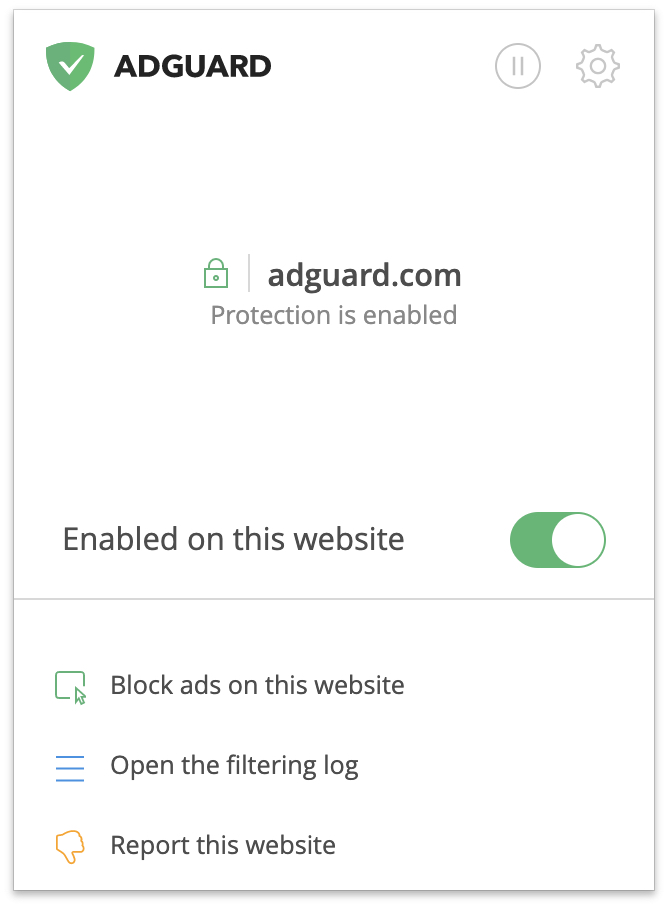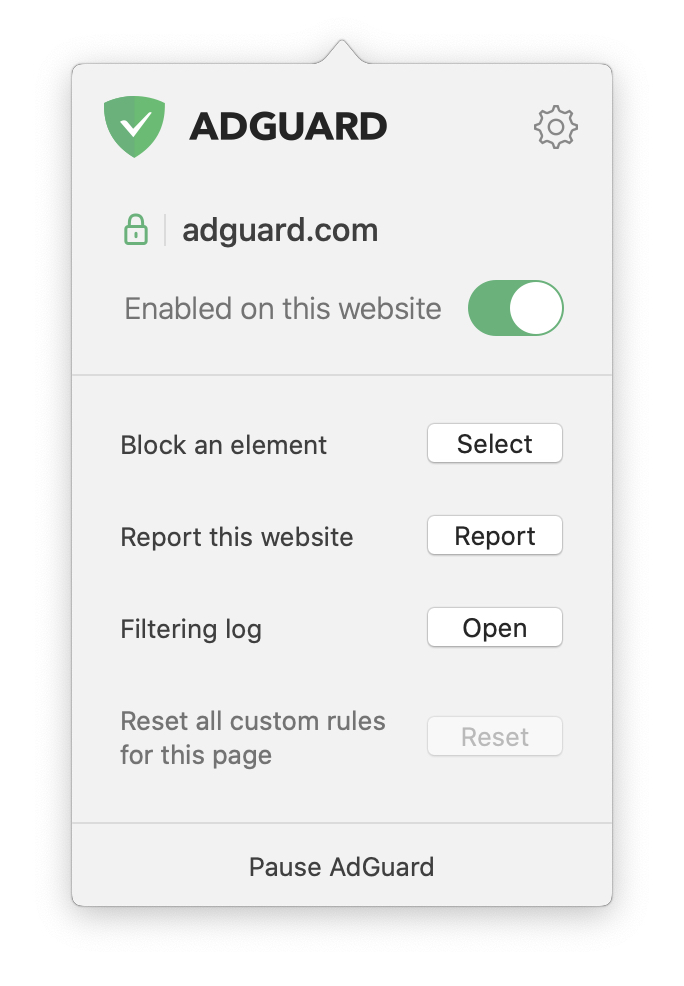 A pop-up menu of the new BA in Chrome and Safari
The new BA helped us solve three problems:
1. Functionality
Now you can manage the main AdGuard app from the BA's settings: launch it if it doesn't work, enable/disable protection in a single click, and quickly access settings or filtering log directly from the browser. In other words, the new BA has more tools that are extremely handy in a browser. Another useful feature is displaying the real certificate of a filtered page – we couldn't do it before we implemented the Assistant as an extension.
2. Compatibility
When desktop AdGuard program and browser extension were used in integration mode, they could hamper each other's work. On some websites this integration glitched and the filtering was performed by the less powerful browser extension. With the new Assistant, there is no more such risk of an incompatibility.
3. Minimalism
Some people didn't like the older Assistant's constant presence at the corner of any webpage, it disturbed them – now the familiar green shield icon won't be there.
Do I need to download the BA separately?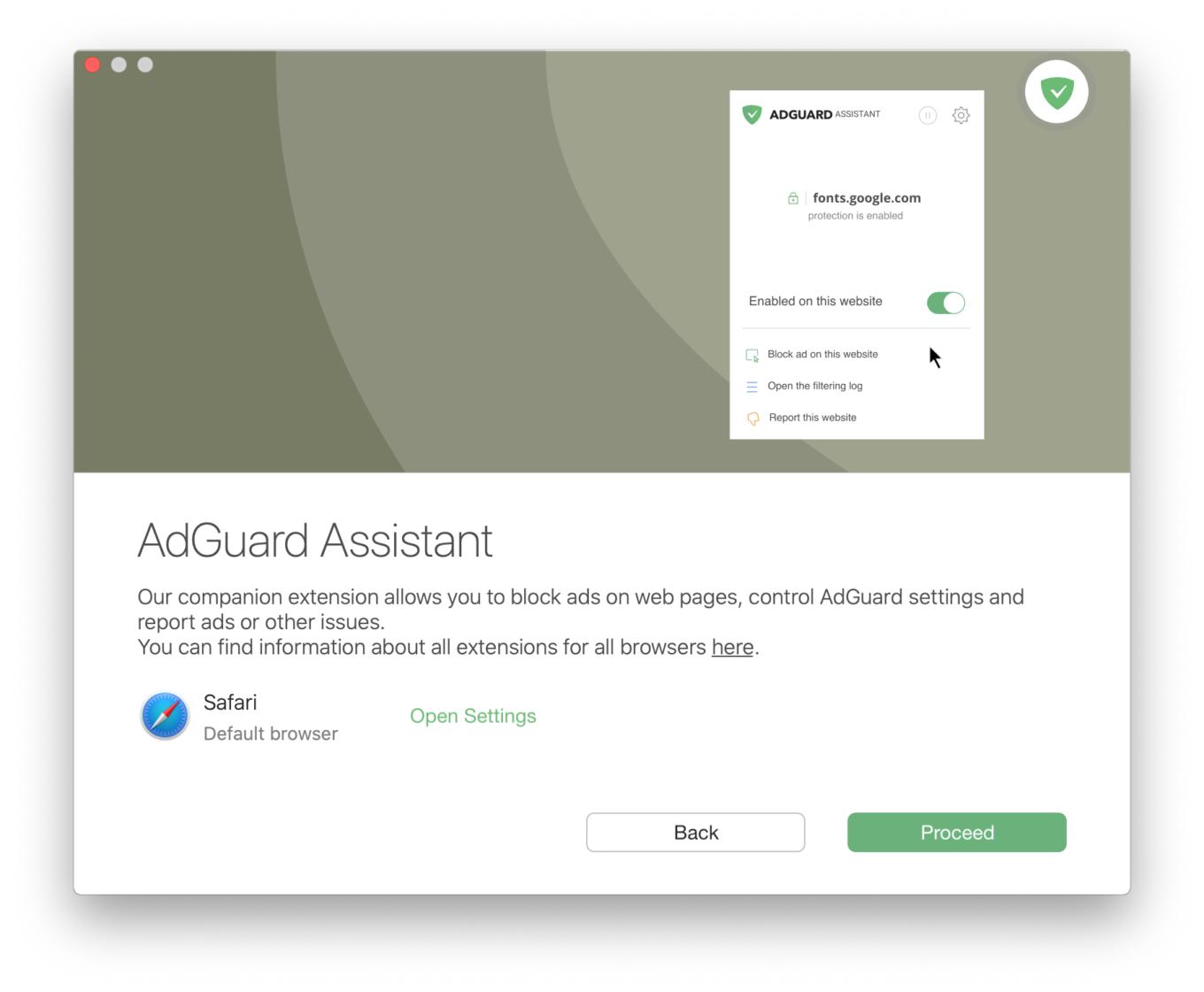 An onboarding screen
No, you don't, if you use AdGuard for MacOS. It doesn't matter if you use the app for the first time or update it to the new version, the Assistant for Safari is included there. If you use another browser, you can download the Assistant for it at this link. Or, you can install the BA for your default browser via app settings or during the onboarding process.
What's left? A bunch of bug fixes and pretty nice enhancements can be found on GitHub as usual. Did you like the update? Is there anything missing? Let us know in the comment section below!