AdGuard v7.6 for Windows: DNS-related goodies and compatibility with AdGuard VPN
The last time we posted an article about AdGuard for Windows, it was in November 2020, and it was about fixing an obscure bug. And despite our Windows dev team is seriously occupied with working on AdGuard VPN for Windows and laying down a foundation for AdGuard 8, they managed to come up with a rather big ad blocker update: AdGuard v7.6 for Windows.
What to expect from it, aside from the usual CoreLibs stuff and bugfixes? A couple of new DNS-related features and compatibility with AdGuard VPN.
Compatibility with AdGuard VPN
In fact, let's start with it. Unless you're a nightly or beta tester of AdGuard for Windows, this is the first version that's compatible with AdGuard VPN.
It has to be mentioned that AdGuard VPN for Windows is currently only available in the form of alpha version. You can join the test here.
After this update, the two AdGuard apps for Windows will not only work together in all modes, but will also allow you to run an antivirus at the same time. And you don't have to do anything: simply install both apps and use them as you would normally. AdGuard will do the rest.
Custom DNS filters
For anyone who's dipped their toes into customizing their ad blocking setup before this will not be a new concept. You've seen it all with regular filtering: adding filter lists by URL and/or from a local file, creating new filters from scratch and filling them with custom rules. With DNS filtering it's more of the same.
To refresh your memory: in v7.5 we introduced DNS protection module. Up until now, it only offered the option to select any DNS server instead of system default as another way to enhance your online privacy. What it didn't offer is any tangible way to customize DNS filtering. Once you'd chosen the server and the preferred encryption protocol, you were set.
In this update, we give you a range of new options to shape the DNS filtering the way you want, all of which can be found inside the DNS filters editor section.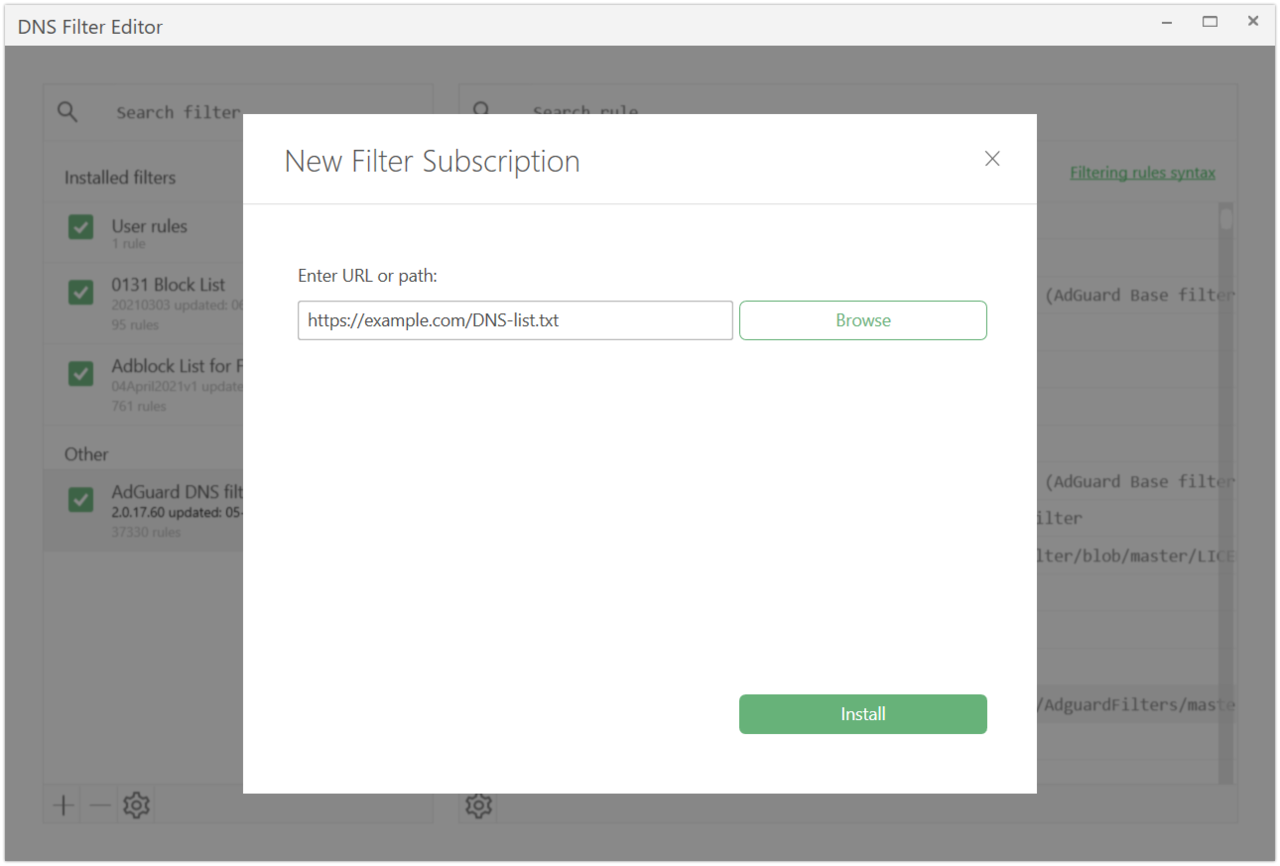 DNS user rules — the most basic way to block/allow DNS requests. Works very similarly to the regular User rules. Note that it supports DNS filtering syntax, which is much less complex than the syntax for network filtering.

Importing a DNS filter — click on the 'plus' icon in the bottom left corner, and you'll see a new window pop up. Click on the Import filter button and then either enter a filter URL or browse a suitable local filter. You can find a lot of DNS filters on this website. AdGuard DNS filter is the only one available by default.

Adding a custom DNS filter — accesible by clicking the 'plus' icon and then choosing the Add custom filter option. Choose a name and a description and then treat the new DNS filter like any other: import rules, add or remove them manually one by one, disable and enable the filter at will in one click.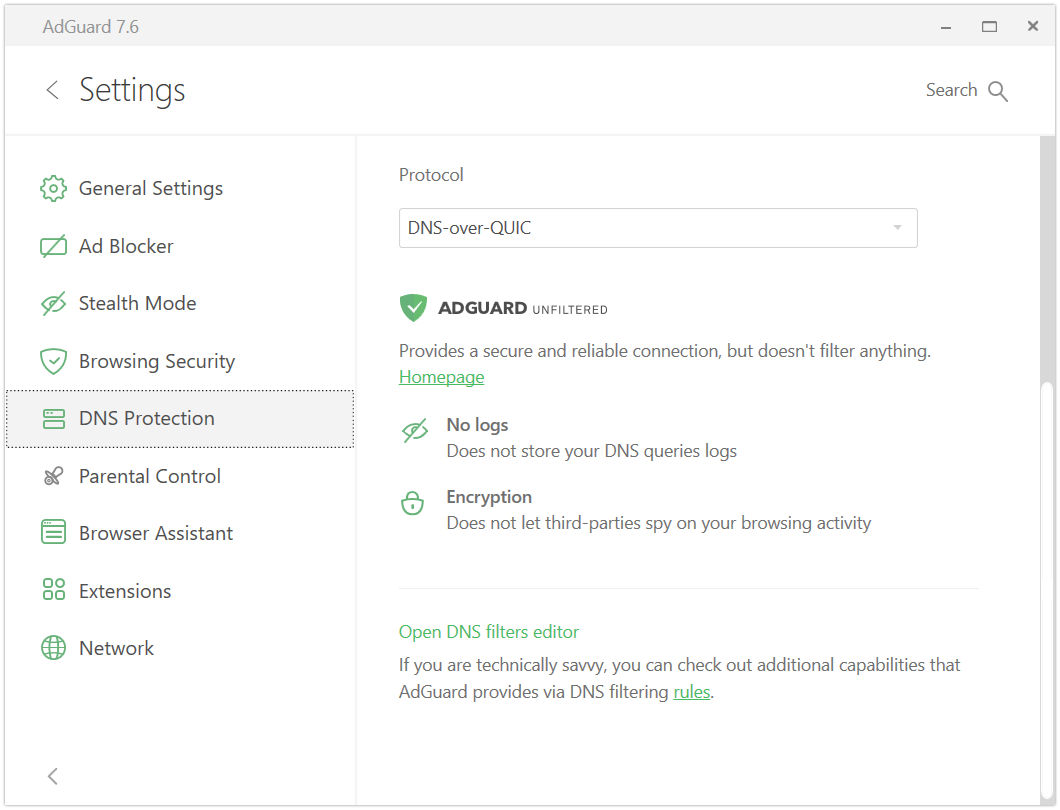 DNS-over-QUIC support
Speaking of DNS protection. Still debating which DNS server to choose? We recommend AdGuard DNS, of course :) And not only for obvious reasons, but also because AdGuard is the world's first DNS provider that supports DNS-over-QUIC (or DoQ for short). This encryption protocol is superior even to the very solid and proven DNS-over-HTTPS and DNS-over-TLS. Now all AdGuard for Windows users can reap the benefits of DoQ too. Go to Settings, navigate to the DNS protection tab, select AdGuard DNS from the list of DNS providers, and finally choose DNS-over-QUIC from the drop-down menu.
---
And that just about wraps it up. Yes, there are bugfixes and yes, there is other minor stuff. As always, it's all available to you on GitHub. Let us know how your DNS privacy improved with v7.6 here in the comments!