First ever router with AdGuard Home
Of all AdGuard products, AdGuard Home is, perhaps, the one that surprised us the most — in a good way. This free network-wide software quickly gained recognition among thousands and thousands of users as a reliable and flexible tool to block ads and trackers and to manage your home WiFi network.
Our friends from GL-iNet are known for producing compact networking devices that guarantee an unparalleled level of network security and control. And what's the best way to make a good piece of hardware even better? To install some neat software on it!
So, meet the first router with out-of-the-box AdGuard Home on board: Brume-W.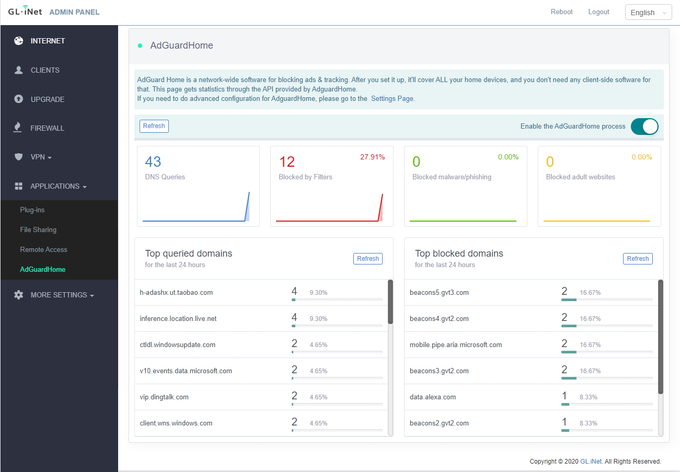 AdGuard Home in Brume-W admin panel
Brume-W is a pocket-sized wireless gateway with a built-in WiFi module. In other words, it's a WiFi router but with a ton of additional functionality: Tor integration, support for 30+ VPN services, real-time monitoring and management (web admin panel + mobile app), WiFi dongles support, and, of course, AdGuard Home integration.
But we don't plan to stop here. We will seek more opportunities for similar collaborations. We genuinely believe that network-wide ad blockers are the future, and AdGuard Home can be a real pain in the neck to install if you don't have a lot of experience. The more people can get easy access to it, the better.
You can support Brume-W (and us, indirectly!) by boosting its Kickstarter campaign.
UPD 08/07/2020:
Brume-W's Kickstarter campaign has been succesfully completed.
You can now order the router with the pre-installed AdGuard Home at GL-iNet website.