AdGuard for Mac / AG Browser Extension double release
Today we want to try something different — combine two release announcements in one blog post. Main reason is, both new Mac and extension updates, while being important, are rather technical and do not provide a lot of topics to talk about without descending into using lots of developer lingo. Let's have a quick look at AdGuard for Mac v1.5.6 and AG Browser Extension v2.9.2.
AdGuard for Mac v1.5.6
What if I tell you there are no new features in this release? Now, before you reach for your favorite pitchfork, there are still lots of very useful changes and crucial fixes. Let me explain.
[Fixed] Sometimes connections can randomly slip past AdGuard #285
What does it even mean, "connections slip past AdGuard"? Nothing good, really. Some users complained that they can see ads on websites that AdGuard usually had no problems with. Turned out, AG used to randomly "decide" not to filter this or that website (and this could be any website, including such giants as youtube.com), so, of course, we focused our efforts on the fix.
[Fixed] Crash in tcpClosed handler while the laptop is sleeping #295
More of developer gobbledygook. What's important here is that AdGuard had a tendency to crash on Macbooks in sleeping mode, but thanks to the prompt fix, it does no more.
[Improved] ExtendedCss has been updated to version 1.10 #293
This effectively means more extended cosmetic rules are supported now. Which, in its turn, ensures "cleaner" look of the post-processed pages (no ad leftovers, empty spaces etc.).
The rest of the changelog is not particularly breathtaking, but those who are curious can find it on GitHub.
AdGuard Browser Extension v2.9.2
A bit more changes here than with Mac version, but mostly minor-ish fixes. There are several noticeable exceptions though, let's check what they are about.
[Added] Integration with the new Assistant #956
For a while now we develop AdGuard Assistant more or less independently, to later use it wherever we need — Windows and Mac apps use regular Assistant, Android and iOS apps use mobile version. Users of AdGuard Browser Extension encounter Assistant when they click "Block ads on this website" button. I will not go deep into details here, only mention that we've just recently updated the Assistant, and this version of the extension is the first to be integrated with it.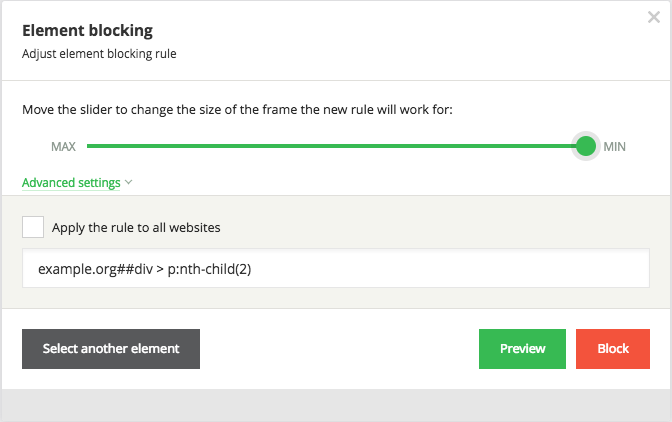 NOTE: those who interested can find the exhaustive Assistant changelog inside the dedicated GitHub repository.
[Improved] InsertCSS to use instead of the content scripts #847
Story time. There was a certain change in Chrome browser not a long time ago, which prompted us to respond to it by completely reconsidering the way we inject scripts and styles. What sounds like a nuisance actually lead to a significant improvement in performance. And when I say "significantly", I mean it — you will be able to notice the difference with bare eyes. Forget about flickering elements you might have seen on some websites when they load, thanks to more lightweight code and superior methods we use now such problems are gone for good.
The rest of the minor browser-specific and common bugfixes are listed on GitHub.
Note that by the release of this article only updates for Chrome, Firefox and Edge browser extensions are available. New versions of Opera and Safari extensions are currently on review and will be added to stores very soon.
In conclusion
Between two releases, I hope I offended neither Mac, nor extension users by this amalgam of an article :) Consider it a one-shot, we'll try to keep the future updates saturated enough with new features to sustain a whole post. As always, your comments are welcomed!