What's new, AdGuard
It's been less than 2 months since the beginning of the year, and we had a lot going on here in Adguard. These couple of months were very productive – we managed to release updates for all our products. In this post we gathered all recent releases that you might have missed.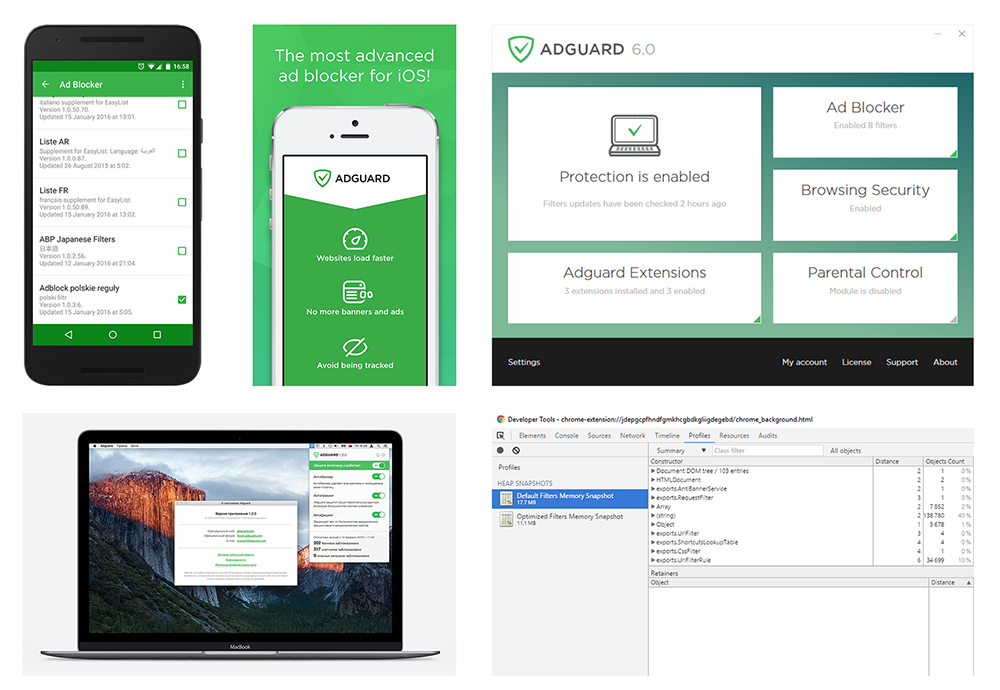 Adguard for Android: version 2.1.359
January 15, 2016
Upgrade of our Android app. Changes in the user interface, new localizations, new ad blocking filters, improvements in DNS filtering and ability to subscribe to any filter by URL. More…
Browser extension: version 2.1
February 4, 2016
Browser extensions update. Optimized lightweight filters, reworked Browsing security module and many useful fixes. Moreover, Adguard became first ad blocker for Safari, which uses new API for content blocking. More…
Adguard 6 official release
February 4, 2016
The world met new Adguard for Windows. Finally!:)
It's impossible to briefly tell about all its changes. That is why here is a link to the post on the brand new version of our program. Check it out.
Adguard for iOS: version 1.0.5
February 10, 2016
An update of our app for iPhones and iPads. Optimized process of background update, fixed errors in filters, added support for new languages and much more. As usual, new version is available on App Store. More…
Adguard for OS X: version 1.2.0
February 15, 2016
Update of our program for Mac. A $replace modifier, new localizations, improvements in ad blocking, changes in Browsing Security module and other cool fixes and improvements. More…
---
As you can see, whatever Adguard you use, we have a new version for you. Update now!
And stay tuned. A lot more exciting updates are on the horizon!
Sincerely,
Adguard team