AdGuard v2.9.0 for Mac: updated Filtering log functionality and UX improvements
A new release is always good news. And when it contains many important changes and improvements, it's twice as good. Meet AdGuard v2.9.0 for Mac – hope you'll like it!
The first thing worth mentioning is that AdGuard for Mac is not supported on macOS 10.12 (Sierra) anymore. For AdGuard v2.9.0, the minimum required version of macOS is macOS 10.13 (High Sierra), and starting with the next release macOS 10.15 (Catalina) will become the lowest supported version.
Add rules from the Filtering log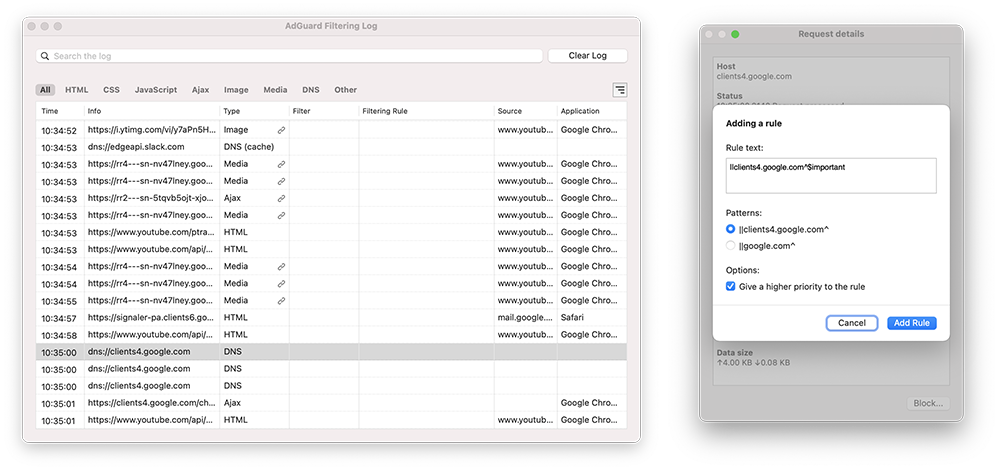 We've finally brought a useful feature to AdGuard for Mac and now you can block or unblock domains right from the Filtering Log! Just open the Filtering log, select the query row, double-click it, press the Block or Unblock button and then select the type of rule you want to add. Finally click the Add rule button. As a result a new user rule will be added. To see how it looks or modify it go to Preferences → Filters → User rules.
Proxy settings moved to the Network tab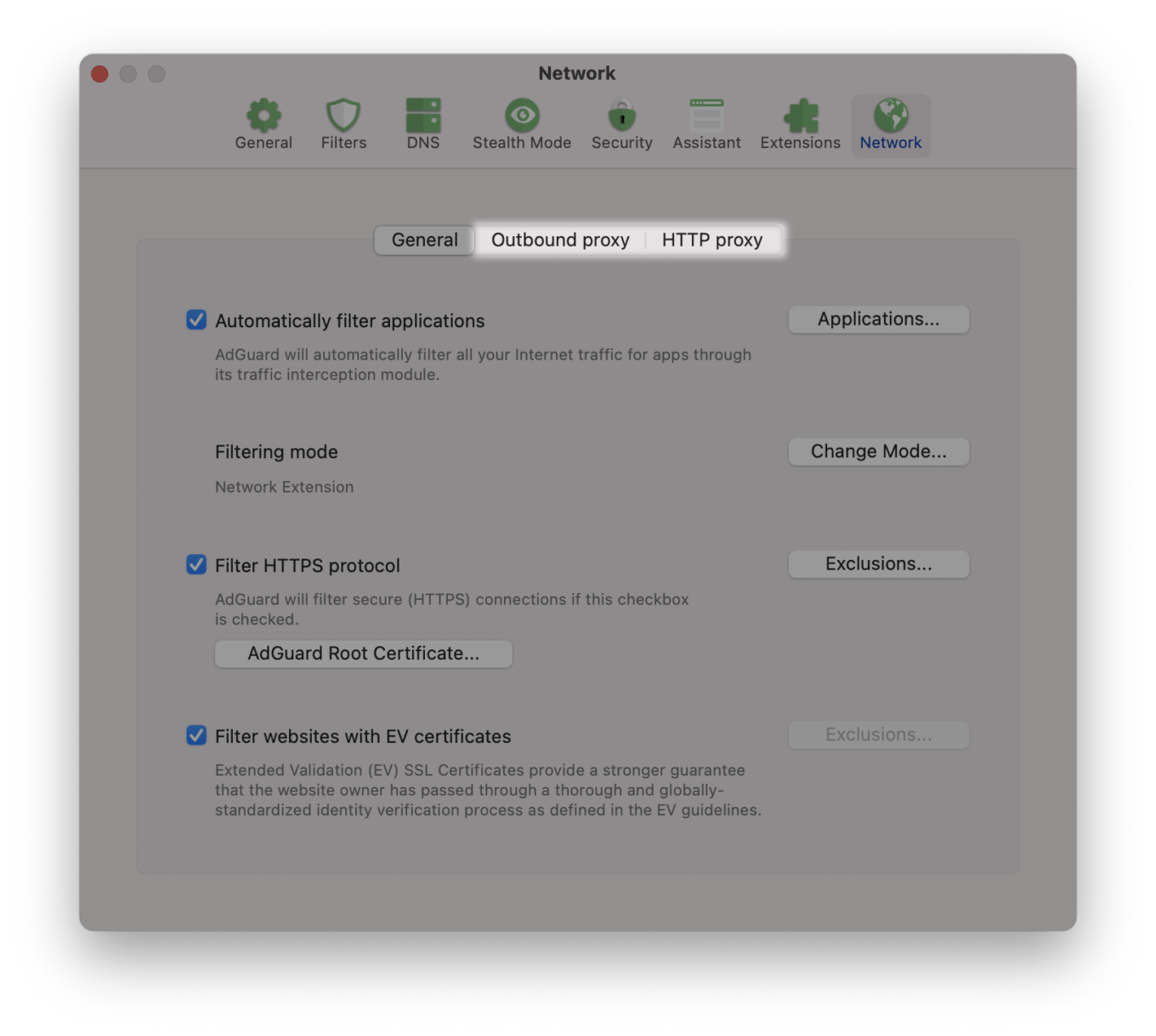 We always listen to our users and with each release we try to make AdGuard for Mac even more convenient. This time two UX improvements came at once. And the first is moving the proxy settings from Advanced settings to the Network tab in the app's Settings.
Now it's easier to set up AdGuard to connect to an outbound proxy server and/or to use it as an HTTP proxy server. By the way, you can use instructions on setting up your own proxy server and using it with AdGuard.
New Logging section added to the Advanced menu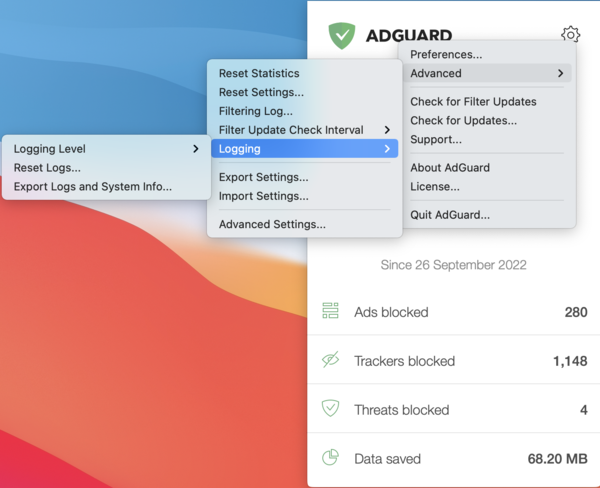 Now you can select a logging level, export logs and system information, and reset logs all in one place. We'd like to remind you to switch to the Debug logging level only if our support team asks you to do so, otherwise use the Default level.
Major CoreLibs and DnsLibs update
Usually at the end of each release post we write something like "we've also updated CoreLibs and DnsLibs". And indeed for every new version of AdGuard for Mac we improve the filtering engine, which are CoreLibs, and the implementation of DNS filtering and DNS encryption, i.e. DnsLibs. But this time there were major changes, which should be described in detail.
In CoreLibs v1.10.113 there is now an option to filter DNS-over-HTTPS, as well as support for the $jsonprune modifier. Rules with the $stealth modifier can now disable some stealth-mode options, including "Protect from DPI". We've also updated the scriptlets library.
A significantly updated version of DNS filtering library DnsLibs 2.0.30 now consumes less resources and runs faster. The DNS-over-QUIC protocol implementation now supports the RFC 9250 standard, and the experimental status was removed from DoQ support.
Of course, we didn't stick with just those global changes! We've fixed a lot of bugs and solved many issues, including memory leaks, to make the app run more stably and efficiently.
As always, a complete list of changes can be seen on Github.