AdGuard 3.2 for Android — new features for everyone
In software development, it often takes several months to develop a new version. It's not unheard of for AdGuard products to wait as long as half a year to receive a major update. And despite that, AdGuard 3.2 for Android only took us a little more than two months, and at the same time it's packed with new stuff.
We're very proud of this result. And that's without mentioning the long, long list of minor changes that comes along. We're particularly happy that in this version there is something that should appeal both to experienced users and to absolute beginners getting their very first acquaintance with AdGuard.
Let's go over the release notes and see what's new, as is tradition.
Feature discovery
The more features we add to AdGuard, the easier it becomes for a new user to get lost among them. The abundance of menus, various screens and options can be really intimidating and drive people off from using AdGuard to its full potential. To prevent this scenario we added short but informative tooltips that explain what current screen is about. As they say, better to see it once, especially now that we have gifs! Just don't ask me how to pronounce it :)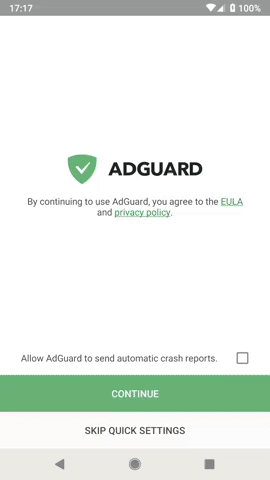 Our ancestors discovered new continents... And we discover features in apps.
You'll only see these tooltips after you do a clear install of AdGuard app or after updating from v3.1, and only once for each screen. It makes sense, otherwise they would get annoying very fast.
Note that you won't see these if you update from a beta or nightly version!
Userscripts support
Userscripts (we also call them extensions) are basically mini-programs written in Javascript that extend the functionality of one or more websites. Usually, you'd need some special userscript manager to add them, and it's traditionally more of a desktop thing. But with AdGuard everything is possible! Now you can add any userscripts by URL or load them from a file, and AdGuard will serve as a userscript manager and take care of the rest. Go to Settings > Extensions to enable some of the pre-installed extensions or to add custom userscripts.
Unlike me, you don't have to add AdGuard Extra extension: it's available by default.
There are two extensions added to AdGuard by default; both, of course, are developed by our team. AdGuard Extra will help block ads in more complicated cases where the traditional filter-based approach is not enough and "Disable AMP" does exactly what you would expect it to: disables accelerated mobile pages in Google search results. For any of userscripts to work, you have to turn the Extensions module on in AdGuard settings.
By the way, you can tap on any added userscript to see more details, and to reinstall or delete it.
DNS user filter
You all know User filter, right? It's a place where you can create your own filtering rules. It's been a staple of virtually every AdGuard product since forever. Hey, how about two user filters? There's a new one, and it's for custom DNS rules.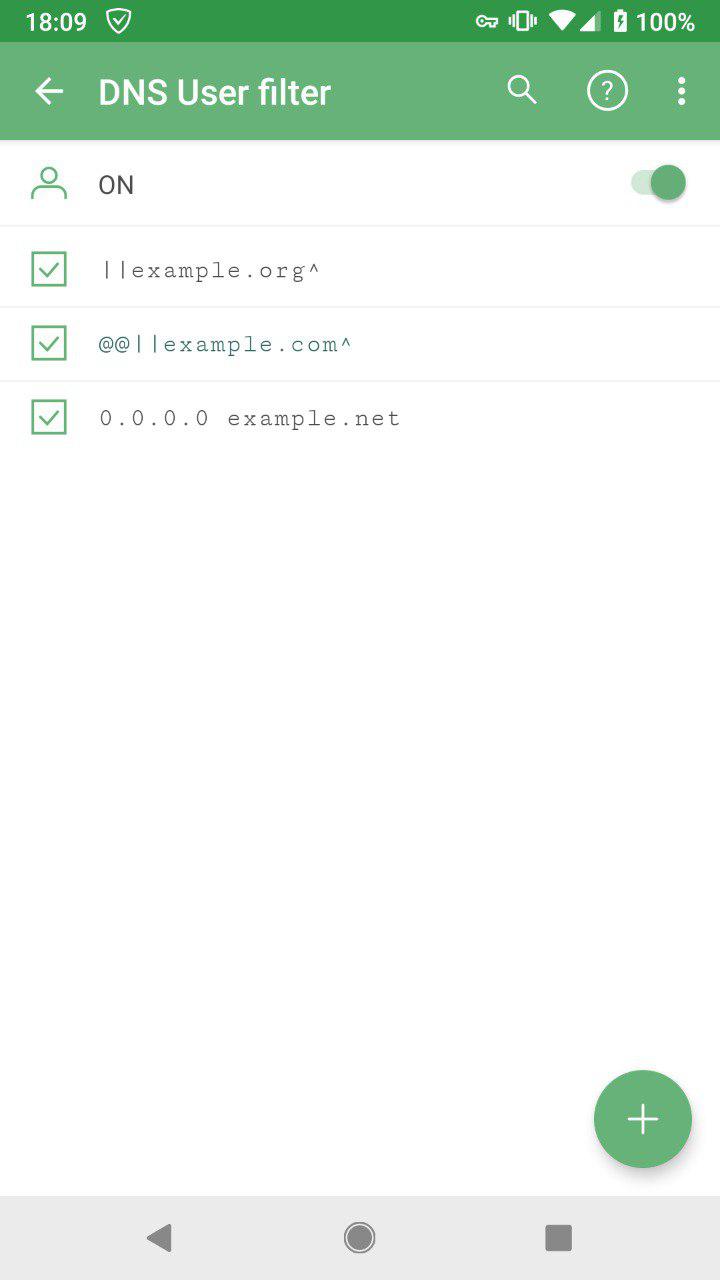 You better block all those horrible, horrible example websites!
You'll find DNS user filter at Settings > DNS Filtering > DNS Requests blocking. DNS User filter supports two types of syntax: a limited portion of AdGuard syntax and "hosts" syntax. You can read more about it in our Knowledge Base.
Custom hosts files support
This is another DNS-related feature. AdGuard users now can add any hosts lists as custom DNS filters. We expect this feature to be used quite often, as hosts lists are very popular.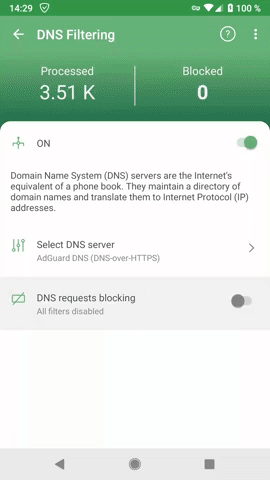 Disclaimer: the DNS filter being added in this GIF may or may not be a hosts list.
Again, this option is available on the Settings > DNS Filtering > DNS Requests blocking screen.
IPv6 filtering in automatic proxy mode
This is the only change we'll stop by that is not a new feature. In fact, it's a bugfix, but a very important one. A considerable amount of Android devices owners have their phones and tablets rooted. One of the perks of rooting your phone is that you can switch AdGuard to automatic proxy mode to "free up" VPN. Too bad IPv6 filtering wasn't working with this mode in v3.1! Without going into technical details, let's just say that you won't have this issue from now on.
---
And this brings us to the wrap-up. As always, the full changelog is ready to please your eye on GitHub. If you don't get the automatic update, just tap on the update icon in the top right corner of the main AdGuard screen.
There's a lot of new stuff in this version, so if you have any questions regarding one of the new features, feel free to ask them in the comment section.
See you soon with more AdGuard releases!