AdGuard v3.4 for Android: DNS filtering has been improved
Meet AdGuard v3.4 for Android, it's time for it to see the world! Having tested two betas, we feel confident to present this version to a wider audience. Spring is a time for renewal, and software is not an exception. We've swept the dust from the old bugs, fixed them, and made the app better. How? Let's see!
Reworked DNS filtering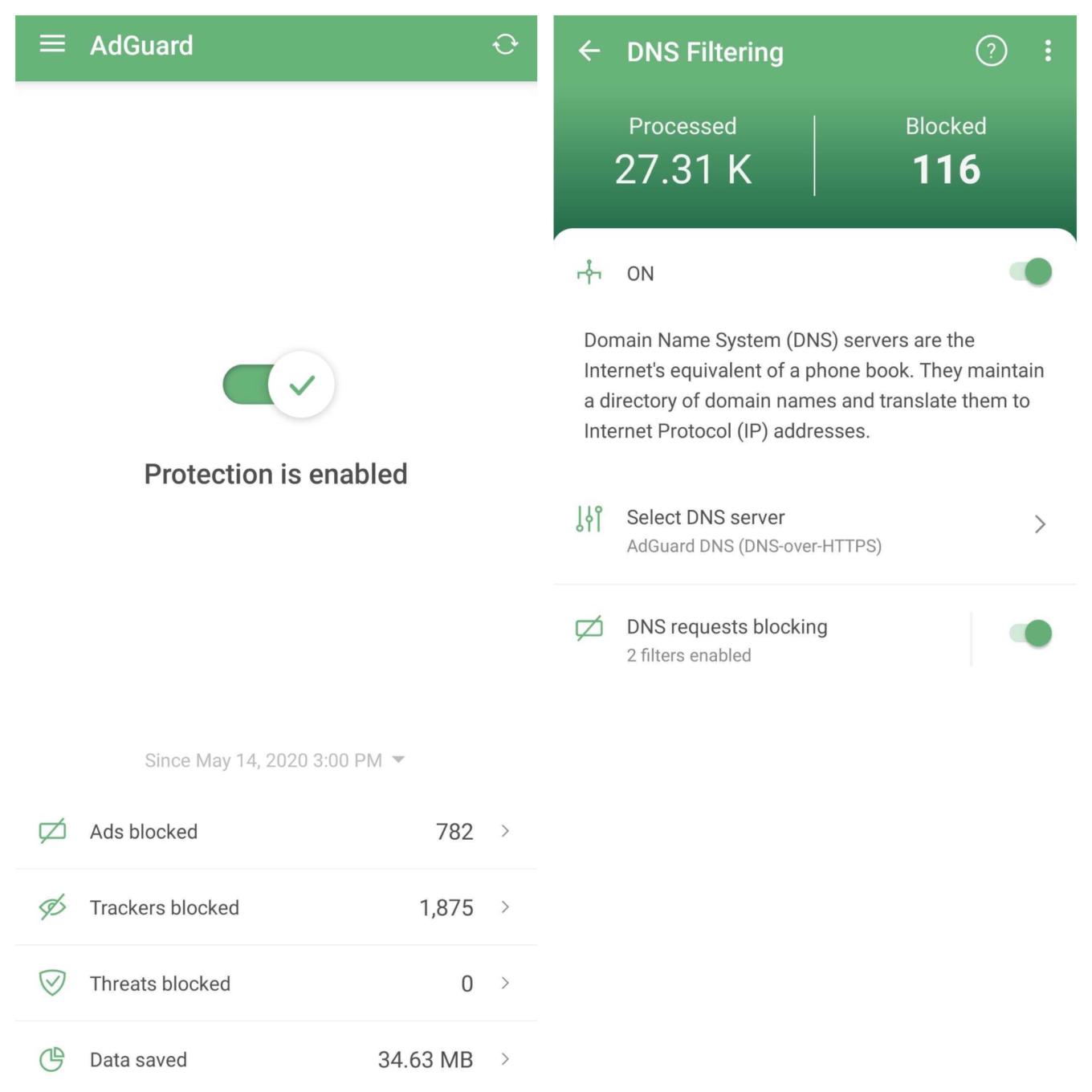 New main and DNS filtering screens
Breaking news: DNS filtering has become 10 times quicker! Also, we've optimized code and switched to another programming language. What's in it for you? The fact that DNS filterting has been reworked means enhanced resource consumption. This will positively impact on your device's memory and battery life.
DnsLibs is a DNS proxy library that's required to provide DNS filtering. It supports all existing DNS protocols. We developed it to replace the old DNSproxy lirary, which had one serious flaw: it caused higher battery resource consumption when you were using DNS filtering. DnsLibs is much better optimized and will ensure a longer lifespan for your phone's battery if you're using DNS filtering a lot.
By the way, DnsLibs is open source, you can see the source code here.
Better compatibility with smart TVs
Naturally, AdGuard for Android is an app for mobile phones and tablets, but it can be installed on other Android devices, such as smart TVs. We've made several improvements for this case, and specifically added this:
Better navigation between AG menus on smart TVs
An option to click on snackbars
An option to exit the promo screen
A "close" option for all dialogues
In sum, now AdGuard for Android is much easier in use if you decide to install it on your smart TV. Yet, you encounter any bugs or inconsistent behavior, please report it here.
Internet connection stability
Across all our numerous products, there were not so many cases in the history of AdGuard when we fought with bugs for dear life. Usually it's a routine: you see a bug, you know what to do, you fix it and ship the new version. Done, forgotten, move to the next bug. No wonder bugfixes rarely make it to our release blog articles. But today we'll offer you an example of what is a contestant for the "Trickiest bug of the year" title.
One day, we received a complaint from one of our users about the lost Internet connection. Unpleasant, but not unseen before. Then another one, and another one. The weirdest thing about them all was that the bug appeared on various devices with different settings and absolutely nothing in common. It seemed completely random, a Joker among the regular bugs. Still, 'clinical symptoms' matched: affected smartphones lost any network connectivity completely while AdGuard was enabled. And at the same time, the number of such cases wasn't high enough to provide enough debug data. The fact that we weren't able to reproduce it on our test devices wasn't helping, of course.
Betas and even releases were passing by, but the pesky bug kept lurking, uncracked. At some point it became our top priority to solve this issue, our honor was at stake, if you will. Big props to our Android developers who kept pressing on and trying new solutions until the very end. It's impossible to express our relief (and relief of the affected users, of course!) when after the Nth attempt to get at this tough nut we received positive feedback. It wasn't a fluke; several users confirmed that the issue was gone. And despite 99% of those who will read this probably never faced this problem, we felt it was right to share our moment of triumph.
As always, a complete list of changes can be found on GitHub. We hope this late spring update will make your experience of using AdGuard a bit beter. Feel free to write what you think in the comment section below!