AdGuard 6.0 release candidate
In the entire history of our software, Adguard 6 became perhaps the most anticipated "novelty" by our users. Every day we received dozens of messages with questions about the release date of the new Adguard.
Dear friends, it is coming very very soon. In the meantime, we would like to introduce you the release candidate. This means that once again we will test this version and if everything will work steadily, this will be the official release of Adguard 6.
Meanwhile let us tell you about all the dramatic changes that have occurred with your favorite program.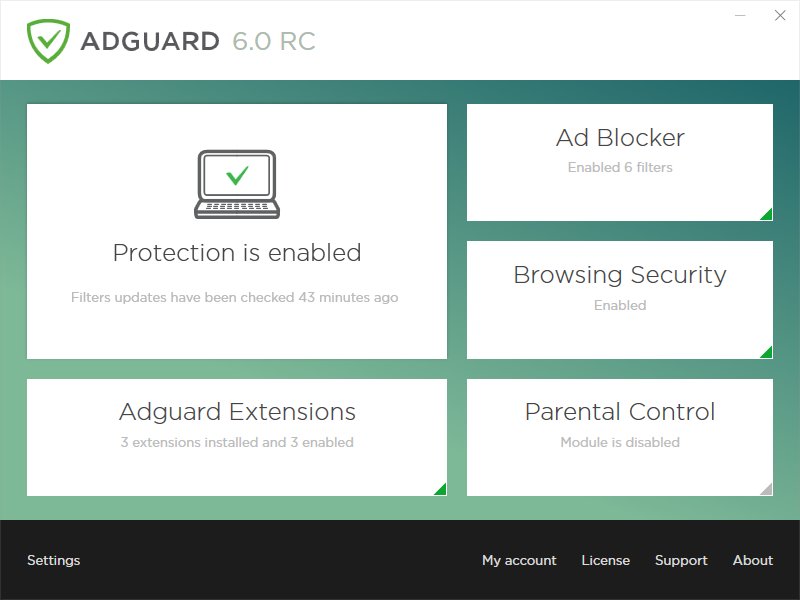 Major changes
Completely redesigned UI
Our main goal was to fully upgrade and refresh Adguard. Program interface as you have seen it in recent years is just outdated, so we decided to create a new UI in accordance with current trends. Now Adguard is made in flat design with card layouts.
In search of a new Adguard "image" real help came from our users all around the world. Since the existence of version 5, we got a lot of ideas about how the brand new Adguard shall look like. And we listened to your suggestions :)

*Left: version 5.10. *Right: version 6.0
Added Stealth mode module
It's all begun with our little experiment: we made an extension for Yandex.Browser which purpose was privacy protection. This project took a completely different approach to achieving online privacy and that is why was very interesting for us. Simultaneously we worked on Adguard 6. And at some point we thought that we can actually continue with this protection of personal data topic (as many users requested) in our program! We have previously called our spyware filter a 'privacy protection' tool, which is actually a part of Ad blocker module. But then added new and useful features to the program (that small privacy protection project), which later formed a separate module "Stealth mode".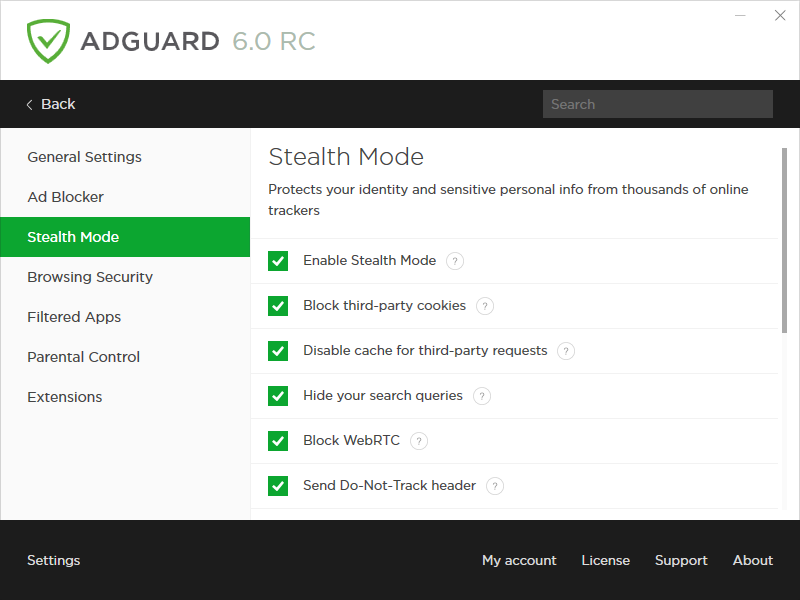 Of course, it is just the first release of this module. That is why it is disabled by default. We will definitely continue our work on data protection features and continue developing this part of the program.
Improved Filtered app support
Previously, filtering was available only in browsers by default, you had to setup blocking of programs manually, and the procedure of adding the desired file raised many questions.
What has changed in version 6? Adguard itself finds software installed on your device, and offers to enable ad blocking in them. In general, the mechanism for adding new applications to Adguard is completely redesigned, and now it is easy for absolutely any user to cope with it.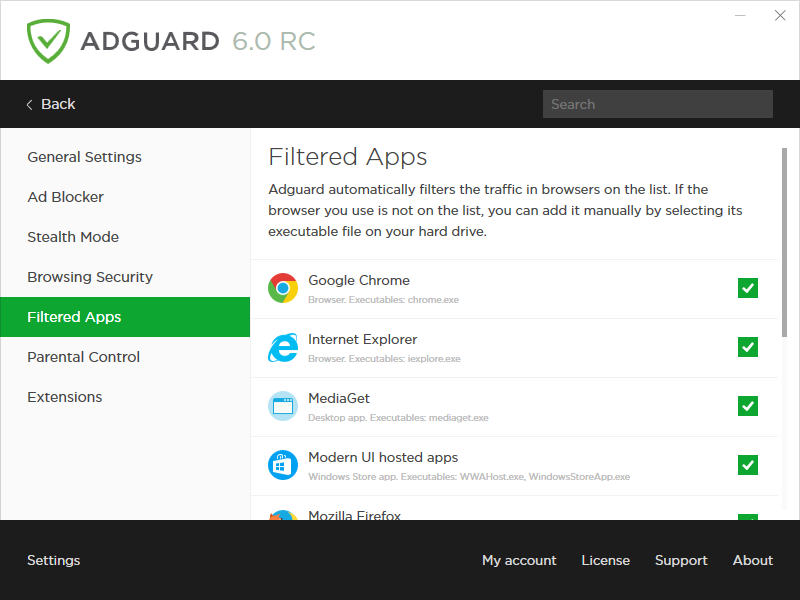 Changes in Ad Blocker
We have as well improved the "core" of Adguard – Ad blocker module, which is responsible for ads blocking. Now, you can add filters by URL. In fact, for convenience, we have expanded the number of supported sources: the network address and the local. However, this innovation is more likely to be interesting to more advanced users. Like the fact that we have completely redesigned the filtering log and filter editor.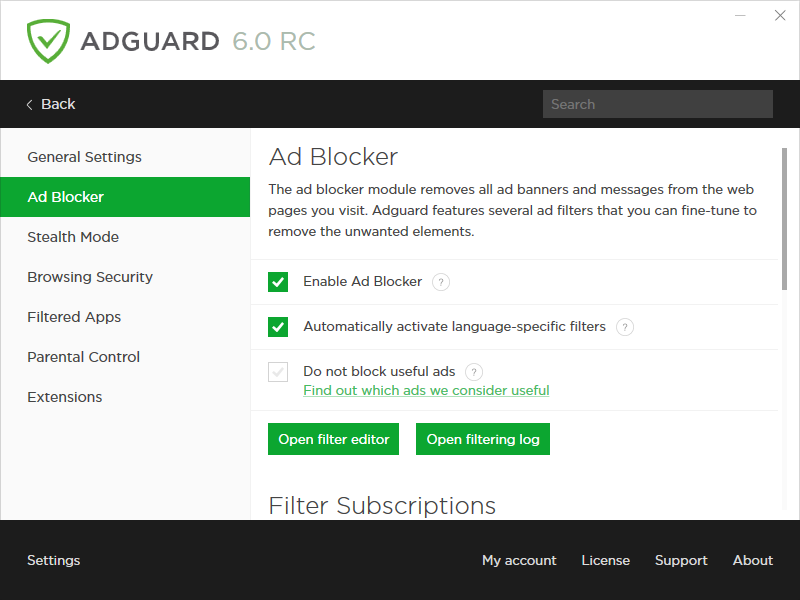 New Filtering Log and upgraded Filter editor
As you can see, Filtering Log is absolutely new. We have tried to give the fullest opportunities for those who want to customize the filtering themselves, and thus made a very handy tool for that. In the editor, you can see the rules created by the Adguard Assistant, that is, all the rules that you are added manually.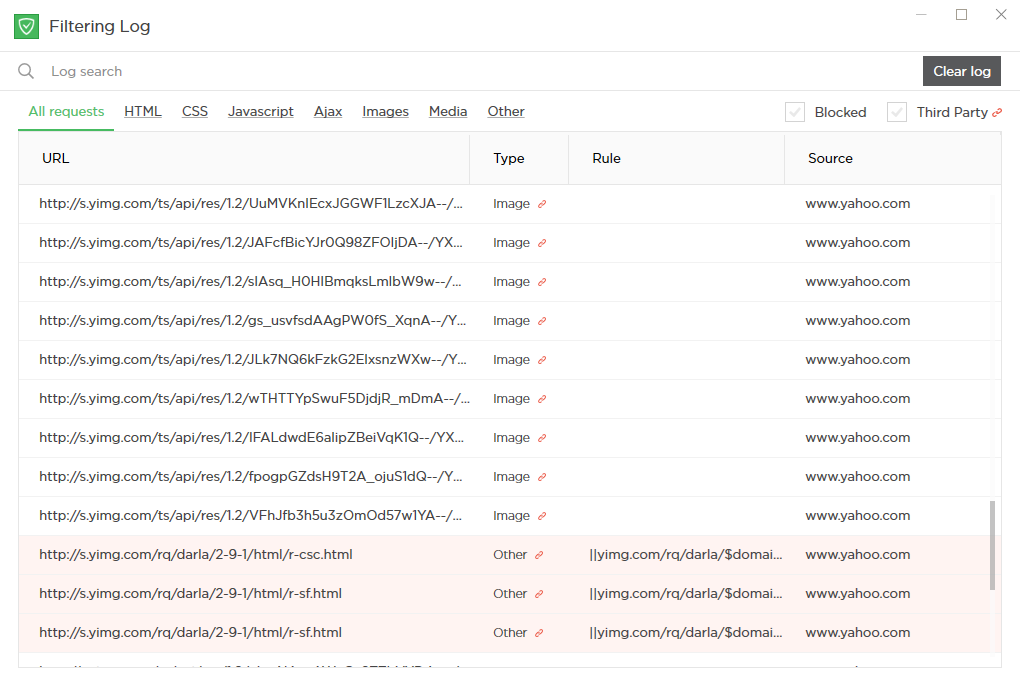 New Filtering Log window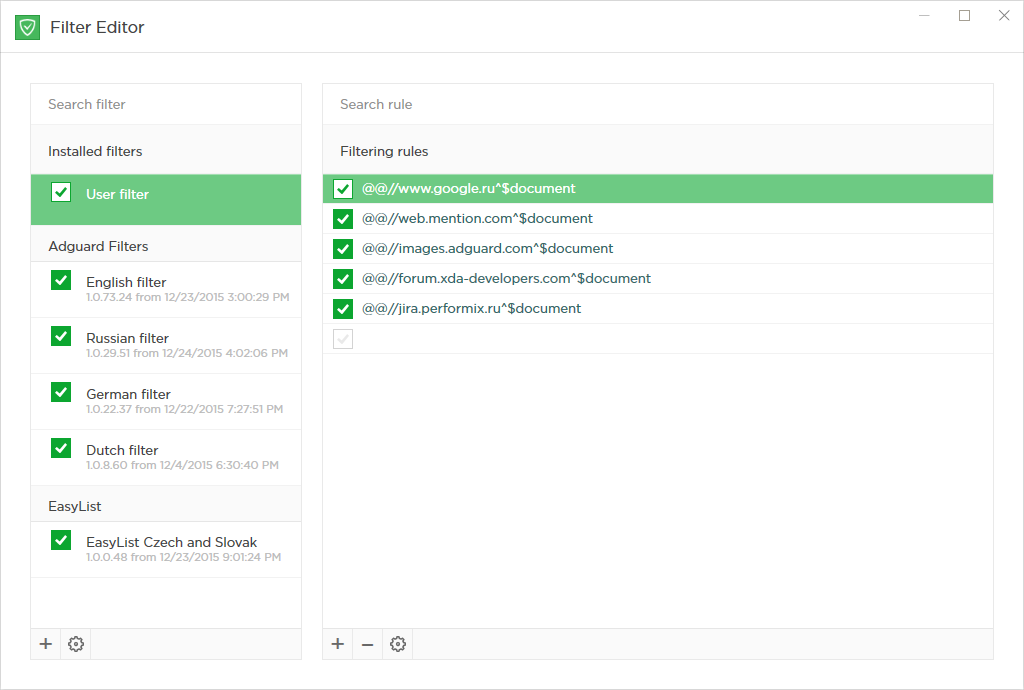 New Filter Editor window
Summing up, the main update of filtering log and filter editor is the beauty and convenience of these tools for users.
Search feature
We have added Search not only in Filter Editor, but also to all program sections. This is in fact one of the most useful innovations. We did our best to improve the ergonomics. Now you do not have to go through the entire section of the program in search for the information you need, simply enter a keyword in the field above. For example, it is very convenient to look for a separate program in the list of filtered applications.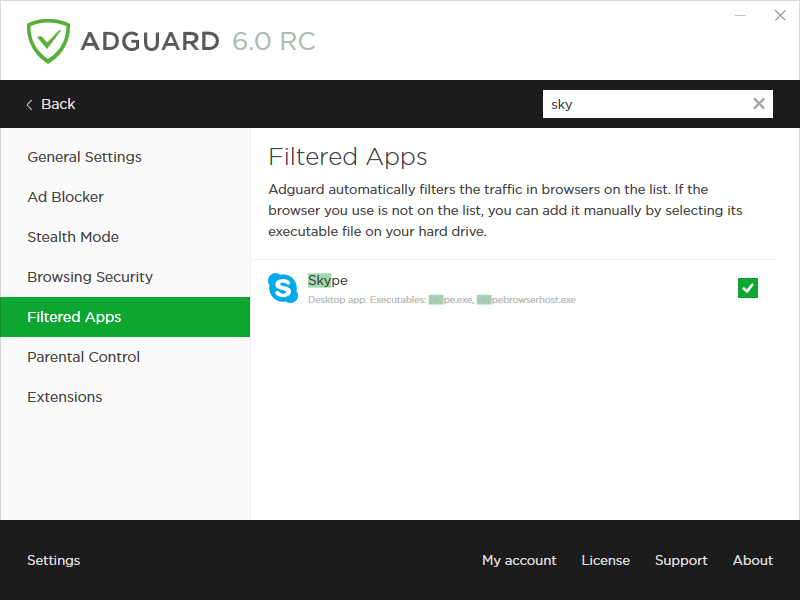 Extensions
Compared to version 5.10 changes in the mechanism of extensions are not dramatic, but for convenience we moved them into a separate module. Now they are present on the main page, and we added the ability to activate them all in one click. We will undoubtedly continue work on extensions improvement.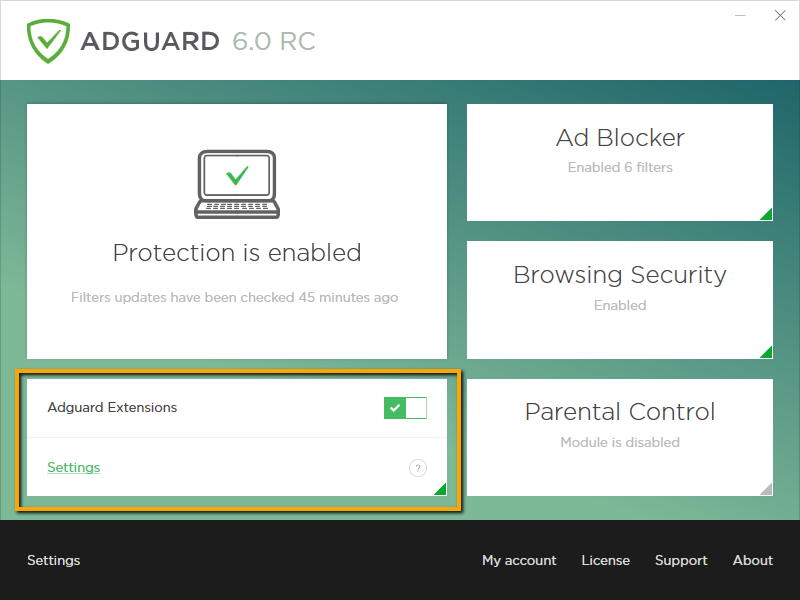 New tutorial
For future Adguard users we made a new brief presentation at the first program launch. Simple and coherent, it will quickly introduce Adguard capabilities.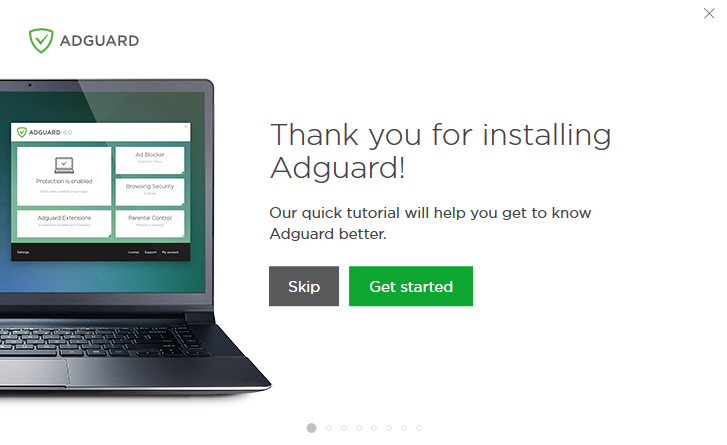 Support for people with disabilities
In this version, we have tried to improve the readability of the interface elements for users with a visual impairment. We have worked hard to improve Adguard support from keyboard: now Windows screen reader sees almost all the elements of the program – tips, tuning, and more.
Filtering
At first glance, the difference is almost negligible, although quite a lot has changed. All alterations are internal and related to the quality of the program. In addition, we are constantly developing our driver to completely eliminate conflicts with third party software.
Multilingual
We have added many new languages to version 6, much more than 5.10 used to support. Now there are 17 of them. And Adguard continues to "take over the world":) Big thanks to all our users who really helped us with translations! We couldn't make it without you.
How to install the release candidate
If you just can't wait till the official release, you can install the current version (release candidate).
Just download the installer here:
https://adguardteam.github.io/download-adguard-6.0-rc.html
So what do you think? Does Adguard 6 look intriguing? Do you like the new design?
If you decide to upgrade to the release candidate version, don't forget to leave us feedback! You know that we are always waiting for your comments!
And by the way Merry Christmas! May you all have nice and joyful holidays.
Best regards,
Adguard team