AdGuard for Android beta release: Version 2.5.70
More than two months have passed since the last update of Adguard for Android. It is a long break, but we were not sitting on our hands doing nothing. In fact, we have some big news for you: HTTPS filtering is finally here! Those of you who know what it means should be already as excited about it as we are, and for all the others we will explain it below in detail.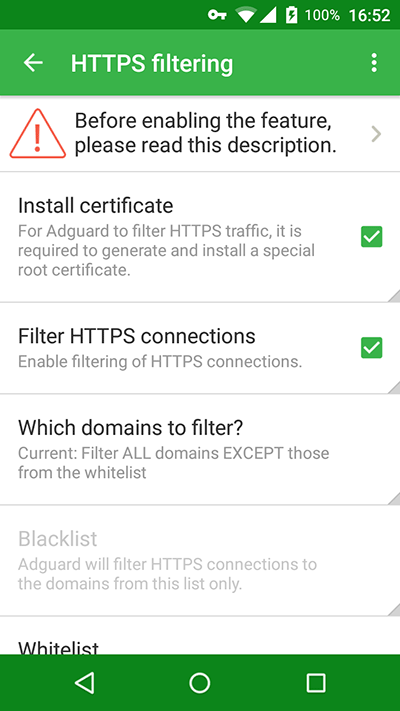 HTTPS filtering #21
What is it?
So, why HTTPS filtering is so important? It is because quite a bit of ads are loaded using HTTPS protocol, and previously such ads were missed by Adguard – simply because Adguard couldn't filter HTTPS traffic.
Now these days are over. To enable HTTPS filtering, simply go to Adguard settings -> HTTPS filtering. Put checkmark at 'Install certificate' to install certificate, then enable 'Filter HTTPS connections' and you are good to go.
Drawbacks
Unfortunately, such power doesn't come with no price; there are two minor drawbacks.
You will need to set a password or a lockscreen pattern. This is a system requirement with no workarounds.
You will get a 'Network may be monitored' notification after enabling HTTPS filtering and after each device reboot. This notification, however, can be swiped away.
Worth mentioning that if you have root access, you can evade these complications by manually adding our certificate to the System certificate storage. You can learn more about it in #334 (but please read all comments there).
Privacy and security
From the beginning, the main goal of HTTPS was to secure your data that you transfer via network. We take privacy and security issues very seriously, and that's why we spent a lot of time to make sure you will not lose HTTPS advantages while filtering HTTPS protocol.
Your network traffic remains encrypted (because all the filtering happens inside your device).
Adguard checks server certificates by itself, and with any hint of danger filtering of this connection will be ceased.
Adguard is not affected by any SSL vulnerabilities which year 2015 was so rich of (it can be verified on SSL labs).
By default Adguard doesn't filter connections with known bank domains and other websites with personal info.
Last but not the least, if you are still concerned, you can set Adguard to filter HTTPS connections to the domains from the blacklist only. By default Adguard will filter all HTTPS connections to all domains, except for domains from the whitelist. Of course, both lists are customizable.
Blocking ads in Youtube app #314
We decided this feature earned a separate header since it was one of, if not the most popular question: does Adguard block ads in YouTube app? Finally, we can answer 'yes'. YouTube app uses HTTPS protocol to load ads, so you need to enable HTTPS filtering. Sometimes, it may be required to clear cache and YouTube app data.
Languages and translations #293, #309, #277
We continue to make Adguard more accessable for our users all over the world. This time Adguard was translated into three more languages: Finnish, Hungarian and Chinese Traditional.
Other changes
#294, #278, #301, #348, #330, #373, #302, #350, #252, #338, #327, #332.
How to install beta version?
This is a beta of future 2.5 version, but you can already use it if you want to. For this purpose you need to enable beta channel of updates: Advanced -> Update channel -> Choose 'Beta'.
Alternatively, the latest beta version is available directly at this link: adguard.com/apkb
But we have warned you: this is a test version, which means that we will continue to improve it for somewhat a month and fix some sudden bugs ! :)
The official release is coming soon!