Google litters Gmail with more ads, including in-between mails. Will this push users over the edge?
Have you recently opened your Gmail inbox and felt overwhelmed by the number of ads or confused about them popping up in random spots? If so, you are not alone. Many Gmail users have reported seeing ads in places where there were none before.
According to 9to5Google, ads have for the first time recently come to the Gmail inbox's 'Updates' filter, a section primarily reserved for emails about orders, bills and the like. But that's not all. Although Gmail's other tabs, 'Social' and 'Promotions,' were already populated with ads, those ads were generally relegated to the top of the inbox. That made them easily distinguishable from genuine emails. Not longer, it seems.
On Twitter, users have shared screenshots of their inboxes, where messages with the green 'Ad' label would be strewn all over the email lists. And it does not look pretty.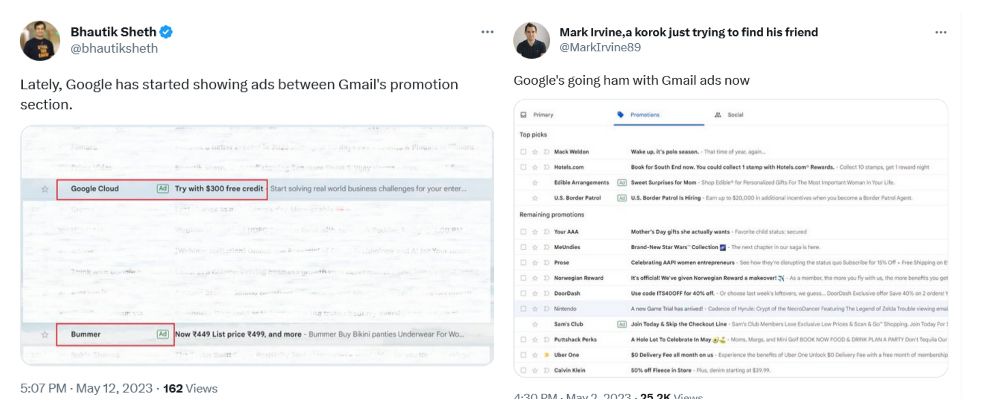 Google has confirmed in a statement to the media that Gmail is now displaying ads in between messages. The company's spokesperson told the Verge that Google first introduced 'instream' ads in the Promotions tab on mobile last year, and is now expanding the feature to desktop
The new ad-heavy look of Gmail inbox has prompted users to vent their frustrations online, and some reached out directly to the 'Big G' for explanations. In response to a user who complained that seeing ads in the middle of her inbox was "NOT COOL", the official Gmail account on Twitter seemed to agree: "That doesn't sound good."
But… Gmail… then why?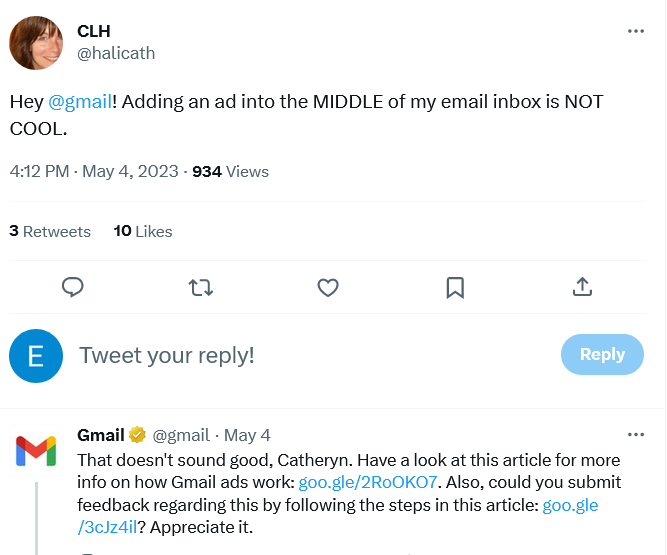 Declining ad revenue: milking the cow while you still can?
Google's ad revenue is dwindling. Despite beating expectations in the first quarter of this year, Alphabet's ad sales still dropped slightly (1%) from the same period last year, marking the third quarter of decline since 2004 and the second quarter in a row.
On top of that, Google also faces a formidable rival in Microsoft in search, where it has been the dominant force for years and where most of its money comes from: 'search ads and other' accounted for more than half Google's revenue this quarter. Microsoft beat Google to the punch in the AI race by integrating OpenAI's GPT-4 model into its revamped Bing search engine. And while Microsoft has so far failed to gain ground on Google in terms of search market share, it still can — much depends on how well Google catches up in AI, where Microsoft now has an edge. Google's answer to Bing AI, its own AI-powered search engine called Search Generative Experience, is still a work in progress, and it's unclear how it will fare against Microsoft's Bing AI. One thing we do know is that Google's new search engine will have search ads from day one — the company apparently doesn't want to miss out on any of that ad money.
Many Google's initiatives of late are aimed at boosting its shrinking ad revenue. We already wrote about ads for physical products, such as cars and offline stores, that have come to Android and Google TVs, and Google-owned YouTube launching its crusade on ad blockers with potentially negative results for both viewers and creators.
Google's strategy to cope with declining ad revenue and slow growth seems to be bombarding its free users with more and more ads, while nudging them to switch to its paid offerings. This approach raises doubts, especially since Google's ad network is increasingly abused by 'bad ads' that spread malware and other harmful content. While it's too early to draw any conclusions, so far, it has only caused frustration among Gmail users and prompted some to look for alternatives.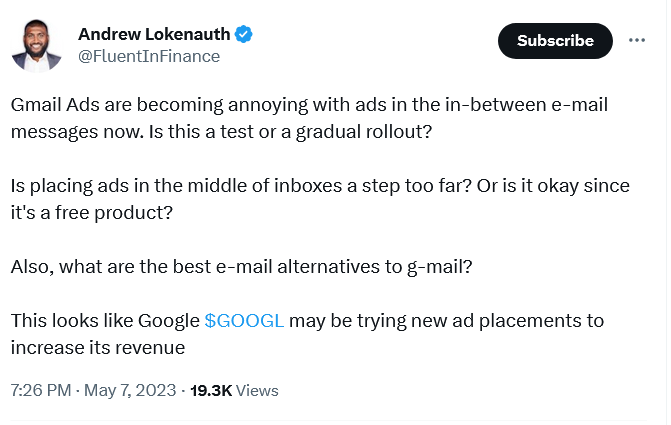 As Gmail fills up with more ads, will its new features become a step too far that pushes users to look for cleaner, less ad-polluted alternatives? We have yet to see, but as the saying goes, one can only take so much. Meanwhile, Proton, a provider of secure encrypted email service that offers both free and paid plans, did not miss the opportunity to tout its own product in the wake of Gmail's news.

Whether the new ad placements become a deal breaker for at least some of the users or not, they certainly do not improve user experience. And if Google continues to add more ads to Gmail in the future — which is likely given its dependence on ad revenue — it will only get worse. One day, the tipping point will be reached and Google will have to change its course or face the risk of losing users. The trouble is, it may be too late to fix anything by then.