We are looking for moderators!
Hello everyone!
Today, we are going to tell you about our new policy concerning working with the translators. If you are eager to help and claim some unique rewards along the way, read on!
But before giving you this new information we would prefer to express our gratitude to all the volunteers who have helped us troughout the years! Thanks to your assistance, we are able to share our products all over the globe. Your translations are a great contribution to our cause.
Thanks for your diligent work!
A word about current state of things
We have a lot of competent translators who are continuously working on different AdGuard localizations for a long time. If you want to join them, go to our page on Crowdin, sign in and start translating any project you like right away.
We do hope you enjoy translating AdGuard, but of course every good work should be rewarded. Good news for all volunteers who actively translate on Crowdin — you are eligible to request a free AdGuard license key! Just send us a request to this e-mail: translate@adguard.com and you'll get the license key as a token of our gratitude.
Looking for moderators
Returning to our main subject: we are always looking for ways to improve our system of working with the translators. This brings us to this topic — choosing a moderator for each language.
What does a moderator do?
There are several key responsibilities Moderators will have.
A Moderator approves high-quality translations and disapproves the bad ones;

Sometimes a phrase in original language gets changed. In that case, Moderator has to check the relevance of the existing translation and translate the updated phrase if needed (or at least inform the Admins about it);

A moderator is responsible for informing the Admins about outdated accompanying screenshots (or absence of such screenshots to the key phrases);

Moderators have to take part in discussions in comments and timely react the Admins messages.
Perks of being a moderator

Ok, time to get to the good part. First of all, every moderator may, of course, request free AdGuard license keys. But that's not all!
If a moderator successfully carries out his or her activities for ~2-3 months, he or she gets a giftpack containing various souvenirs with AdGuard symbolics (like backpacks, hoodies, toys, stickers etc. — the exact contents are yet to be decided).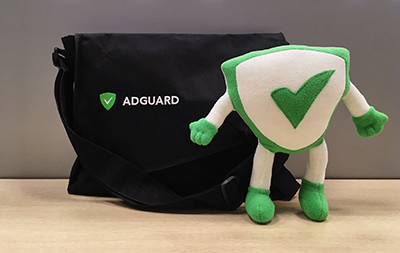 Moderators who will continue to effectively manage their languages are eligible to win more prizes later. Who knows, maybe you will become Moderator of the year! :)
Becoming a moderator
Do you want to be a moderator? Then fill in the following questionnaire and send an e-mail to translate@adguard.com.
Questionnaire:
Name, surname
Native language
What language would you like to be a moderator of?
Do you have any translator/moderator experience?
Why should we choose you as a moderator?
If you have any questions, include them into your email as well. Hope to see you in our team soon!