Celebrating New Year with AdGuard: major giveaway and discounts
What a beautiful season it is! The anticipation of holidays, family time and celebration atmosphere. We hope you already have a festive mood. If not, we will try to fix it right away.
Now, holidays are coming, and it is the perfect time to give presents to the loved ones. And hey, we at AdGuard love our users! So we have prepared a cool giveaway for you and discounts for lifetime keys.
30% off on Lifetime
Apply promo code ADGUARD2018NY to get a 30% discount on lifetime keys of all types (mobile, standard, premium). Pay once and use AdGuard forever :)
Don't miss the chance to favorably use discount until January 8, 2018.
Discounts are also available (without coupon) for the upgrade of your key to lifetime and for the purchase of Adguard for iOS Pro on App Store.
Giveaway for users
Are you an AdGuard user with a purchased and active key? Then try your luck by joining our giveaway! And you may become one of the 5 winners who will get a tablet from us (Huawei MediaPad T3 10).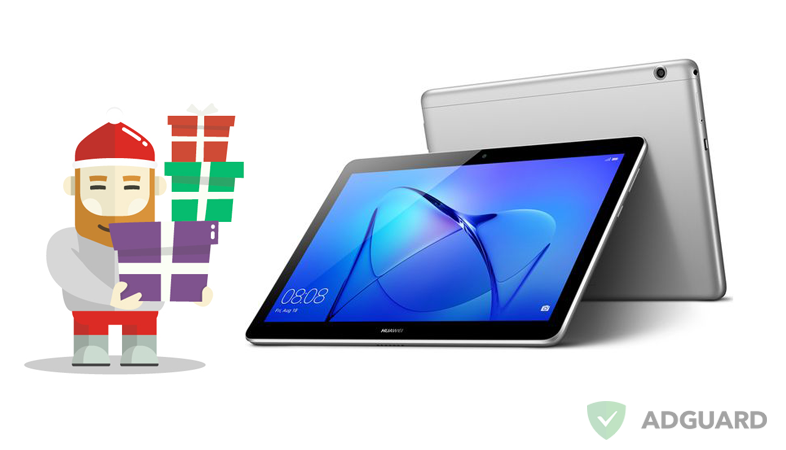 Terms and how to participate
Any user with a purchased and active (by promotion's end) AdGuard license key can take part in the giveaway by filling in the form of the participant.
If you have several keys - you can fill in the form several times (separate form for each key) to increase your chances of winning :)
A key for several devices (e.g: Premium 3+3) is considered as 1 key = 1 entry
Please, don't enter expired keys, keys that you haven't purchased (bonus or beta licenses), keys to other programs or random sets of characters; don't fill in the form several times with the same key – such entries won't be allowed to participate.
The keys that participate in the giveaway are not subject to refund.
You can join the giveaway until January 8, 2018. On January 10, we will randomly select and announce the winners on our blog.
Please be careful when filling the fields with Adguard key (this information will be verified).
Good luck, everyone! If you have any questions regarding the giveaway, contact us at pr@adguard.com or support@adguard.com.
Our team wants to congratulate you on coming Christmas and New Year! We hope you will celebrate holidays amazingly, and the next year will bring you joy, luck, love and simply anything you wish for :)