May your 2022 be safe with up to 60% off AdGuard products
It's just a little more than a week until the end of the year, and we're already preparing our traditional yearly recap. Our AdGuard user community has grown in 2021, and we feel your support even more. Thank you for translating our products and websites into your languages, testing our products, looking for bugs, suggesting new features and giving us your feedback. We're getting better because of you!
We all need a little rest
However much fun choosing gifts can be, even the most pleasant emotions can make you tired. And there still are work deadlines and chores to do. So we urge you to find at least some time for yourself in this turmoil: watch a movie, go for a walk, get a massage, go to bed early — or do whatever works best for you. And we'll take care of your online comfort: we'll help you reduce all this information noise and protect your privacy. So you can concentrate on what's really important.
And because we love you, we've got some presents for you: up to 60% off AdGuard products.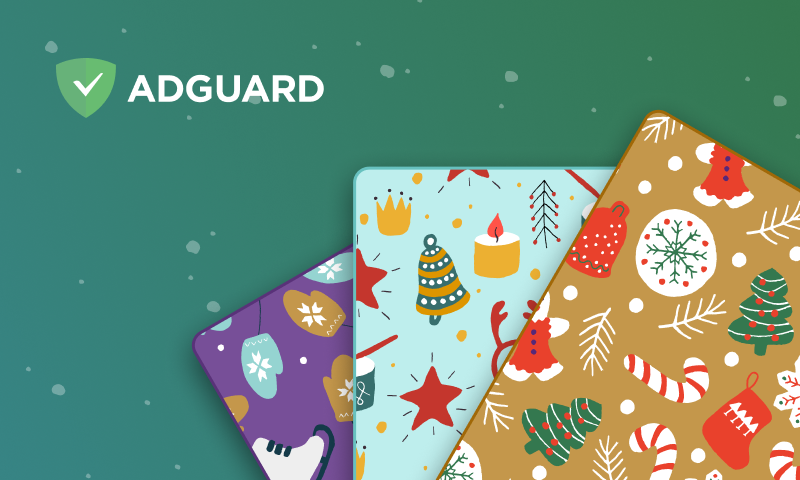 CHRISTMAS SALE
30% off AdGuard Ad Blocker
Here's the first gift for you: 30% off all licenses. Yearly or Lifetime, Personal or Family — choose what suits you best.
What you can do:
Buy a license for you and your loved ones;
Upgrade it — switch to Family and protect up to 9 devices;
Renew your license — add a year or more to its curent validity period or make it a Lifetime key;
Buy a license as a gift. Just buy a new license, unbind it in your account by clicking on the cross icon and give the key to your friend.
GET 30% OFF
60% off AdGuard VPN
VPN is a really good way to protect your privacy: it encrypts your traffic and protects your online activities from the prying eyes. And here's the second gift: 60% off AdGuard VPN Yearly subscription.
What you can do:
Just like with a license — buy a subscription for yourself, your family, and your close circle;
Renew an existing one. Simply purchase a subscription again and enter the same email address you used for the first purchase. The subscription will be renewed automatically!
GET 60% OFF
Christmas bundle
This year's special: a Christmas bundle of our most popular products — one year of AdGuard Ad Blocker license and one year of AdGuard VPN subscription. If you're new here, that's a gift for you: get maximum protection in one click!
GET SPECIAL PROTECTION
The discounts are valid until January, 1 inclusive.
May your 2022 be safe.
Yours,
AdGuard Team.