YouTube: How to use it with an ad blocker
In October, YouTube began actively testing a new way to detect ad blockers. Many users of ad blockers may have seen the following warning when visiting the YouTube website.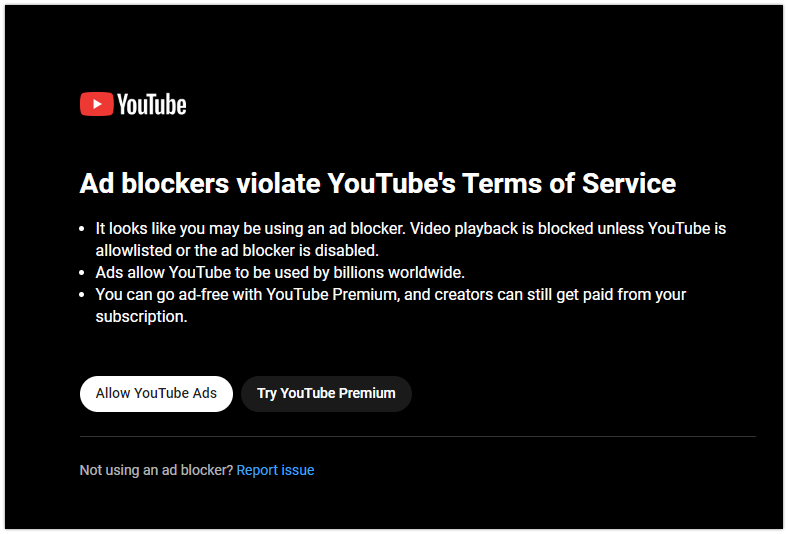 YouTube suggests disabling ad blockers on its website or purchasing a premium subscription. But are there other ways to stay undetected? Actually, there are.
Check for filter updates. There are many filter maintainers who are constantly working to add new rules to their filters to help you get around YouTube's blocking. You can also reduce the time between filter updates in your ad blocker settings so that you always have the latest versions of the filters.

If your current set of filters is not doing its job, try adding more. You can add filters that are already pre-installed in AdGuard with a few clicks, or you can easily find a large number of different filters on the Internet.

Do not use more than one ad-blocking app or browser extension at the same time. The more ad blockers you have enabled at the same time, the easier it is for YouTube to detect you.

If you are using the AdGuard Browser Extension, try using a desktop ad-blocking app such as AdGuard for Windows or AdGuard for Mac.
Desktop apps are harder to detect because their filtering methods are superior to the extension's functionality. Also, if you use the Chrome browser, YouTube could theoretically know which extensions are installed on your browser since both Chrome and YouTube are owned by Google. The standalone desktop apps don't have this problem.
If all other methods didn't work, try signing out of your YouTube account. YouTube will probably stop displaying a banner asking you to disable the blocker.
The main problem ad blockers face is how quickly YouTube changes its ad-blocking detection mechanisms. Filter and extension updates often can't keep up with this in real time. And even when filter maintainers make timely changes to their filters, it can take a day or two for those updates to reach users.
We at AdGuard are going to speed up this process with a new feature — differential filter update. Once we add this feature to our extensions, filters will be updated as quickly as possible. Keep an eye on our news!
We would like to thank the contributors and all users who wrote to us about this problem. Thanks to your feedback and suggestions, we managed to respond effectively to these changes.
As a reminder, you can help us create filtering rules here on GitHub. If you encounter any problems, please let us know using our web reporting tool.