AdGuard v1.9.19 for Safari: M1 support and updated Safari rules converter
We're back with an update of AdGuard for Safari. Though the last time we covered its release was quite a while ago, the product has been growing and developing all this time. Below you can find out what's new in the latest version.
You may have noticed that we had already released AdGuard for Safari. Sadly, we found a critical error that forced us to cancel v1.9.17. Now that we've fixed everything, we are re-releasing it feeling confident: the extension operates smoothly!
Apple silicon support
In November 2020, Apple began the switch from Intel processors to self-developed M1 chips. At the Apple Event, the manufacturer unveiled the new MacBooks with Apple silicon and the new M1 chip. But what is the fundamental difference between Intel and M1? We will try to explain it without getting too technical.
The brand new M1 processor is the first one in the family of ARM-based (Advanced RISC Machine) processors. M1 is a so-called system on a chip (SoC) that integrates components: USB controllers, Wi-Fi, Thunderbolt (interface), processor cores, video cards, and random-access memory (RAM). Unlike the old motherboard-based PC architecture, which separates components based on function, the new ARM аrchitecture brings them as close as possible. SoCs are great in terms of speed, as they allow to minimize latency for some functions: when elements are laid out in close proximity to each other, the interconnection delays can be minimized, while the data communication speed between modules, functional units, and memories is maximized.
We've been trying hard to make Macs with the new architecture compatible with the AdGuard extension for Safari, and are happy to introduce the result: a universal build that operates on both Intel and M1 processors.
Updated rules converter
We use rules converter only in two our products — AdGuard for iOS and AdGuard for Safari. It is required to convert AdGuard filtering rules into the ones of Safari, as their syntax differs from the commonly accepted one. In v1.9.17, we've added support for the $denyallow and $specifichide modifiers, cosmetic rules and Generic rules (exception rules modifiers), and fixed conversion errors.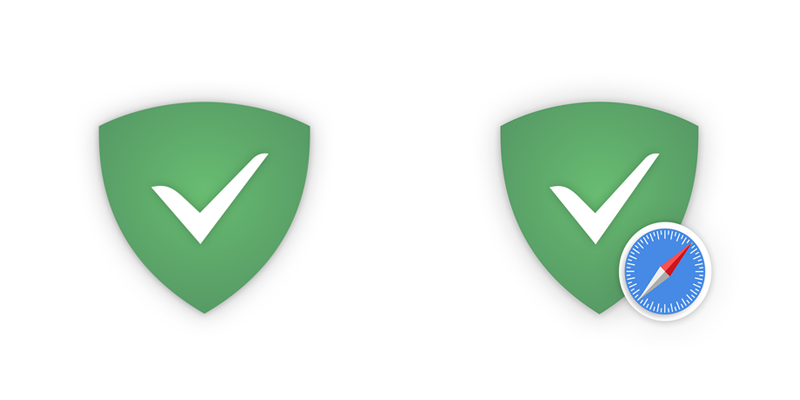 Old and new app icons
Besides the converter, we've updated the app icon. And we couldn't do without fixing minor bugs, UI related and others.
---
Download AdGuard for Safari and share with us your thoughts on the new version. We'll be waiting for your feedback!