AdGuard v2.5 for Mac: Big Sur compatibility
Hey, Mac users! Missed us? We are coming back with a great update! Please, meet AdGuard v2.5 for Mac. A small intro first.
Privacy is in high demand
Following a worldwide modern trend towards privacy protection, Apple announced its new macOS Big Sur with 3 cornerstone features: refined design, increased efficiency and 'even more transparency around your privacy'. So privacy protection is a big deal now and is widely acknowledged by the market's leaders, such as Apple.
Our AdGuard v2.5 for Mac version is specifically designed to cooperate seamlessly with the new macOS 11 (Big Sur). We have resolved many compatibility problems and added new gorgeous app icons that suit new OS style.
System Extensions will replace Kernel in Big Sur
First of all, what are System Extensions? It all started in 2019 when Apple decided to minimize the amount of operations executed in Kernel. The old framework — Kernel Extensions — would no longer be of use. As an alternative, Apple offered System Extensions, and specifically Network Extensions as a framework to run apps that filter traffic.
Network Extensions
MacOS 11 (Big Sur) will no longer support the old Kernel Extensions (for the most part), so we added support for the new framework. If you're already on Big Sur preview, please make sure your AdGuard works in Network Extensions mode: open AdGuard's menu -> Select Preferences... -> Network -> Select Mode.... "Kernel Extension" mode should be grayed out, and "Network Extension" mode should be selected.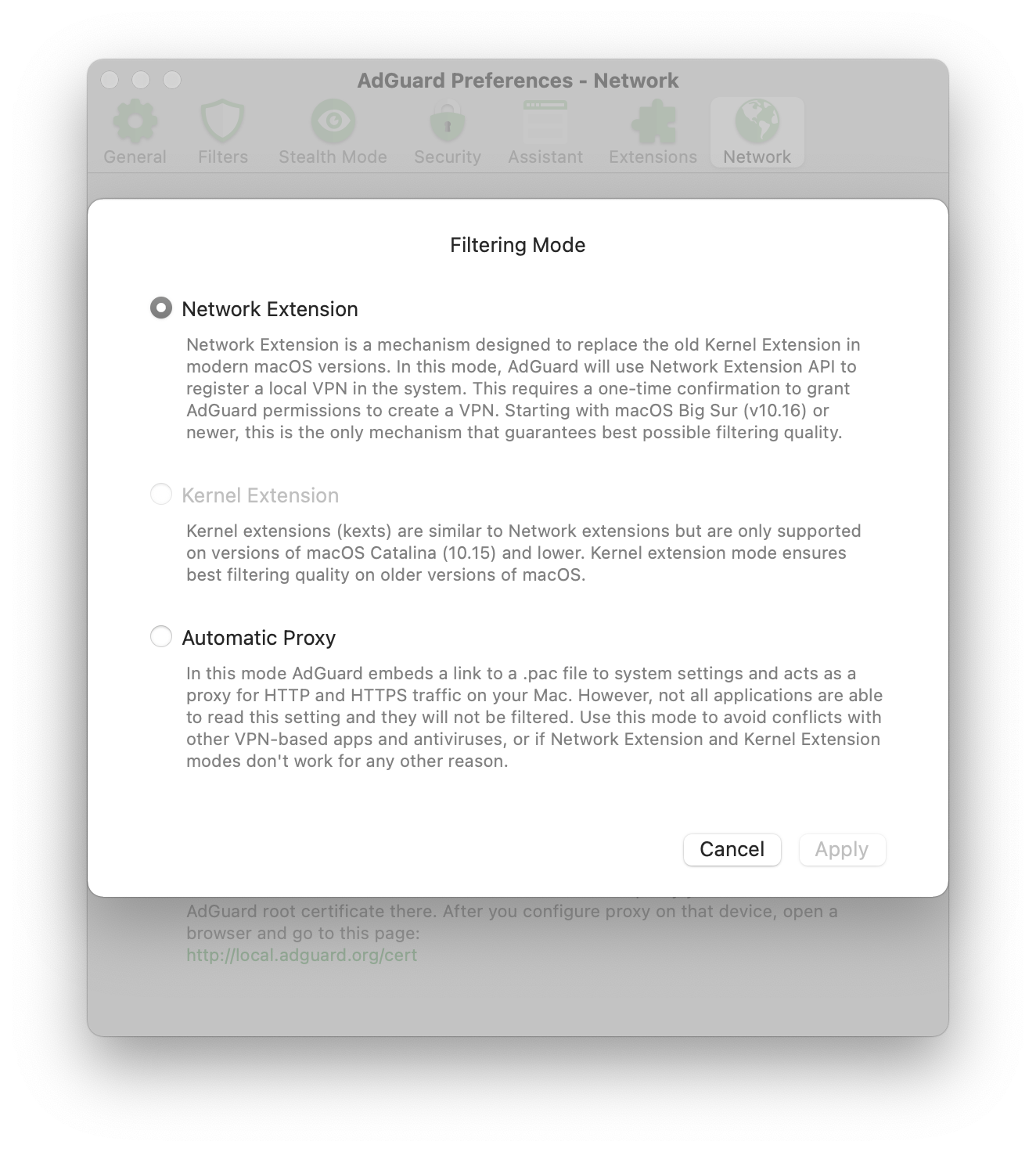 Unfortunately, Network Extensions is a relatively new feature, which means it is only to be further bugfixed and updated. It was shortly introduced as a replacement for Kernel Extensions (first appeared in this role in macOS 10.15) and now Apple is actively developing and improving it. However, there are still many issues in different branches associated with Network Extensions. If you're facing any, please check out our problem solving guide.
What's left?
The second major feature in this update is Upstream Proxy which is now locked and loaded. With this feature you can add your custom proxy server into settings and run it with AdGuard VPN. We also fixed many bugs and updated CoreLibs to v1.7.111 for enhanced filtering. As usual, the full list of changes can be found on GitHub. We can't wait to have your feedback! Feel free to leave comments in the comment section below 👇