AdGuard for Android v.2.7 official release
Hi! We can't wait to tell you about new Adguard for Android version!
We've been working on it for quite some time, and really hope you will find it worthy the efforts. It has a little bit for everyone. New settings screen to customize per-app settings for those who like to control everything on their device; new $app modifier for custom rules creators; some good news for Android N users and just generally lots of fixes and 'quality of life' changes.
Be sure to read about cool new stuff and update to Adguard 2.7!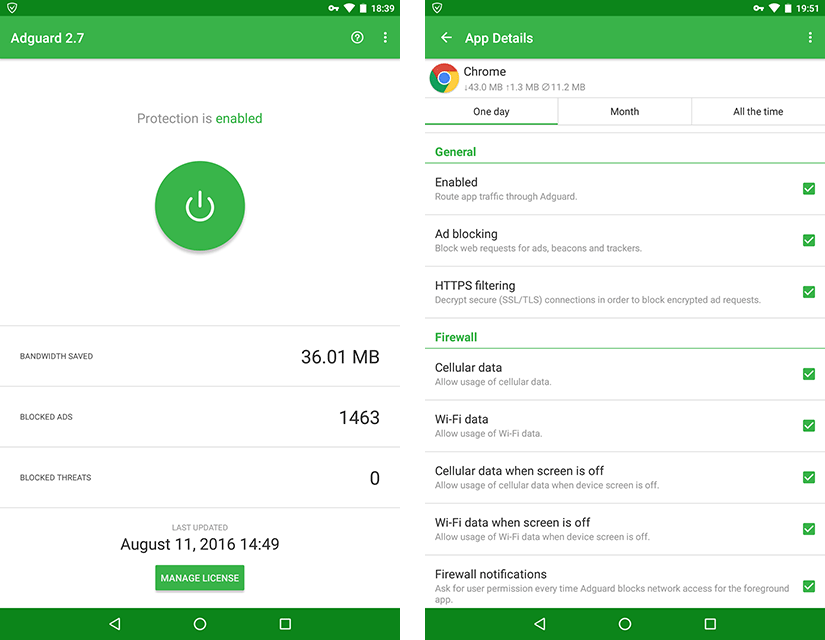 UI
[Added] 'Apps & Statistics' settings section #633
We decided to seriously redesign our Firewall section. There will be no more 'Apps & Settings' sub-section inside 'Firewall'. Instead, we introduce a whole new first-level section named 'Apps & Statistics'. It very much resembles the now gone 'Apps & Settings' but has some differences. For example, we got rid of 'global' switches - these buttons were too misleading.
Also, you can now disable network access when the screen is off, and you can configure it for each app separately. Not only new connections are not allowed when this option is enabled, but also all existing connections are terminated when the screen goes off.
Another big change is disposal of exclusions lists. Now you can simply add an app to exceptions through the 'Apps and Statistics' screen. There are other changes too, and we will not list them all here. We believe the new layout is more intuitive and you will have no troubles navigating through it.
Important note: this is not yet a big redesign we plan to do in Adguard 3.0. Only the tip of the iceberg :)
Ad Blocking
[Added] $app modifier #544
This modifier will be useful for advanced users who create their own custom rules. It allows both blocking ads in a specific app and blocking ads everywhere except for that app. For example, Facebook uses same domains for both ads and useful stuff. This modifier allows to block facebook ads in other apps without breaking the Facebook app itself.
[Fixed] Detect if app targets Android N #653
Due to Android N security policy, HTTPs filtering is impossible for apps developed specifically for Android N, or other apps where user-installed certificates are not trusted. Previously that could lead to errors and app crashes. Now Adguard detects if app targets Android N and does not filter HTTPS for such apps.
Networking
Install/Update
Compatibility
From now on it will be much easier for users to add any app to exclusions. No need to go to low-level settings anymore, just open the apps screen in 'Apps and Statistics' and add it to exclusions from there.
Following compatibility issues were fixed:
Following apps were added to exclusions due to problems caused by filtering:
Idealo, Mountainview, Itau, Yik Yak, Box, Jet, MeetMe, MoovIt, Waze, Prisma, Grindr, Romeo Uncut, SwiftKey, S Voice, Goes, NU.nl, com.samsung.syncservice, Coursera, Astana Bank, Google Now, Yandex Navigator, Heetch, TomTom Go Mobile, Amazon apps, some banking apps
(Issues: #673, #729, #641, #516, #642, #676, #612, #528, #492, #733, #715, #710, #702, #712, #686, #679, #674, #659, #655, #650, #637, #584, #447, #624, #647)
You can already update through the app. We encourage you to try the new version and share your thoughts in comments section!