AdGuard Browser Extension v2.4
After numerous Windows, Android and Mac releases, along with the introduction of Adguard DNS and Adguard Content Blocker, it is easy to forget about browser extensions. But we didn't! We are finally ready to present to you new version of Adguard browser extension. What's new?
If you follow Adguard for Windows news, you've already heard about extended selectors and what's so useful about them. Chromium users who like to create custom filtering rules will be glad to see DevTools integration, and besides that there's a lot of other changes and fixes.
[Added] Extended selector support #321, #322
This is a technical term, but what hides behind it? With extended selectors support, we can much more easily create some rules that were very, very hard to create earlier. Notably, this concerns rules required to block such things as 'Sponsored posts' on Facebook etc.
Chromium
[Added] Integration with Chrome DevTools #5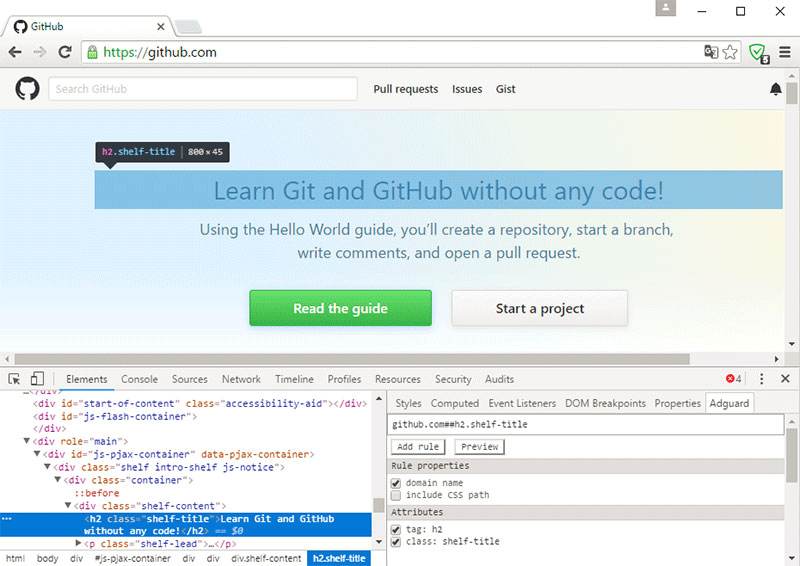 We added a custom sidebar panel to Chrome Developer tools 'Elements' tab. So now you can create and add rules directly from chromium devtools panel with detailed settings and preview functionality. This will be especially useful for filter developers and enthusiasts.
More documentation on Chrome devtools can be found here: https://developer.chrome.com/devtools
Safari
Firefox
Other changes
Needs to be added that new version might not be available at Mozilla add-ons store, Opera store and Safari Extensions Gallery yet. It is due to the necessary review process that will inevitably take some time. But don't be upset, you can still download the extension directly from our GitHub repository.