AdGuard v2.6 for Mac: DNS filtering, Native Apple Silicon and Monterey support
Good news alert! DNS filtering and native Apple silicon support are added to AdGuard for Mac. These features have been used by beta testing enthusiasts for a long time now, but today we've finally got to the release point, so the features will be available for all users.
DNS filtering support
Many users asked when we would add DNS filtering to AdGuard for Mac. This feature has long been implemented in AdGuard for Windows, Android, and iOS, and we knew it was time to integrate it to our other desktop app. Finally, it's there.
If your knowledge on the subject is a bit rusty, we suggest that you read about DNS filtering and why you need it in this article.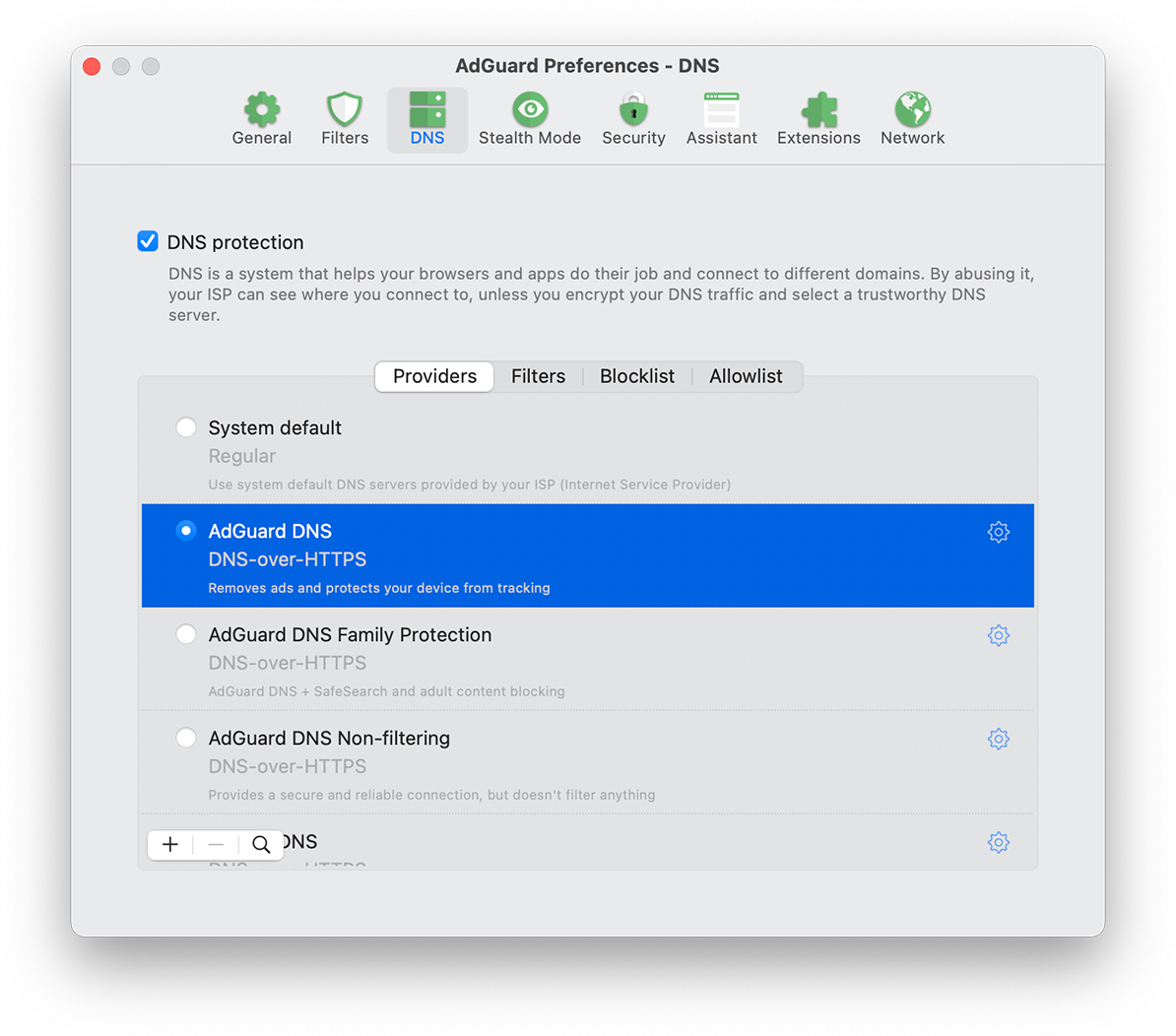 With the appearance of the DNS filtering functionality, a separate tab appeared in the program settings
"Okay, but what's in it for me?", you may ask.
From now you needn't rely on a DNS server provided by your ISP by default, you have the luxury of making choices — cherry-pick DNS servers from known DNS providers or even add custom DNS servers.
You can also add domains to DNS blocklist or allowlist and add complicated rules using DNS rules syntax, how cool is that?
Finally, you can add DNS filters of your choice. Please find various filters and links to them here.
And of course, such protocols as DNSCrypt, DoH, DoT, and DoQ are supported. Just a reminder, AdGuard DNS has become the first public DNS resolver to support the cutting-edge DNS-over-QUIC protocol.
Native Apple silicon support
We've added М1 support, so now AdGuard for Mac is fully optimized to run on Apple Silicon. If you don't quite understand what it means, we suggest that you read another blog post highlighting the release of AdGuard for Safari with M1 support.
Actually, M1 support for AdGuard for Mac has been implemented long ago in beta and nightly, but now it's finally available for all the users.
Monterey support
macOS Monterey is the name of the latest macOS version coming this fall. We tested the compatibility of AdGuard v2.6 for Mac with macOS Monterey, and they work seamlessly together. All you need to do is wait for the newest macOS 12 to be released – to try AdGuard on it, among other things.
---
As always, the complete list of changes can be seen on GitHub.
Hope that you'll like the new version. Your feedback is highly welcome so please don't hesitate to share your impressions with us here or in social networks. This will help us take things to the next level!