AdGuard for Mac 2.0 enters Alpha (and gets Nightly channel)
The release of long awaited new AdGuard for Mac is getting nearer. And today we are one step closer as we start the alpha testing. There are a lot of changes awaiting, but we won't spoil all the fun by listing all updates of v2.0. We will mention only the most remarkable ones instead.
CoreLibs
Remember CoreLibs (our new lightning fast filtering engine) that we introduced earlier in June? Now it's implemented for the first time in AdGuard for Mac version, which makes the app much faster (twice or even three times faster). Yay!
Nightly channel
Now let's backtrack again for a moment and recall what Nightly is:
"Nightly builds" are updated at the end of the day (hence "nightly") and contain all the changes/fixes/etc that developers worked on during that day.
We already had it for Windows and Android, and now it's finally added to Mac version. While new AG for Mac is getting many changes in its core, it obviously is not very stable currently. And that is where Nightly channel comes into play, helps us collect feedback on various fresh bugs and saves the day (literally).
NB: There is no switch to the updates channel like in AG for Win/Android. There's a separate AG build with Nightly to be installed:
We will need help of the bravest testers to help us refine AG new version with the help of the Nightly channel. Read the article till the end to find all details.
What else is new in this version?
3x performance boost
2x memory usage improvement
Added support for HTTP2 and TLS 1.3, which also speeds things up
New Assistant and popup blocker, the same as in the Windows version (for quite a long time it was really outdated in Mac)
Advanced tracking protection (those who used AG for Windows know this functionality as "Stealth Mode"):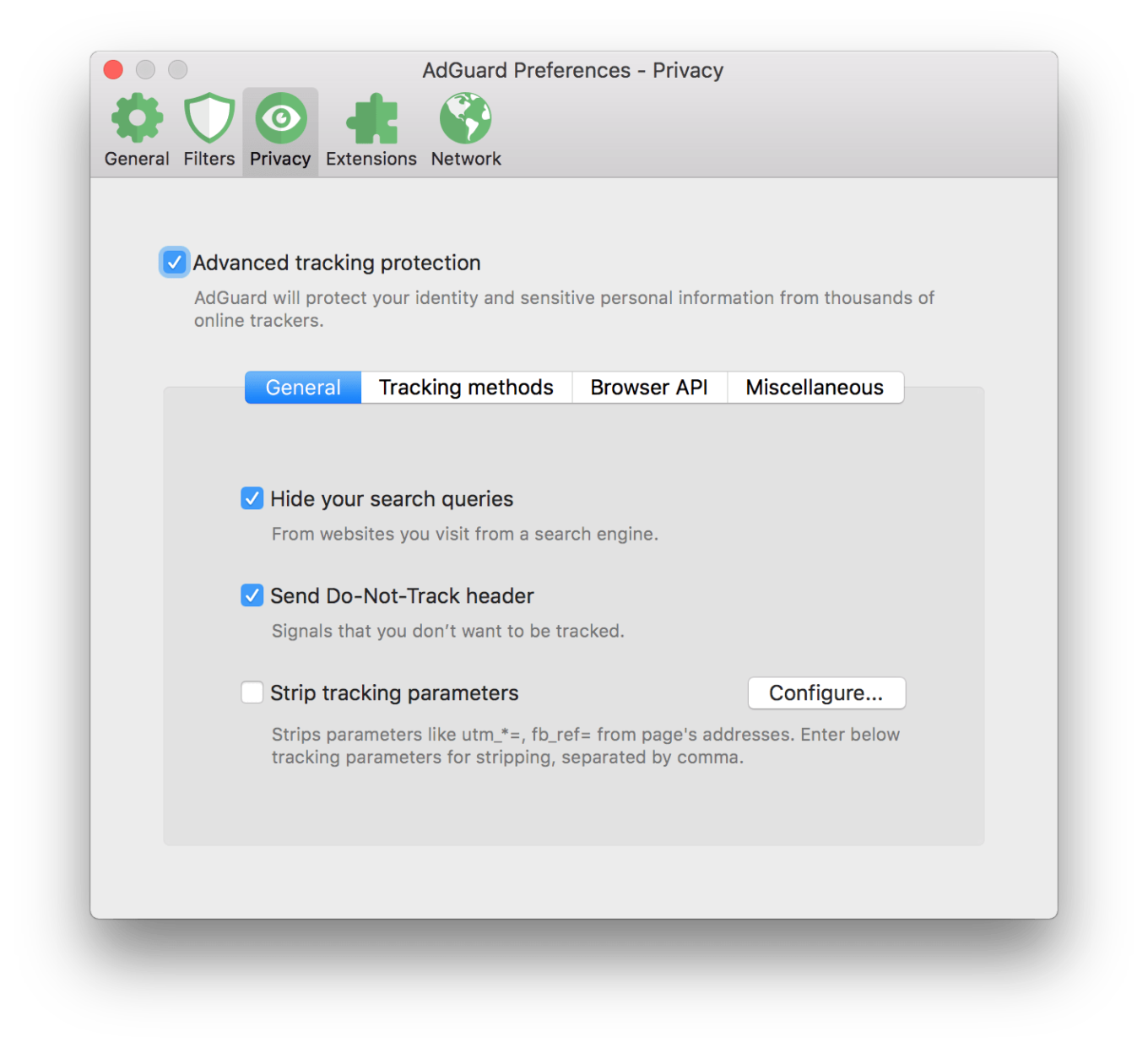 Plans for the nearest future
Visually, there are not many changes yet, while all the works are mostly "under the hood", but the keyword is yet :) Redesign is in progress, as well as the Mojave dark theme support.
Help AdGuard, join the testing
As we said, everything is not very stable now — alpha version crashes. It is very important for us to collect data on all such crashes (if it happens the program will offer to send a report).
That is why we need your help, bold and reckless testers, and would like to ask you to download the new version with Nightly.
If you would like to participate in the testing, you can apply here.
And as usual, when you encounter any bugs, we will appreciate if you report on GitHub.