AdGuard Popup Blocker v2.1
Popup Blocker extension is already familiar to all of AdGuard for Windows and AdGuard for Mac users. It is one of the pre-installed userscripts that enhance the AdGuard performance, alongside AdGuard Assistant, for example. We are happy to announce that the Popup Blocker has not only undergone a major redesign and overall improvement, but is now available as a standalone script that can be installed via any userscript manager.
The purpose
Let's talk a bit about why do you need the Popup Blocker in the first place. As you can probably realize from it's name, Popup Blocker — ta da! — blocks all sorts of unwanted pop-ups. Now, most websites you will visit don't have any pop-ups, but even one random pop-up can completely ruin the impression of the website and even spoil the whole internet session.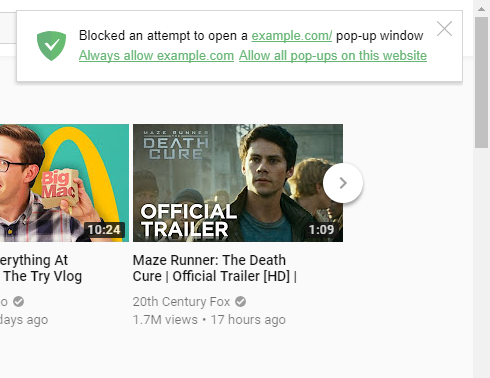 Once you have a desktop version of AdGuard, it costs you literally nothing to have the Popup Blocker installed and enabled, but the benefits are tangible.
Key advantages
AdGuard Popup Blocker has been around forever, but what makes the new version stand out? Several things:
Basically, it works in any browser that supports userscript managers: Chrome, Firefox, Edge, Safari, IE10+ etc. Exceptions are some of the oldest browsers that do not support the API we use, the script may not be fully functional there. Best news is that if you use AdGuard for Windows, the Popup Blocker will work in any browser, no exceptions.
Advanced pop-up detection
Popup Blocker doesn't apply the filtering rules approach to pop-up detection. Instead, it adds an additional layer on top of browser's native APIs that are used to create pop-ups. This way, these APIs can only be called when caused by a manual input, and not by pop-up/pop-under scripts. In other words, it allows to block pop-ups even on websites that try to bypass regular ad blockers by using WebRTC or varying the ad servers.
Restores the expected click behavior
Self-explanatory but important: if a click would cause a pop-up to show, not only the pop-up is blocked, but also the initial click is processed as it would be without the pop-up.
Invisible to other scripts
Other scripts on the page can not detect that Popup Blocker is being used, other than by actually trying to open a pop-up. This prevents any possible circumvention of Popup Blocker.
How to install
If you have AdGuard for Windows or AdGuard for Mac installed, you should already have the old version of Popup Blocker. But even then, you probably want to try the very latest version (which is currently 2.1.7). To do so, you need to perform two easy steps.
Make sure you have one of the userscript managers installed in your browser. The most popular ones are Greasemonkey, Tampermonkey and Violentmonkey, but you can also use AdGuard for Windows as a userscript manager (not only for its native scripts, but for any other, too).

Now you need to install the userscript. You can download it directly from our server or from one of the popular userscript hosts like GreasyFork or OpenUserJS. The userscript manager will automatically detect and install the script when you run it.
You can help us too!
There are several ways to do so. The most obvious is to report bugs, just head to this page and create a new issue if you spot one. You can voice any suggestions and make feature requests the same way.
By the way, Popup Blocker is open source. Feel free to scan through the code and contact the developers should you have any questions
We also rely on you with translating the Popup Blocker to other languages. There's not much to translate, so it won't take you more than several minutes, but will be helpful for many others. Our project on OneSky is open for public contributions.
Have a good time surfing the Internet without any pop-ups! :)