AdGuard PRO for iOS (beta)
Last month was generous for new Adguard products - we had Adguard Content Blocker and Adguard DNS beta releases. But we just can't stop! This time, we are going to present to you a new product for iOS - Adguard PRO. This is a first step towards system wide ad blocking on iOS. With a little luck, our app will be approved and we'll move further to make this true.
---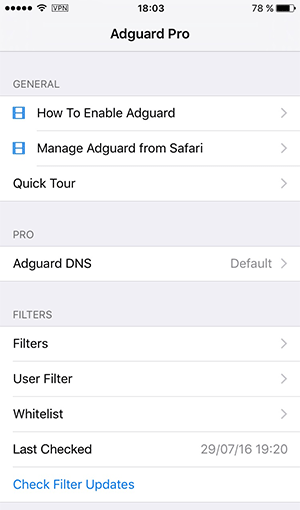 About Adguard PRO
Actually, Adguard PRO is not something revolutionary new (yet :)). It is the same Adguard for iOS, but with new possibilities. PRO features are accessible from the main screen and can be found under the 'PRO' tab. Currently you will only find Adguard DNS there. To get the general idea about how blocking by DNS works, you can check out the respective blog article.
But there are more options available than a simple switch. DNS blocking here works pretty similar to what was described in the dedicated article. It also has two modes:
'Default' to block ads, phishing and trackers;
'Family protection' to add adult websites to this list.
But also a possibility to enable requests log, which you can then look through. Important note - we do not store any logs on our servers. They exist only on your device.
There is one more thing to mention. If you go to General settings -> VPN, and then tap on 'i' symbol against 'Adguard Pro VPN', you will see a switch named 'Connect on demand'. You can enable it to avoid keeping VPN on constantly, and to only have it turned on when you actually use your browser or another app that accesses Internet.
Become a beta tester
Adguard PRO is still a rather raw product, and we need your help to make it better. If you are interested enough in Adguard PRO, you can enroll in beta test. Visit our forum thread to learn how to become beta tester and report bugs and feature requests.
You can discuss it with other beta testers and developers in another forum thread.