Best fix is a hotfix: a one-two punch by AdGuard
Despite all the internal and beta testing, sometimes things just don't go quite as you expect them to after a release. This happens even to the largest of companies, not to mention AdGuard. What separates good developers from not so good ones is how fast they react to the unexpected difficulties. We'd like to think we are among the former ones, that's why we don't shy away from hotfixes if the situation calls for it.
This time around, it so happened that we needed to roll out not one but two hotfixes: one for AdGuard for Android and another for AG Browser extension.
AG for Android hotfix
Turned out, on some older devices (Android 6 and older) AdGuard didn't restart after the protection got paused automatically (say, on the network state change). This affected a large enough portion of AdGuard users to justify an immediate update.
Despite literally dozens of updates to CoreLibs done prior to v2.12 release, there is still plenty of room to improve. We took the opportunity to make few more changes to the filtering engine.
Several more minor changes have been made, too, but we won't bother you with them. As you probably know by heart now, the complete changelog is always on Github.
AG Browser extension hotfix
We know how popular the "Block element on a page" feature is among AdGuard extension users, so any problem with it automatically becomes very sensitive. After the last update, the "Preview" window stopped closing for many users, and this is obviously a big deal. The new version (v2.10.11) with the fix is already vailable, so check that your extension is up to date.
By the way, just recently we finished implementing a neat new feature, so it got included in this release too:
[Added] An option to save Filtering Log when reloading the page #1074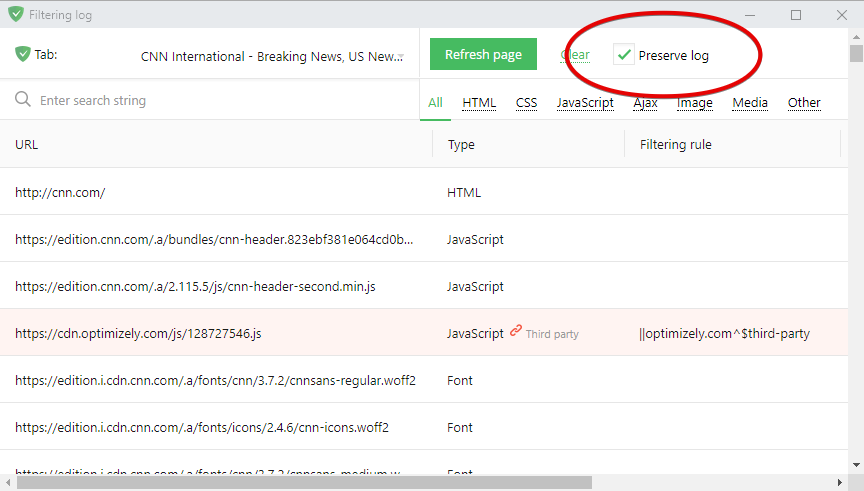 When you refresh a page, the contents of the Filtering Log used to disappear. This is sometimes convenient, but not always. Now there's a checkbox to keep all the log entries after the page reload if you want to.
Complete changelog can be found here.