Back to school promotion — sale and giveaway by AdGuard
Let's celebrate the coming autumn and the 'back to school' time – the season of new beginnings and fresh starts!
Sale
Get 30% discount on ALL AdGuard licenses until September 3. A great chance to favorably buy or renew a key of any type!
You can also profitably renew or upgrade any license you already have (make it lifetime or add more devices).
Giveaway
But it's not just about discounts! We wanted to make a surprise for our users, thus we decided to give away "Back to school" sets to 10 random users with active AdGuard keys.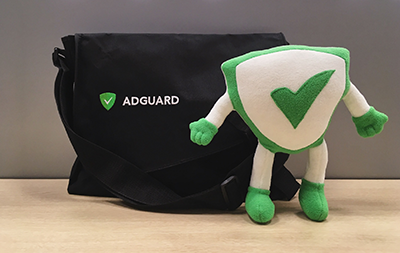 Well, it's not 'labeled' for school specifically, rather just a set which can help you in new beginnings at work or in study :)
Convenient bag for documents/laptop/textbooks/notebooks and other books and so on;
Stationery;
A couple of nice souvenirs from AdGuard.
Terms and how to participate
Any user with a purchased and active (at the promotion end) AdGuard license key can participate.
If you have several keys - you can fill in the form several times, separately for each key to increase your chances of winning :)
Please, don't enter expired keys, keys that you haven't purchased (bonus or beta licenses), keys to other programs or a random set of characters; don't fill in the form several times with the same key – such entries won't be allowed to participate in the giveaway.
The keys that participate in the giveaway are not subject to refund.
Important: we do not share data with third parties; all the information received through the registration form will be used by AdGuard Software Limited solely for the purpose of conducting the giveaway.
UPD: September 4, 2017
Winners
Thank you all for participation! We are finally ready to announce the winners:
George Fournaris
Huy Nguyen
Alex (Fi++++++n@yahoo.com)
Daniel Williams
Stephen Moses
Rafal Milko
Allan Dela Rosa
Jason Liu
Rade Durovic
Andries Jongsma
Congratulations! Yay! We will soon contact you :)
And here is the video to show how we chose the winners. Fair competition, random choice:
Thanks again for taking part in our giveaway! We will have more, so stay tuned :)
PS: As usual, we adhered to strict rules, therefore we removed entries that didn't meet our conditions (with expired, not purchased, repetitive and keys for other programs). If you couldn't find your name among participants in the video and if you believe there was a mistake, contact us at pr@adguard.com