Happy 2020! We wish you a happy and ad-free New Year
Another year has come to an end. In a little over a week we'll wake up in a new decade. Can you believe it? We can't. Well, not completely.
We appreciate that you are crossing this line with AdGuard, using our products and helping us to become better!
Traditionally, we have prepared a giveaway for you and a discount. This is our way of saying thank you for being with us. <3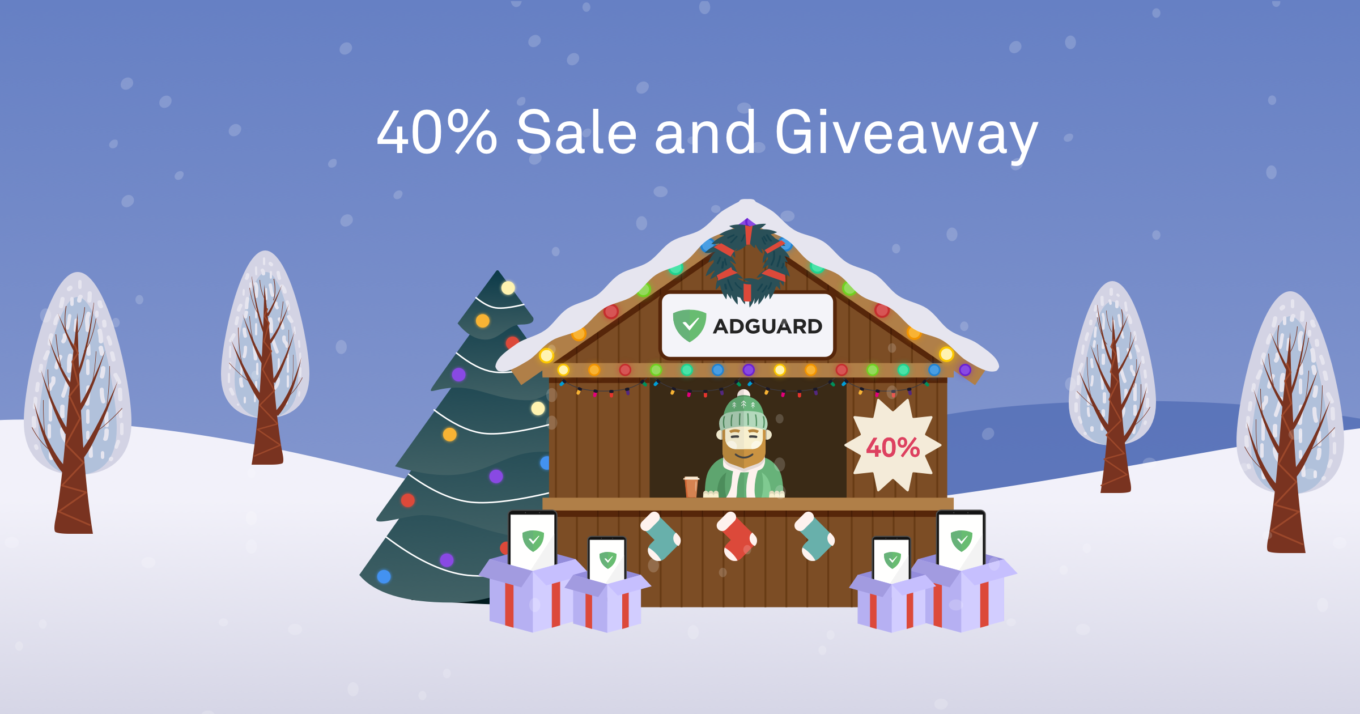 40% OFF FAMILY LICENSE
This time we made a discount on Family keys — buying one such key, you will get a license for the whole year or even a lifetime one.
A Family license on sale costs almost like a Personal one, but it can be used on 9 devices instead of three! You'll be able to protect not only your mobile, computer and laptop, but also the devices of your family members!
Magic works until the 31st of December.
GET THE OFFER
FESTIVE GIVEAWAY
This year we're holding an even bigger giveaway — 10 Samsung Galaxy Tab A 8.0 tablets are at stake. One thing hasn't changed: to take part, you've got to have an AdGuard license key. See below for details.
Terms and how to participate
Any user with a purchased and active (by the time when promotion ends) AdGuard license key can participate.
If you have more than one key — you can fill in the form several times (separate for each key) to increase your chances of winning :) A key for several devices is considered as 1 key and counts as 1 entry.
Please, don't enter expired keys, keys that you haven't purchased (bonus or beta licenses), keys to other programs or random sets of characters; don't fill in the form several times with the same key — such entries won't be allowed to participate in the giveaway.
The keys that participate in the giveaway are not subject to refund.
You can join the giveaway until January 5, 2020. On January 6, we will randomly select and announce the winners in our blog. We'll update this post and add info about winners, and will also contact the winners directly.
Wish you luck!
UPD January 06, 2020. And the winners are...
There were more than 8k participants this year. Wow!
But there can only be 10 winners. And here they are, the ones who will start the year with a new tablet:
Screenshot from Random.org where we have chosen the winners
5961 Jon-Cameron Bates
4419 Хайруллин Альфред Рафаилович
7417 김민재
7198 TOSHIMASA OISHI
4885 Aarjav Jain
2702 Мамутов Александр Сергеевич
6856 Richard Jongeling
4449 Химетов Алексей Анатольевич
4030 Стафеева Светлана Сергеевна
4008 Спиченко Виталий Владимирович
Yay! Congrats! We will very soon contact you about the delivery.
And thank you everyone else for the participation! Don't worry, we will be holding more giveaways in the future, maybe you will be one of the lucky ones next time.
And here is a video proof, of course. We have indeed randomly chosen the 10 winners. All fair and square, as usual.