AdGuard 7.0 for Windows: unleashing the filtering power
Not very long ago (this month, in fact) I wrote about a big AdGuard for Windows beta update. As you can guess, todays release is largely based on that beta version. You'll see similar phrases about the same new features, so if you had a chance to read the previous article, feel free to skip those parts. But there's also a bit of fresh stuff, so even regular Blog readers will find something new here. Okay, enough with the prelude, let's get to the action!
What's new
Several big changes we need to talk about: new UI, CoreLibs filtering engine, automatic crash reports and new AdGuard Extra extension. Dozens more that didn't make it to the article but contribute to the update too. We'll start, of course, with the most noticeable change of them all: the new UI design.
New looks
Oh yes. It's almost a tradition now — with every major update we redesign the UI of our app. We want to believe that this is not a change for the sake of change, and we actually make AdGuard look better with every redesign. If nothing else, we added a dark theme! See for yourself: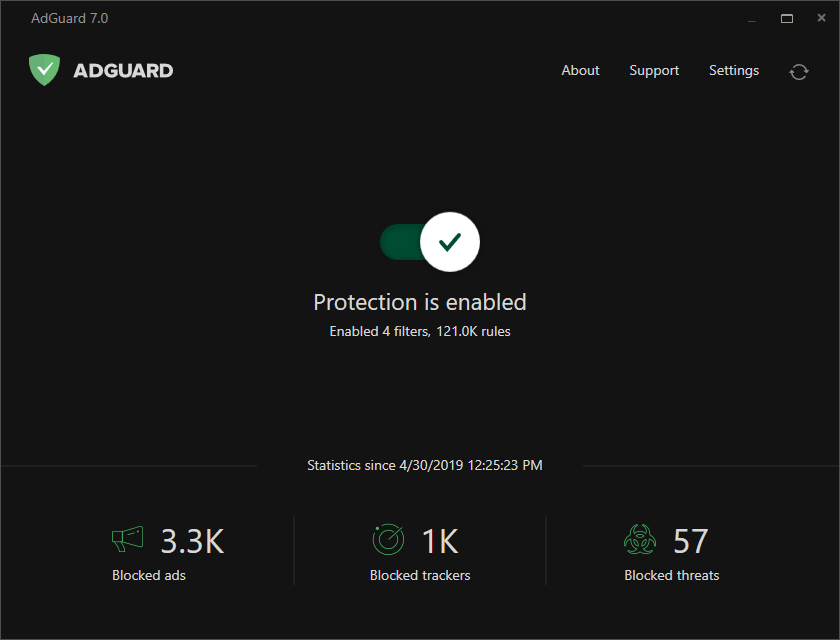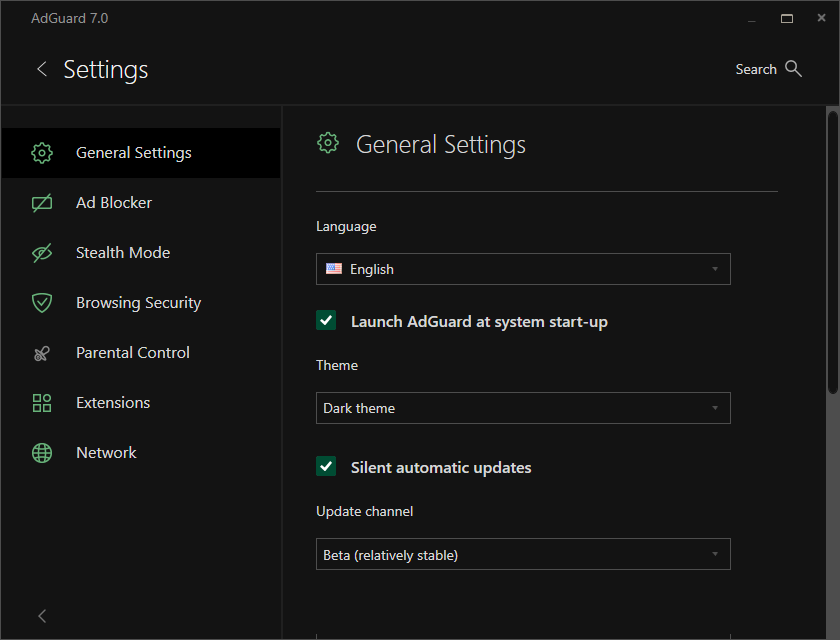 Turn to the dark side... or not. It's up to you, really
Of course, it is optional, just like with AdGuard for Android. The default theme is still the light one: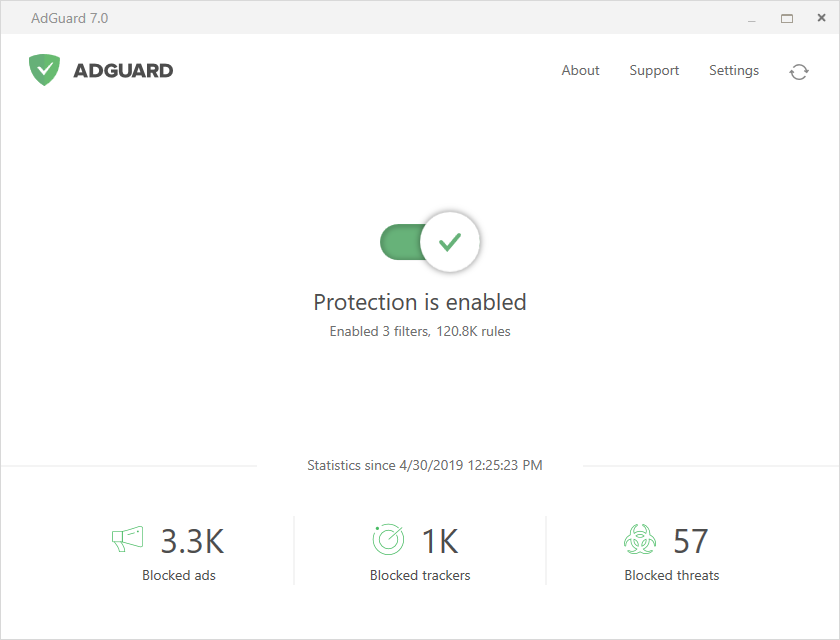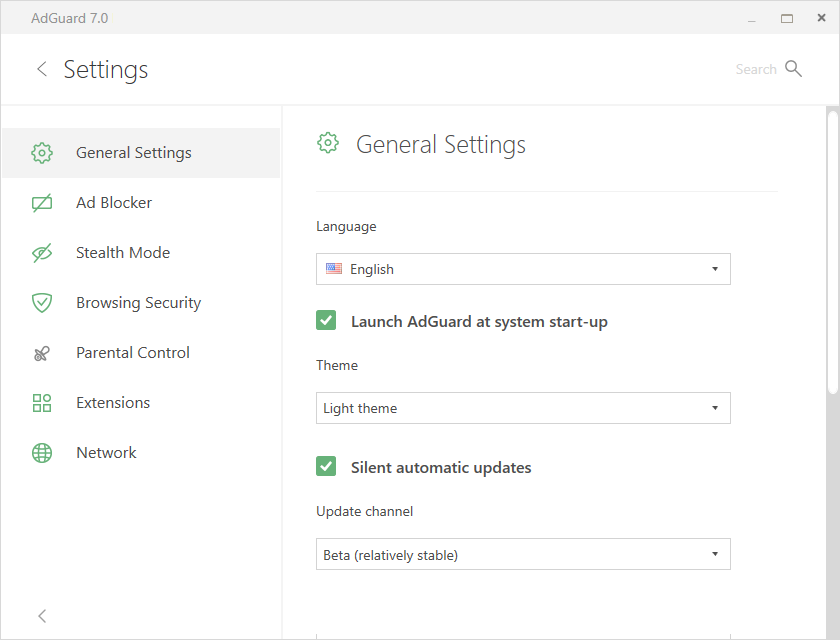 The classic color scheme is here to stay
Not only the visual style has changed, but also the layout of the main screen and the menus. Less complicated, less intimidating for new users, but more informative and functional at the same time. Or at least that's how we see it :)
The installation wizard follows the trend and gets a redesign too. It only makes sense, because it's the first thing new users see when they start their acquaintance with AdGuard, and it better be good!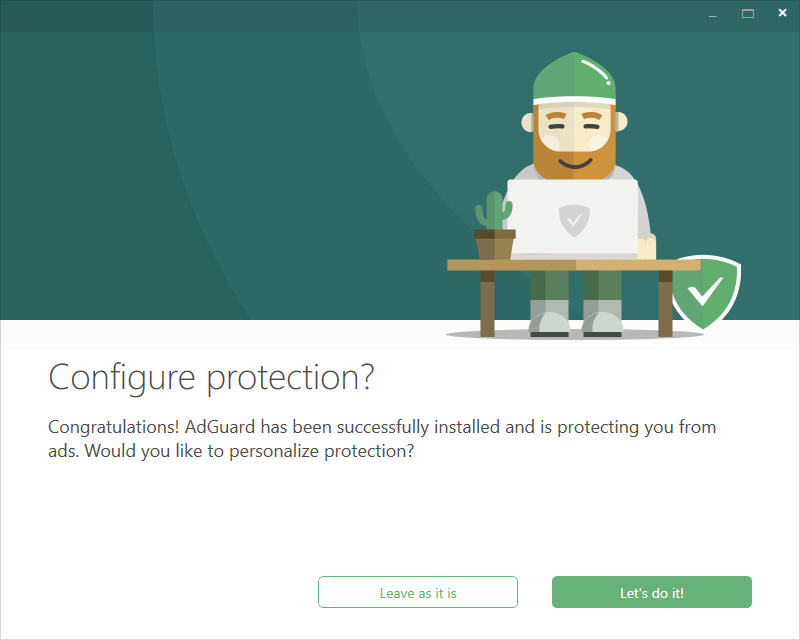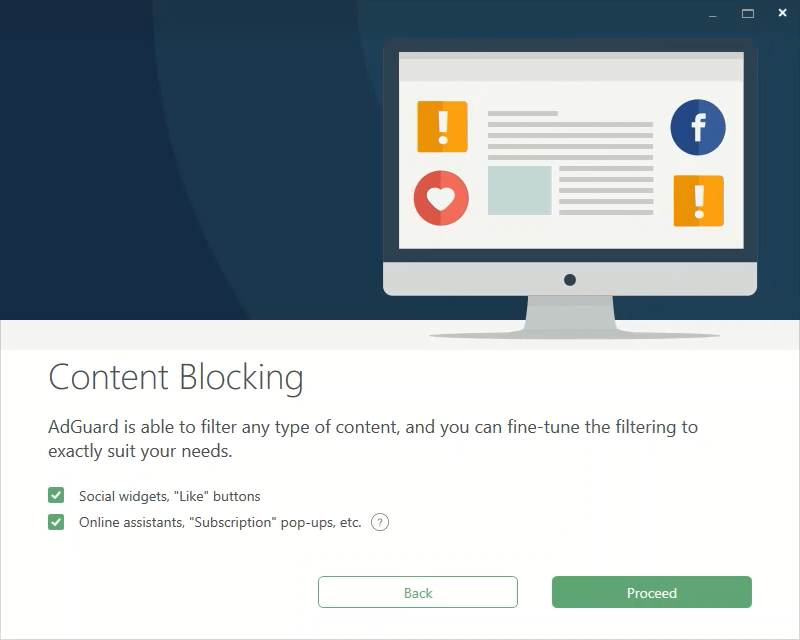 Installation wizard introduces you to main AG features
Screenshots don't do it justice — the wizard has animations, you'll see it for yourself if you install AdGuard 7.0 from scratch.
Hope you like what you see, because it's here to stay until the next major update :) Now let's talk about some other things (but equally important).
CoreLibs update
Everybody knows what CoreLibs is by this point, but we'll remind anyway: it is a filtering engine that drives the whole process of ad blocking in many AdGuard products. AdGuard for Windows has been using it for a while now in the beta channel, and today the stable version gets the same treatment. And with every CoreLibs update AdGuard will become even better: the quality of ad blocking and performance increases, AdGuard becomes more stable. Too bad we can't show this on a screenshot — you'll have to actually go and update the app.
AdGuard 7.0 for Windows features the most recent of CoreLibs version, which means this is as good as it gets. Well, at least until the next CoreLibs update :)
Automatic crash reports
Sometimes apps crash, no matter how well you test them before releasing. Reasons can be very different, and so are solutions. To be able to investigate every crash individually and find a proper fix, we added integration with an automatic crash report system. If AdGuard crashes, upon the next launch you'll be asked if you want to send a crash report.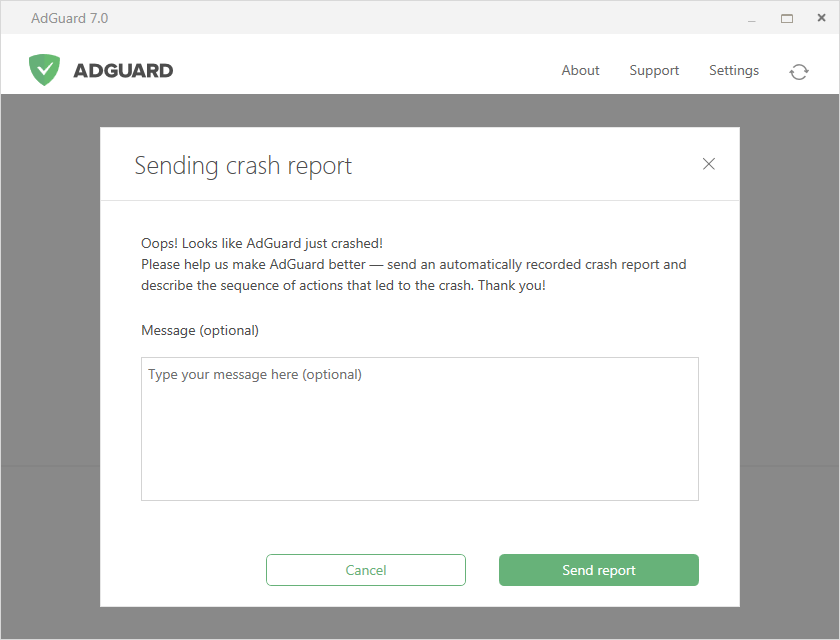 The crash report is ready to be sent, it only requires your permission
Nothing will ever be sent without your consent, and if you want to know what exactly is in the report, you can check out our Privacy Policy. We'll appreciate each and every report, as it will help us greatly in making AdGuard for Windows more stable.
AdGuard Extra extension
In some complicated cases the usual approach with filtering rules just doesn't work. In particular, in some cases of ad blocker circumvention/ad reinjection. So we came up with an alternative solution — a userscript. For those unfamiliar, userscripts are basically mini programs that modify web pages and augment browsing.
You'll find AdGuard Extra among other userscripts (extensions)
AdGuard Extra does it in a way that makes it harder for websites to employ the circumvention/reinjection techniques. For example, one of the cases AdGuard Extra should solve is Facebook feed ads. AdGuard for Windows is the second AdGuard product to get this addition, and we are thrilled to see it in action and read your feedback on it.
---
That's it for the major changes that are worth your immediate attention. There are dozens more bugfixes that make sure AdGuard will work smoothly and do its job once you update it, and you can find them all on GitHub. By the way, speaking of the updates. To get the new version, right-click on the AdGuard tray icon (it should have a blue exclamation mark) and then click on the menu item at the very top.
And that's where I have to say goodbye, but not for long. We have more other news coming your way very soon, so keep your eyes open!