AdGuard 7.7 for Windows: CoreLibs, DoQ, advanced DNS Settings
The latest release of AdGuard for Windows is a final polishing to catch as many bugs as we can. Our QA team honestly tried to break the app in various ways, but everything works great! However, you can probably find a way to do it yourself 🙂
And in this case, please let us know exactly what happened and how you managed to do it.
What's changed? For starters, we implemented advanced DNS settings, added the Finnish localization, and updated other translations. You won't find killer features in this version but we've put our energy into something no less important. We updated CoreLibs and DNSLibs, fixed various issues along the way, and did some magic with the filtering log to make it more user-friendly.
CoreLibs
CoreLibs is our main filtering engine, as you might remember. It was updated to a new version with numerous changes and fixes. Now our filters are even more flexible and powerful, capable of blocking many new things.
DNS-over-QUIC
There were a whole lot of changes at the DNS level. From now on, AdGuard supports the latest version of QUIC. Doesn't ring a bell? Then we do suggest that you read about it and learn why DNS-over-QUIC is way better than its predecessors, DNS-over-HTTPS and DNS-over-TLS.
New advanced DNS Settings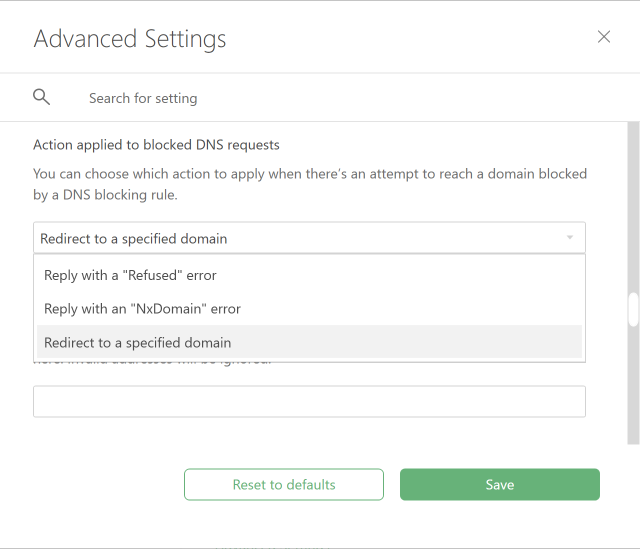 There is a new section named "Action applied to blocked DNS requests" in advanced settings. Now you can select the response type if you've requested a DNS domain blocked by a DNS filtering rule. There are three response types to choose from: Reply with a "Refused" error, Reply with an "NxDomain" error, or Redirect to a specified domain. For instance, if the last option is selected, all the blocked DNS requests will be redirected to the IPv4 or IPv6 address specified by the user.
Example: if you want to protect a child from visiting an adult website, then just select Redirect address, and substitute "Redirect to a specified IPv4 address" (or "Redirect to a specified IPv6 address") field with any harmless site... How about the new episode of "Peppa Pig"?
Besides, settings with fallback servers were modified. In the previous v7.6.1 there was a simple option "Enable DNS Fallback". Now users not only can enable it, but also select whether they want to use the system or custom fallback DNS. By the way, you can add several fallback servers at once.
And finally, there are DNS exclusions — domains in this list will be resolved through the system DNS. You might think to yourself, "Why do I need it?". Someetimes a domain must be resolved via the default (system) DNS. For instance, a router domain. There is now a new setting made specifically for such cases.
Friendly reminder: a backup DNS server is essential to switch to when the main DNS server or provider does not respond after a set timeout period (which you can also configure).
---
That's all for today. As always, the complete list of changes can be seen on GitHub. We'll be glad to receive feedback: update the application and share your impressions with us.
And once you've read to the end, let us share a secret with you — we are going to develop a completely new AdGuard for Windows. We are planning a large-scale redesign of the entire app! Stay tuned for the news, and very soon you will find out about the coming version 8.0!