你好! About AdGuard's expansion to Chinese-speaking countries
Chinese version of this article
First of all, we are not really just starting from scratch. To tell you the truth, AdGuard has already found its supportive users in Chinese-speaking countries over the years.
It happened absolutely organic though. It was a time we didn't even have Chinese localizations to our products, and the only marketing was old good "word of mouth". So now, as our company is growing and gaining more resources, we thought that enough is enough, we need to start moving towards one of the biggest markets in the world. And most importantly, towards our Chinese-speaking users.
In this article, we are going to share what steps we have already taken and what we are planning to do in the nearest future.
Chinese filter
We had quite a lot of ad filtering rules that we've collected through our reporting tool. So we decided that it is high time to make a dedicated filter for Chinese websites.
We have been polishing it with the help of the users who constantly gave us feedback, it took a lot of time, but here it is: AdGuard Chinese Filter.
How to get it?
It can already be found in AdGuard for Windows and AdGuard for Mac. You just need to add it in the Filters tab: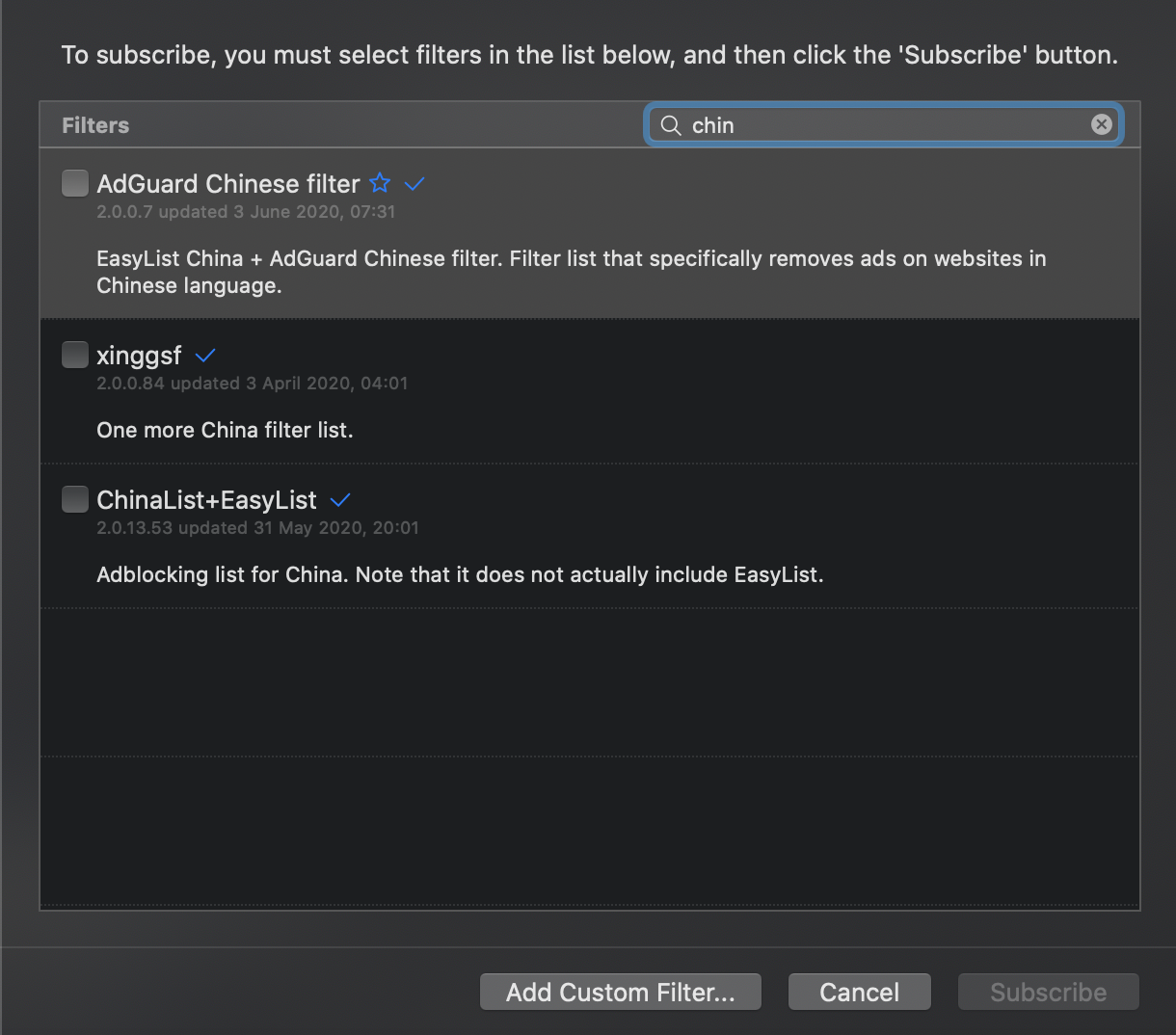 Adding Chinese filter to AdGuard for Mac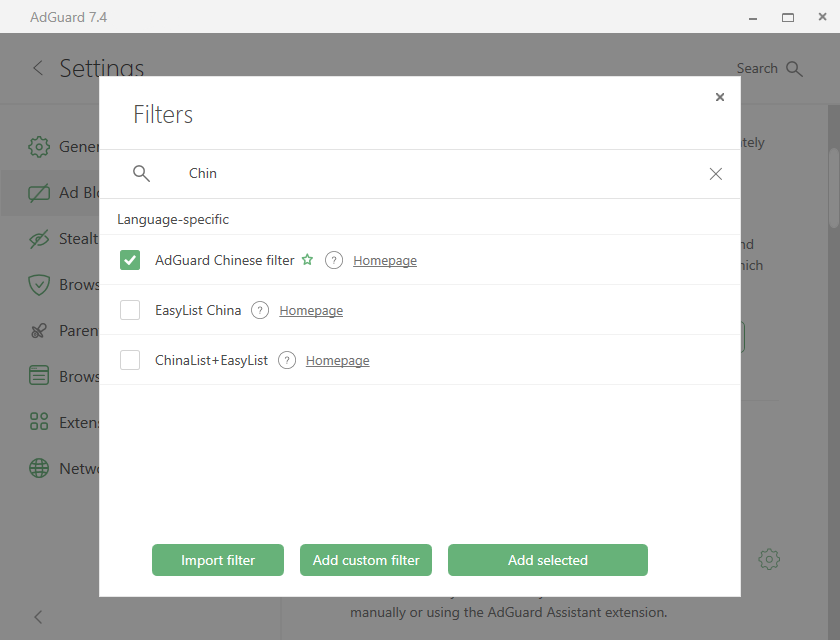 Adding Chinese filter to AdGuard for Windows
AdGuard for Android, AdGuard for iOS and AdGuard Browser extension will also get it in the nearest updates. But if you don't want to wait — you can switch to Nightly updates (please note that those are unstable releases!) and get early access.
Of course, this is just the beginning, and there's much improvement ahead. That is why we would kindly ask you to continue reporting any missed ads that you might encounter. Together we will make it work perfectly.
Social media
We have started some chats and blogs, where one can follow our news, ask questions, report problems, offer new features and give us any feedback in general.
If you are a Chinese-speaking user of AdGuard (or just interested in ad blocking, privacy and other related topics) you can follow us at:
Weibo: microblog with posts about recent news.
QQ: chat for discussion.
Telegram: news channel and chat.
Blog: here in the future you will find elaborate articles on our releases, researches and industry news.
Localizations
Thanks to our volunteers on Crowdin (and previously on OneSky) localizations platform we now have almost all AdGuard products translated, and most important website pages too.
And we would love to thank all of them! For their invaluable help and almost non-stop response to our questions (even despite the time difference).
Our Chinese moderators are always on the list of the best collaborators and were always among winners of our own "Moderator of the Year" award.
By the way, if you wish to help us (and our volunteering moderators) you can also join us on Crowdin. And not only in Chinese, help with any other language will also be appreciated.
Payment methods
In the nearest future we are going to add Alipay support. As you might know, we are using Paddle payment platform, and once they add AliPay option (which is in plans), we will immediately integrate it as well.
Partners
Basically, we are just making the first steps towards finding new users in Chinese speaking part of the world. So any help will be appreciated. Contact us at pr@adguard.com if you have any interesting ideas.