AdGuard for Android v2.11
As we continue our struggle to finally finish version 3.0 of AdGuard for Android, the app receives more and more intermediate updates as a byproduct :) Today we present v2.11, a big update, at least judging by the number of entries in the changelog. Two 'whales' that I'll stop by today are integration with web reporting tool and implementation of AG Assistant.
What's new?
Both of these new features will, hopefully, make AdGuard more convenient in everyday use, especially for advanced users. Be it reporting a missed ad or managing the filtering process, it will take fewer actions to perform from now on and, therefore, save you time.
[Added] Extended AdGuard notification — an "Assistant" button #1614
If you've already installed the update, try to drag down on the AdGuard notification. You will notice there are two new action buttons. One is "Pause", which pauses the protection upon tapping (tap again on the notification to resume it), but the more interesting one is "Assistant". When you tap it, a list of recently used apps and websites will show up. Tap on any of them for more options, like opening filtering log, denying the app network access (or whitelisting/blacklisting in case of a website), or proceeding to the app/website-specific settings screen in Apps Management.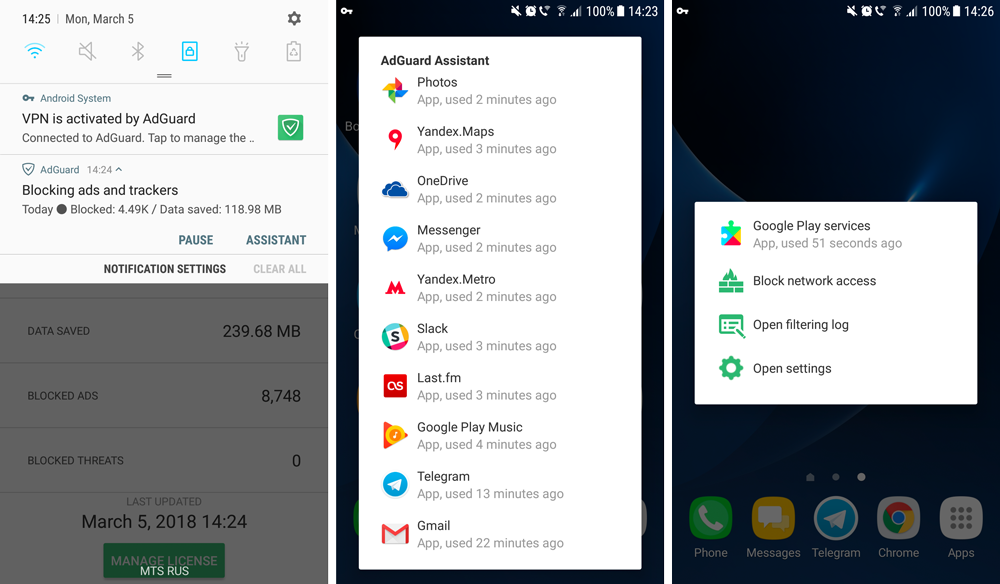 We believe this will save you quite a bit of time, especially if you are an active user and often find yourself in a need to pause protection, whitelist a website etc. In fact, we tested it ourselves and found it extremely convenient! :)
[Added] Integration with reporting web tool #1615
This feature is already familiar to AdGuard for Windows, AdGuard for iOS and AdGuard browser extension users. Basically, this is a way to report any filtering-related issue on a page: missed ad, false positive etc. To do so, go to app's side menu and select "Report an issue". Instead of an immediate "Send a message to support" screen, you will get a dialog to choose the issue type. Choosing one of the filtering-related issue types will open a web page and a wizard will take you step by step through the process of filling in the required information. Don't worry, most of the fields will be pre-filled by the AdGuard app!
This way of reporting missed ads and other filter-related problems is beneficial to both users and filter developers — the latter will get all the information they need to fix the problem, and users will be sure that the issue is going to be resolved in the shortest amount of time possible.
Conclusion
NOTE: we haven't turned on the auto-update yet, but we will soon, probably on Monday. For now you can manually trigger the update by tapping the "Check for updates" button in the top-right corner of the main screen.
The full changelog is quite lengthy, and mostly consists of bugfixes. Most curious will find it on GitHub in its full glory.
Had a chance to give Assistant or reporting tool a try already? What are your thoughts on the new features? Let us know in the comments, it is your feedback that moves the app forward!