New release: AdGuard for Android version 1.1
As you probably know, our app has been recently removed from Google Play, because we provide the best ad blocking and privacy protection on this platform:)
We promised that it won't stop us, and we will continue to develop Adguard for Android. Yeah, we are keeping that promise. Today, we finally released a new version of our app.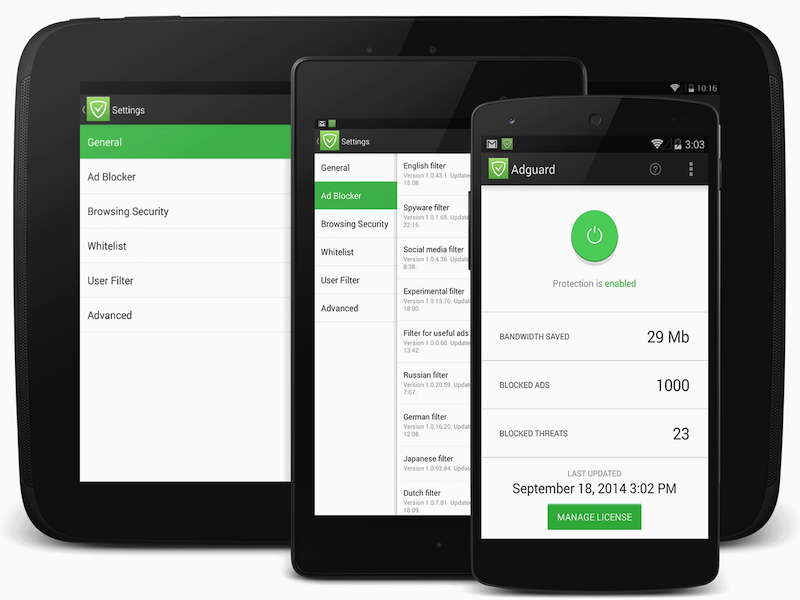 Release notes
Added in version 1.1.805:
Added limited support of HTTPS requests filtering
Added Ukrainian and German languages
Tested and optimized for Android 5.0 Lollipop
Added support for Naked Browser
Added notification icon setting
Added new types of filtering rules (regexp-rules)
Fixed in this version:
Resolved compatibility issues with some apps including Telegram, Handcent SMS, Dropsync, Dropbox, Bleep, PAC Console
Fixed bug with processing UDP traffic in VPN mode (Bleep messenger)
Fixed some app crashes
Fixed slow protection startup in proxy mode
Improved CPU and battery usage
Fixed processing of certain HTTPS requests
Fixed problem with landscape mode on devices with low resolution screen
Fixed possible conflicts when using the same port number with another proxy server
Fixed an issue with processing requests to some domains with multiple A DNS-records
Now we would like to elaborate on some changes.
Limited support of HTTPS requests filtering
Unlike in Adguard for Windows, we can't fully decrypt HTTPS traffic in Android version. Therefore, we had to limit ourselves to filtering by domain names. It gives you less options, but nevertheless allows you to block the majority of advertising networks.
Added notification icon setting
Now you are able to use the colored Adguard icon, or even remove it at all. Unfortunately, if you are using VPN filtering mode, then hiding the icon will be available to you only in Android 5.0. In older versions the operating system is responsible for the icon, and we can't affect its presence and appearance.
How to install Adguard
To install new Adguard version please follow the instructions at this link.
Meanwhile we continue to develop Adguard for Android. Future versions will bring many great changes.
Here is a brief list of features we plan for future Adguard versions:
A full-fledged firewall as part of Adguard
Mobile version of "Adguard Assistant"
Import and export of your own user filter
Greater choice for ad filters
Adguard widget for Android 5.0 Lollipop
Thank you for using our program!
Sincerely, Adguard Team.